Whether it be in the comforts of your editing suite or somewhere in the field, powerful workstations are always required to perform multiple intensive production tasks ranging from real-time video editing, advanced color grading, pre-vis renders for visual effects, footage ingestion, monitoring, transcoding and everything in between.
While finding portable powerhouses isn't an easy feat, a company by the name of ACME Portable – based on the fictional corporation by Disney – created a solution that has already attracted the attention of many content creators. Let's take a closer look in the video produced by Linus Tech Tips below.
Rather than settling for a decently performing laptop, ACME Portable has conceived what they believe is to be the ultimate portable professional workstation for film production use. Their product is built upon the internals of an iMac that is embedded into a custom aluminum-body chassis – a rather uncommon, yet efficient approach to creating a portable editing rig.
The computer's design makes it appear as if the iMac never existed, with the exception of the I/O located at the back of the computer to remind us of the remnants of the iMac's original design.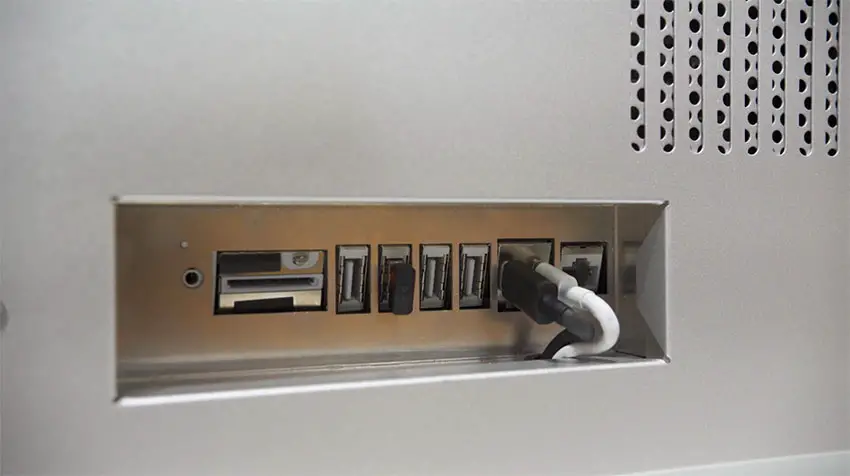 Besides the performance-focused processing power of the iMac, the real shining star of ACME's workstation is that it is equipped with a total of three 4K monitors connected into a single enclosure. As this workstation is to be used in film production, the monitors included are color calibrated for cinema-grade accuracy, connected via SDI inputs.
Last but not least, the entire rig is built for durability. ACME designed the workstation around a briefcase-style setup. The computer's hardened aluminum construction allows you to fold the monitors inwards and secured with a latch. In addition, rubber stoppers are located on all corners of the briefcase computer to withstand the travel in a grip truck.
Now before you start taking money out of your bank account, it should be clear that this setup is not for everyone. The suggested pro workstation is not meant to be a full-on replacement for your video editing rig at home by any means.
In fact, the steep price tag of $15,000 should be enough to prove that ACME Portable's workstation is really a specialized tool for higher-budget productions. Then again, understanding the tools that professionals look for may give a better perspective on demanding requirements of higher-end film productions.
[source: Linus Tech Tips]
Claim your copy of DAVINCI RESOLVE - SIMPLIFIED COURSE with 50% off! Get Instant Access!