Venus Optics have been known to release some interesting and quite unique lenses under their Laowa brand such as the ultra-wide Laowa 7.5mm f/2.0 compact prime for Micro Four Thirds, which is (to my knowledge) the widest non-fishey lens available for the format, or the Laowa 9mm f/2.8 and 25mm f/2.8 5x Macro Lenses in addition to the Laowa 17mm f4 GFX Zero-D among a few others. And now they are bringing out maybe their oddest of the bunch – the new Laowa 24mm f/14 2x Macro Probe lens, designed to get some unique perspectives.
The new Laowa 24mm f/14 2x Macro Probe is presented by the manufacturer as a "…weird, but revolutionary lens for macro videography", which just also happens to be the world's first consumer-grade probe lens that was developed to provide photographers and videographers with a new perspective and remove their shooting barriers while using conventional macro lenses.
The Laowa 24mm f/14 Probe is a full frame lens and weighs only 1.04 pounds (474 grams), making it very portable and ligth enough to carry around when you're exploring caves, jungles and the dangerous habitats of killer spiders and all sorts of mutant bugs.
The lens has quite the complicated optics design; its barrel houses 27 elements in 19 groups to deliver the exceptional image quality. The photo version of the Laowa Probe will be available in Canon EF, Nikon F and Sony FE mounts, while the cine version will get click-less aperture and focus gears in an a PL mount.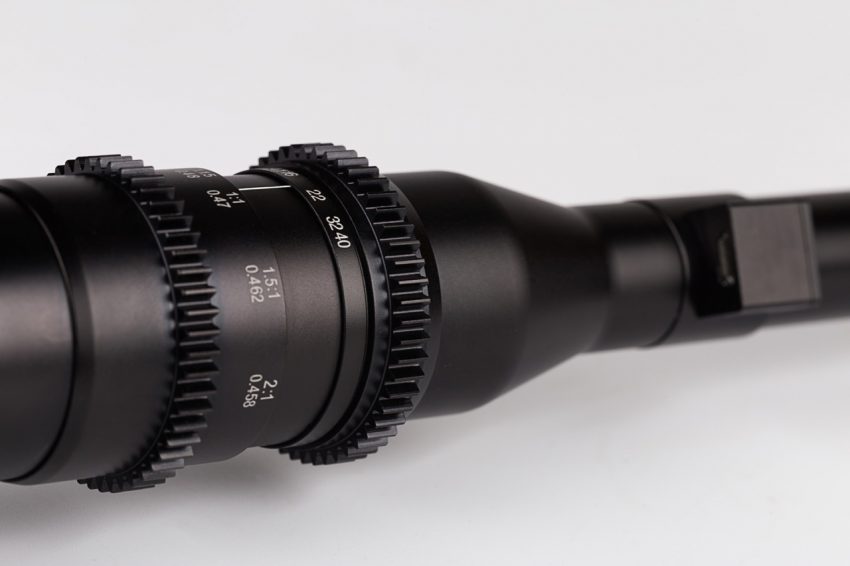 For more info check out their Kickstarter campaign pitch video:
Laowa 24mm f14 Probe Lens Features/Highlights
The new Laowa 24mm Probe lens can create a Bug-Eye perspective that cannot be done by conventional macro lens. Not only can it focus really close (2cm @ 2:1) and show a great amount of detail and texture, but also achieve a compelling wide angle 'Bug Eye' view (84.1°).
More background details can then be included into the shots to create a very informative and stunning macro bug-eye perspective. For telephoto macro lenses, the subject will fill most of the frame and appear isolated from the surrounding environment instead.
Waterproof front lens barrel
The front barrel of the lens is waterproof, which makes shooting in liquid a possibility – think of all the beer commercials you can film with this thing! The waterproof design also implies that shooting in super dusty environment or with fine powders are not going to be a problem.
40cm long & Tubular Lens Barrel
Thanks to the 40cm (15.7″) long barrel, photographers can focus really close to the subject but still keep themselves and cameras a few feet away. This unlocks the possibility of shooting in areas which were not accessible in the past using conventional macro lenses, which normally start from 60mm and onwards in focal length.
The long lens barrel also allows photographers to keep a safe distance away when shooting lethal animals.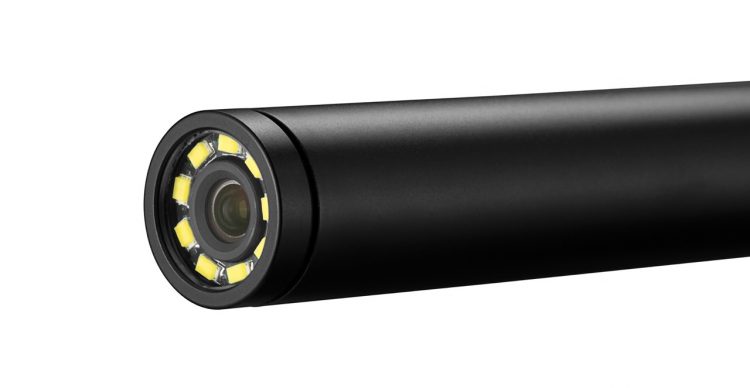 Tiny 2cm lens tip with an LED!
The tiny 0.2cm-in-diameter lens tip unlocks the possibility to get very low to the ground level to capture a unique perspective, or you can insert the lens into tiny caves, bottle or burrows to shoot if you are into that kind of thing as a wildlife photographer/videographer. A LED ring light powered through the micro-USB slot on the barrel is mounted at the tip of the lens to provide additional lighting for focus assistance and video shooting.
2:1 Magnification to Infinity Focus
The new Laowa Probe covers a focusing range from 2:1 macro magnification to Infinity Focus.
Photographers can take advantage of the 2:1 maximum magnification to shoot really small bugs/objects and reveal details that cannot be seen by naked eye. The wide focusing range (from Macro to infinity) is also particularly useful for videography as both finer details and environmental background can be captured in one shot.
Availability
The lens is expected to retail at USD $1,499. It is currently available to pre-order via Kickstarter at a discounted price. Venus Optics are estimating a delivery date for their Probe lens in September. The lens will also be available via authorized resellers from October onwards.
Claim your copy of DAVINCI RESOLVE - SIMPLIFIED COURSE with 50% off! Get Instant Access!