Do you remember the Instamic? We did a writeup about their Kickstarter campaign a while back (link here), and for those of you who do not recall this little device let me refresh your memory. The Instamic is tiny microphone that can be easily attached to just about any surface and record professional quality audio for up to4 hours without any wires, cables, receivers or external recorders. It's kind of like an audio-only "GoPro" and is aimed towards not just event filmmakers, videographers or smartphone vloggers, but also musicians, enthusiasts and adventure seekers.
It didn't take long for esteemed audio gear manufacturer Sennheiser to come up with their own competitor product targeting not only mobile content creators, but also families looking to up the audio quality of their home video recordings.
Sennheiser's Memory Mic will be presented at IBC, and it is essentially a compact, wireless microphone for smartphones. It uses a free app to connect to your mobile device and supports both iOS and Android and records high quality audio internally for up to 4 hours. Once finished with your recording, you can download the audio and sync it with a single touch via the free app.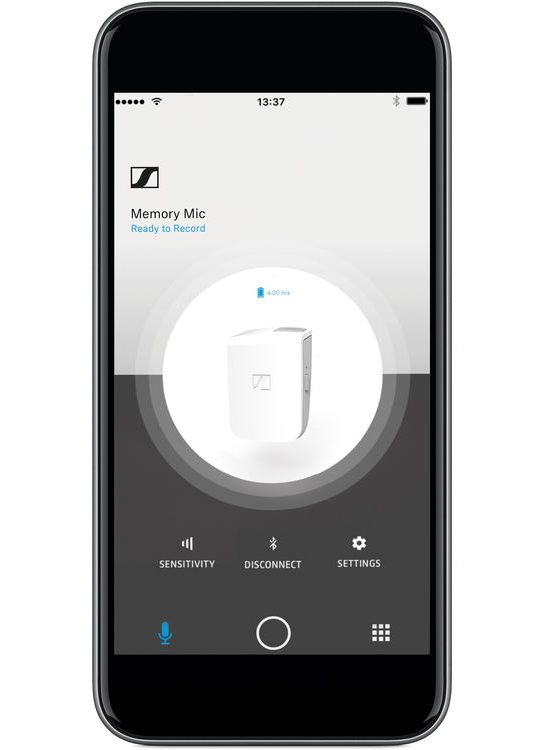 The compact and lightweight microphone offers excellent sound and works at any distance from your smartphone; and once synced, since it records the audio internally, you don't have to worry about drop-outs.
The Memory Mic is equipped with a high-quality Sennheiser condenser microphone capsule that ensures precise sound pick-up. The capsule has an omni-directional pick-up pattern, meaning that it picks up sound from all directions and will be particularly forgiving if you move your head while speaking. In addition, the omni-directional characteristic is resistant to wind noise.
Besides easy one-touch synchronization of audio and video, the Memory Mic also offers an audio mixer in the app and convenient recharging via USB.
Within the mobile app, you can set the sensitivity of the microphone at three levels. This is very helpful if you have a quite soft voice or a loud voice – by altering its sensitivity, the microphone will adapt to your speaking style.
The operating time of the microphone is rated at up to 4 hours; while it would take about 2 hours to do a full recharge of the integrated lithium-polymer battery via the USB port at the bottom of the mic. If you are in a pinch, you can get up to about 70% capacity within an hour.
Sennheiser Memory Mic Features
Records & Stores up to 4 Hours of Audio
One-touch audio/video Sync
Connects via Bluetooth to Smartphone
Omnidirectional Condenser Capsule
100 Hz to 20 kHz Frequency Response
USB-Rechargeable Internal Battery
Easily Attachable via Magnetic Clip
Lightweight, Rugged Housing
Record, Transfer & Sync via Sennheiser iOS/Android App
Includes USB Charging Cable
Price: $199.95 at B&H
Available now
Sennheiser Mic Me Technical Specs
System requirements

Android version 5.1 or later
iOS version 10.2 or later
Bluetooth 4.1 or later
WLAN IEEE 802.11 b/g/n

Transmission frequencies: 2.4 to 2.4835 GHz
RF output power: ≤ 10 mW
Max. sound pressure level: 119 dB SPL
Capsule: Pre-polarised condenser microphone
Pick-up pattern: Omni-directional
Frequency response: 100 – 20,000 Hz
Data stream bit resolution: 48 kHz/16 bit
Operating time: ≤ 4 h
Power supply:

Rechargeable lithium-polymer battery
3.7 VDC, 360 mAh

Charging current: 5 V, 500 mA via USB
Charging time: 

70% charge: ≤ 1 h;
100% charge: ≤ 2 h

Dimensions: Approx. 51 x 37 x 16 mm
Weight: around 30 grams
Temperature range

Operation: 0°C to +40°C
Storage: -20°C to +70°C
The Memory Mic is available now for $199.95, as is the accompanying Sennheiser smartphone video app, which can be downloaded free of charge from the Apple App Store or Google Play. For more info on the Memory Mic head over to Sennheiser.
If you are heading out to Amsterdam for IBC 2018, be sure to visit Sennheiser and learn more about the Memory Mic at their stand in Hall 8, Stand D50.
Claim your copy of DAVINCI RESOLVE - SIMPLIFIED COURSE with 50% off! Get Instant Access!