Atomos have just announced new AtomX accessories for their upcoming Ninja V external 4K recorder for IBC 2018. The highly anticipated Atomos Ninja V HDR monitor/recorder is in mass production and on schedule to reach stores before the end of the month fulfilling their promise of delivering the product in Q3.
As previously announced, the Atomos Ninja V supports the latest mirrorless camera announcements with support for 4K 10-bit ProRes/DNx via HDMI in various Log gammas for proper HDR monitoring and recording.
The new Canon EOS R, Nikon Z6 and Z7 and Fujifilm X-T3 now join the Panasonic GH5 and GH5S in taking full advantage of the Ninja V 4K 10-bit 4:2:2 recording to Apple ProRes or Avid DNxHR.
New AtomX modules under $199
From the very start when it was first announced earlier in the year, the Ninja V has always been designed with modularity in mind. At the heart of the Ninja V is a bi-directional high-speed expansion port breaking out connectivity for I/O of video, audio and power.
Atomos created AtomX to ensure users could adapt and connect to any legacy or future wireless or wired video standard.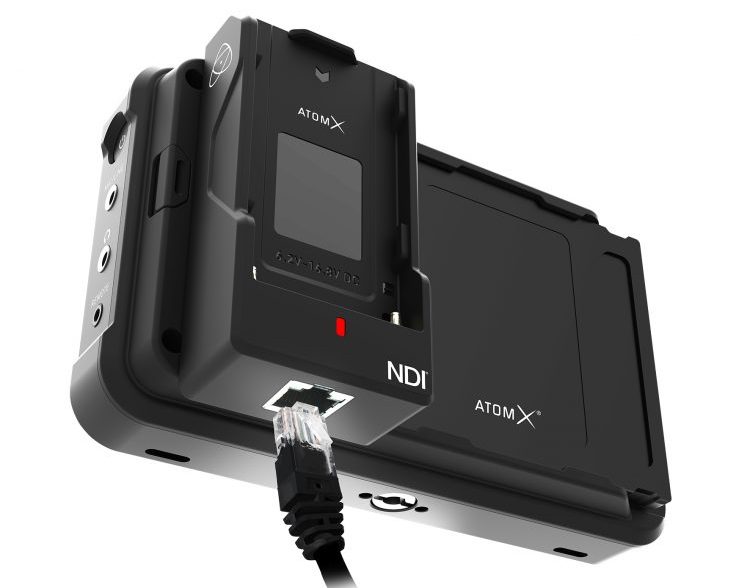 The expansion system offers endless scalability and is demonstrated and kicks off with the first two announcements today:
The AtomX Ethernet/NDI® priced at $199 and the AtomX Sync priced at $149.
These dock into the AtomX port and instantly add important features like NDI over ethernet and Wireless Sync and Bluetooth control to the Ninja V. Atomos have been working with Newtek on the NDI module and Timecode Systems for Wireless and Bluetooth sync module.
The AtomX Ethernet/NDI module has a wired ethernet (1 GigE) connector that makes it possible to deliver live broadcast-grade video over IP networks. Newtek's NDI technology harnesses this – allowing for simple installation and control of multi-camera networks, replacing traditional SDI cabling.
The AtomX Ethernet/NDI module has NDI input and output with encode, decode, control and sync, allowing Ninja V users to transmit, distribute or receive and monitor NDI from any NDI source.
Simply power on the Ninja V with AtomX Ethernet/NDI module installed, plug in your network cable, and your source will be automatically discovered on the NDI network ready for production.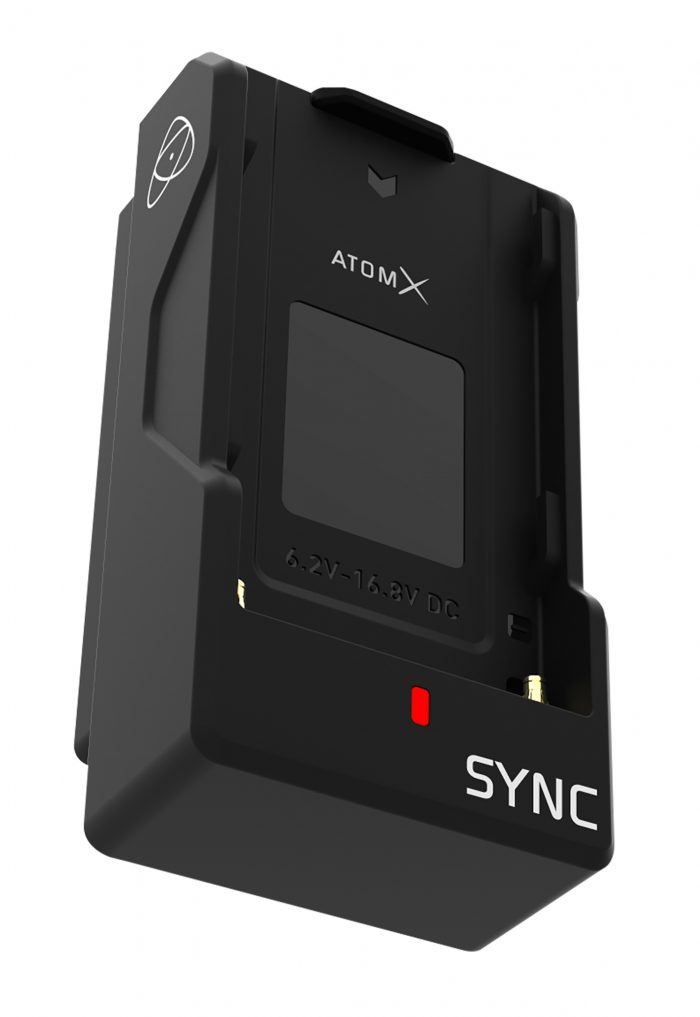 The AtomX Sync module brings professional wireless timecode, genlock and Bluetooth control to the Ninja V, further improving your DSLR/mirrorless camera workflow.
Users can sync and/or control literally thousands of Ninja V units equipped with AtomX Sync modules on the same network at ranges of up to 300m.
Multi-cam shoots have never been so easy. AtomX modules bring broadcast level standards to any HDMI camera or source, making it easy to integrate large sensor consumer cameras easily into traditional live productions.
AtomX Sync has a built-in battery extender that allows for continuous power when swapping batteries, ensuring uninterrupted operation of the Ninja V during a shoot.
New AtomOS 10 for easier operation
To coincide with the Ninja V release Atomos have announced a major new update to the AtomOS operating system. AtomOS 10 has been redesigned from the ground up to offer simpler operation combined with fewer distractions when monitoring your shot.
Operation is quick and intuitive, with extensive use of swipe commands. Re-designed icons have an emphasis on easier HDR production enhancing the creative process. The waveform monitor and audio level meters are clearer than ever.
You can order the Atomos Ninja V from authorised dealers such as B&H for $695. For full specs and features head over to Atomos.
Claim your copy of DAVINCI RESOLVE 16 - SIMPLIFIED COURSE with 50% off! Get Instant Access!