At Photokina 2018 this past month, at the Gudsen stand, I had a chance to catch-up with the latest Moza Air 2 single grip gimbal and their newly announced for the show Moza Air X gimbal for larger S35 cameras, which sported a futuristic and intriguing design.
The MOZA Air 2 is a single grip gimbal stabilizer (which can also be expanded with a 2nd handle for a more ergonomic handling when filming for extended periods) and it has been designed to hold camera/lens payloads of up to 4.2kg (around 9.25 lbs) while at the same time maintaining a 16-hour long battery life.
Designed to hold mirrorless and DSLR cameras, the Moza Air 2 also features a  Smart Time-lapse, 8 Follow Modes, and is compatible with the MOZA Ecosystem including iFOCUS (what they call – Intelligent Wireless Follow Focus system) and multifunctional Camera Backpacks. An optional focus motor to help you focus even with manual lenses.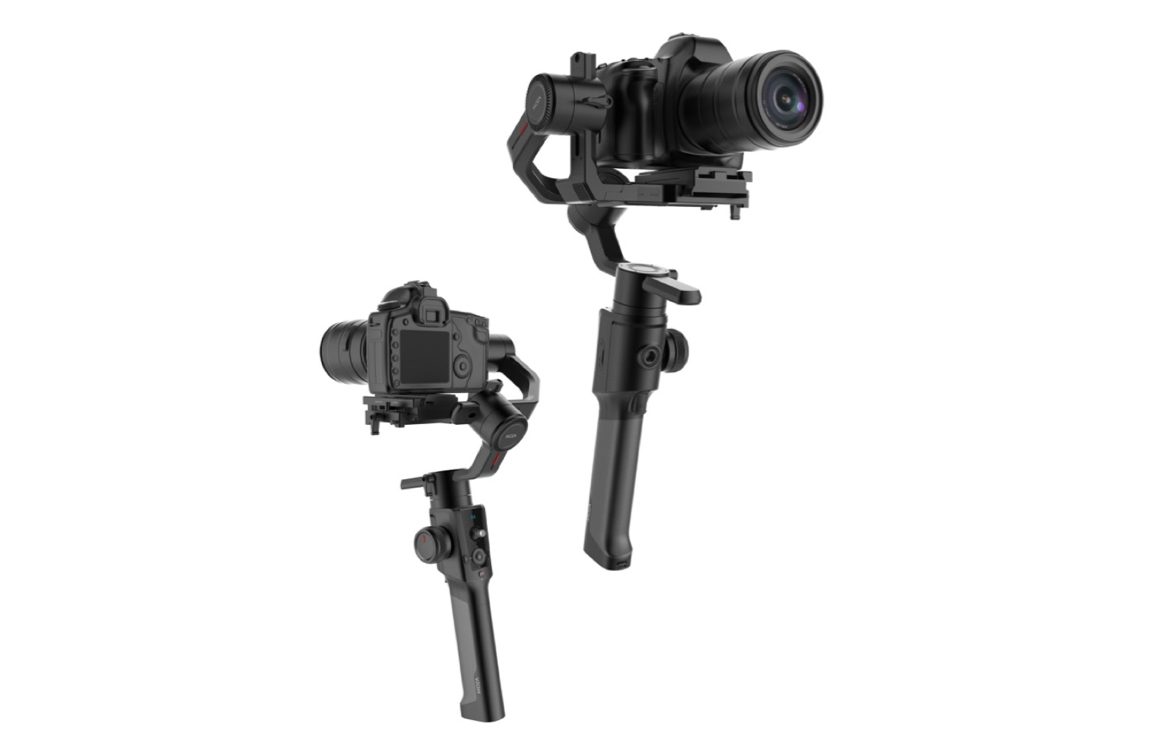 Moza Air 2 Features/Highlights
Powerful torque motors
4.2kg maximum payload
Wide range of camera support:

Sony alpha series, Panasonic GH5/GH5S, Canon DSLRs
Even Compact S35 camcorders FS5, similar
although balance with these may be tricky depending on your setup

16-hour long operating time with 4 replaceable high-rate Li-on batteries
Upgraded smart time-lapse
OLED display & Custom parameters
"4-Axis" and 8 follow modes
Compatible with the MOZA ecosystem of professional accessories including:

follow focus system,
MOZA thumb controller,
camera cage,
camera backpack and more

Price: $599 at B&H
Available: End of October
Moza Air 2 Gimbal Stabilizer:
The Moza Air 2 uses 4x of the very popular and affordable Li-ion 18650 replaceable batteries, which are sold everywhere, which give the MOZA Air 2 a maximum runtime of 16 hours. In addition, the MOZA SPARK power supply system equips the MOZA Air 2 with 4x power ports. The input port allows for alternative ways to power your gimbal, and the output ports provide ways to power the camera and other accessories like follow focus, Led lights, and monitors.
The newly added Battery Management System(BMS) has greatly enhanced the Air 2's working time while powering the MOZA Air 2 and accessories. The Moza Air 2 features some impressive time-lapse functions such motion-lapse, tracking time-lapse, zoom time-lapse and so on.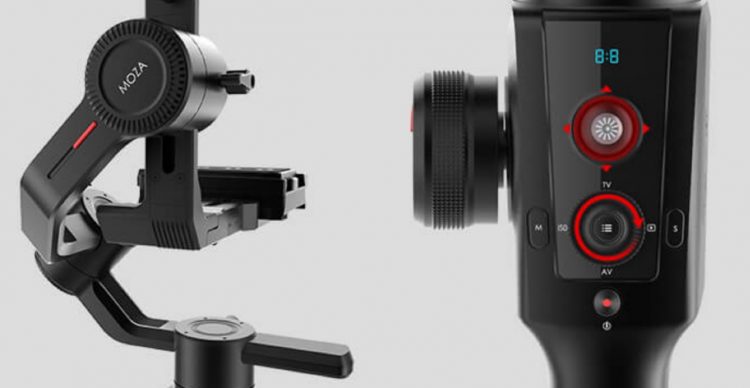 The Moza Air 2 also boasts 8 follow modes – including Inception Mode (Flashlight mode on the DJI Ronin-S), FPV Mode, Sport Gear Mode, Panorama and Tracking. The so-called "4th axis" of the MOZA Air 2 is their iFOCUS system, which offers focus and zoom control via a focus motor. The iFOCUS is not out yet, but as we learned from my interview with Sebastian from Moza, it will be priced around €300 Euro.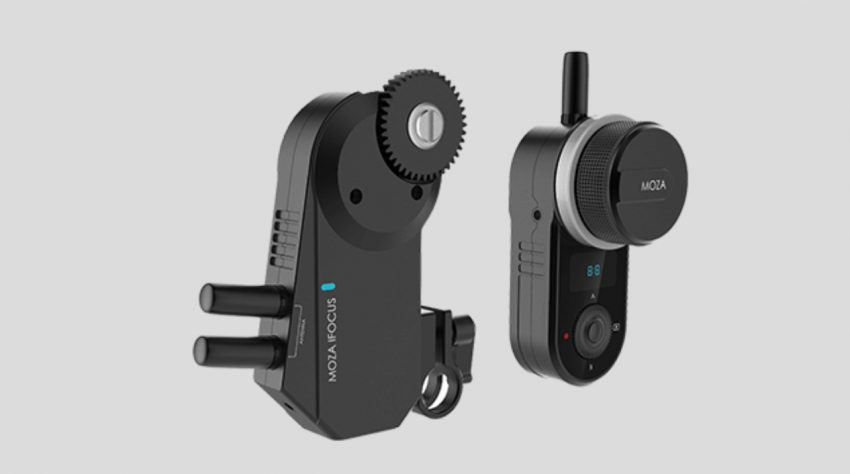 The MOZA Air 2 features an angled motor arm, which gives you an unobstructed view of the camera's screen and more room to balance camera setups. This makes it easier to frame your shots and follow the action. 12 physical buttons not only provide the most intuitive, fast and comprehensive operation experience, but also control settings such as recording, zoom, focus, ISO, shutter, aperture, exposure compensation and WB.
The Joystick and Smart Wheel (pictured above) are customizable; five sets of customized gimbal parameters can be saved according to your needs to make ever-changing combinations. An intelligent OLED display provides intuitive information feedback, accurately indicates the gimbal status, and helps adjust the gimbal and camera parameters.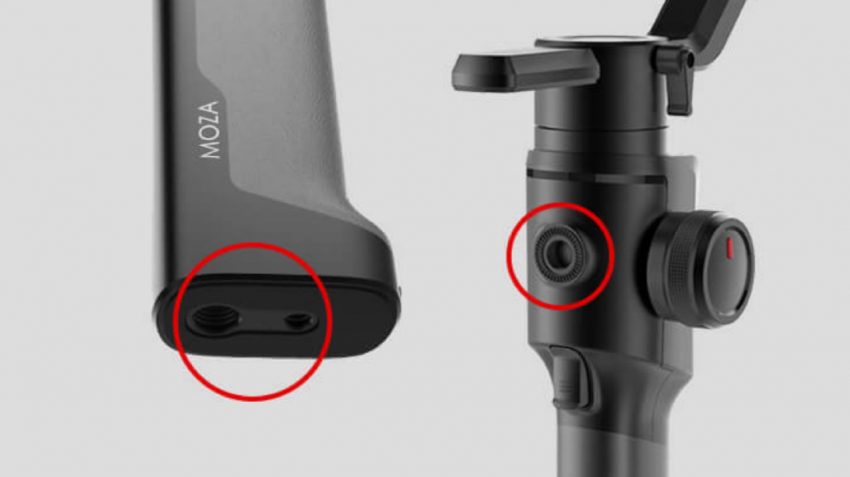 The ¼ inch screw holes at the bottom and back of the handgrip offer expansions for your device. The gimbal can be mounted to a tripod, slider, jib, crane or anything else with universal connection
MOZA Ecosystem
MOZA Air 2 includes a newly designed versatile and adaptable modular ecosystem to allow filmmakers to operate in whatever way is most productive for them. This means you can use the MOZA thumb controller, the iFOCUS system, camera cage, camera backpack, dual handle to distribute control of gimbal pointing, FIZ and camera controls in whatever way makes sense for your shot.

The Moza Air 2 is scheduled to ship towards the end of October at €599/$599 USD. If you are in North America you can pre-order from B&H, otherwise head over to Gudsen's website for more details.
The other new gimbal at the Gudsen stand was the Moza Air X. An impressive and futuristic looking gimbal, apparently inspired by Star Wars in terms of design, has been built to hold bigger (than DSLRs) digital cinema cameras such as the industry standard ALEXA Mini and RED DSMC2 cameras.
A prototype of the Moza Air X was on display at Photokina with a Sony FS5, however it was not powered, so we couldn't evaluate stability or movements, however it does feel a bit strange when you hold it. Maybe it's a question of getting used to the machine gun-like style.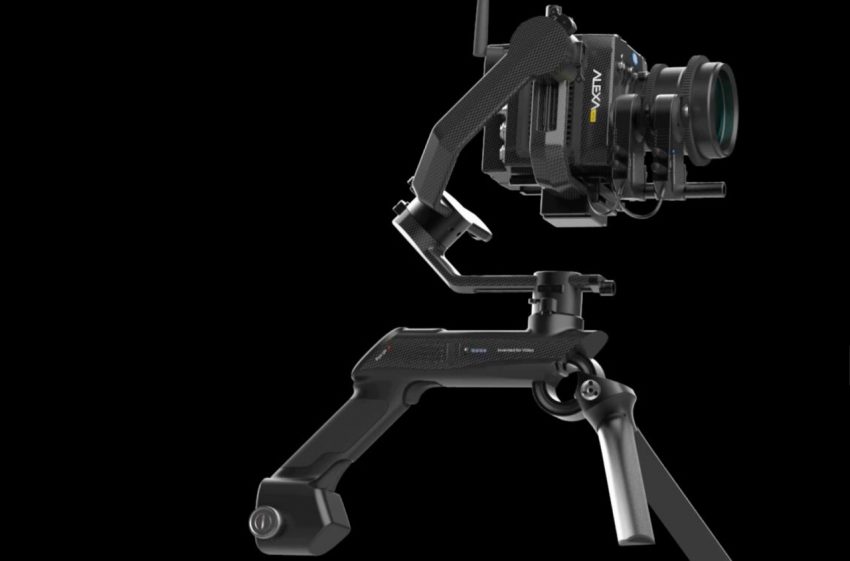 The MOZA Air X has a maximum payload of 6 kilograms (about 12lbs roughly) and has been constructed from high quality carbon fibre material in order to maintain a lightweight footprint of only 1.4kg; the Air X also boasts reinforced rigidity aerospace grade carbon fibre gimbal arms.
On their website, Gudsen show off their Moza Air X gimbal in a variety of configurations (see the photo below) as to give you maximum amount of flexibility when you are out in the field filming with it and flying a cinema camera setup, which can often be a difficult and tiring exercise.
It is also possible to dismount the Moza Air X from its machine-gun-like handles and mount the gimbal on a slider further expanding your creative options to get some Hollywood-like shots and bump-up the production value of your shoot. Despite its high payload capacity, the Moza Air X is capable of a 20+ hours battery life according to the manufacturer, since it is equipped with four 2900mAh li-batteries. Thanks to their fast charger you can also re-charge these batteries in just 1.5 hours.

Moza Air X Features:
6kg max Payload
Carbon Fibre Construction; weighs only 1.4kg
High torque motors
Designed for ALEXA Mini, RED DSCM2, FS5 and similar
Innovative Design with Multiple Holding Positions
20+ hours battery life
Detachable Wireless Thumb Controller
2 inches IPS touch screen + 2.5D glass panel
Trackball to control gimbal posture
Super hand wheels for independently control of two iFocus simultaneously
Various I/O ports:

DC IN, DC OUT
MOZA Multi-CAN, PPM, S-BUS, USB-C

Bluetooth 5.0, WIFI, 2.4G up to 100m wireless control
Mimic motion control and camera control
Price: TBD
Available towards the end of 2018.
There is no price for Moza Air X at the moment, however for more details on the Moza Air X and Air 2 you can head over to Gudsen's website here.
Disclaimer: As an Amazon Associate partner and participant in B&H and Adorama Affiliate programmes, we earn a small comission from each purchase made through the affiliate links listed above at no additional cost to you.
Claim your copy of DAVINCI RESOLVE - SIMPLIFIED COURSE with 50% off! Get Instant Access!