With the continuing advancements in hardware technology, the gap between laptop and desktop performance is quickly closing. Thanks to innovative engineering strategies, companies like Intel, NVIDIA, and AMD have found ways to push the boundaries of mobile computing technology by integrating desktop-grade processors into portable computers with a much smaller physical footprint, thus creating a new class of notebooks that challenge the existence of conventional desktop editing computers.
One of these groundbreaking, power-hungry desktop replacements is without a doubt the Acer Predator Helios 500 – a behemoth of a gaming and editing laptop released earlier this year. While the machine has been on the market for a while, Acer just rolled out an additional variant of the Helios 500, equipped with the latest AMD processors for maximum productivity and blazing fast performance. Let's take a closer look at the machine in the video review produced by Dave Lee below.
First and foremost, the AMD model of the Helios 500 shares many similarities to its Intel counterpart. The unit has the same large, thick gamer-like build and aesthetic with a massive cooling system, same 1080p display, and full-sized keyboard.
The latest Helios 500, however, boasts a desktop-class AMD Ryzen 7 2700 8-Core processor, sporting two more cores over Intel's recent 6-Core line of laptops. In addition, the computer is also equipped with an AMD Vega 56 GPU to provide the best in graphics performance one can find on such a machine.
The inclusion of these desktop-grade CPUs and GPUs allow the Helios 500 to blaze through the most demanding tasks, as proven by the benchmarks shown in the video. The AMD model resulted in the highest score Lee had ever seen in a laptop running Cinebench, with a score of 1575 points. In addition, the laptop's new Ryzen 7 2700 processor gave the computer a multi-core score of 23,200, beating out Intel's 6-Core processors.
In real-world use, Lee tested the Helios 500 by exporting a 5.5-minute Premiere Pro project, with 5K footage shot from a RED Scarlet-W. Regarding render times, the Helios 500 was able to render the video in 6 minutes and 19 seconds – much faster than the Intel-based model of the Helios 500 and the Gigabyte Aero 15X.
If you're looking to further bump up processor performance, you'll be happy to know that AMD's proprietary overclocking system will work with this laptop, thanks to the computer's sturdy build and powerful cooling system. In this particular case, Lee was able to use the overclocking software to boost his clock speed up to 3.7GHz per core.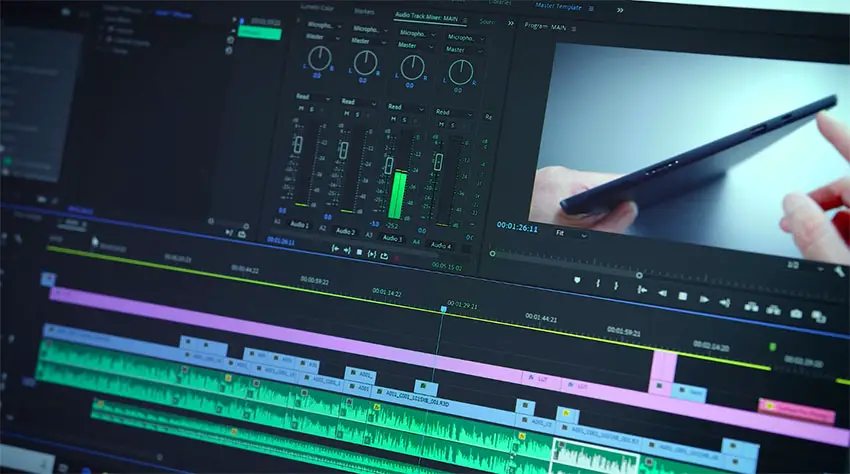 Other than CPU performance, the graphics on this laptop don't disappoint either, with the Vega 56 GPU being more-than-capable of running system-intensive applications at max settings. However, Lee did note that although the Vega 56 is a well-proven graphics card, there isn't much of a performance difference between that and the NVIDIA GTX 1070.
Acer Predator Helios 500 Highlights
3.2GHz AMD Ryzen 7 2700 Eight-Core-Core
16GB DDR4 | 256GB SSD
17.3″ FHD 1920×1080 FreeSync IPS Display
AMD Radeon RX Vega 56 GPU (8GB HBM2)
10/100/1000 MB/s Gigabit Ethernet
802.11ac Wi-Fi | Bluetooth 5.0
USB Type-C | HDMI | DisplayPort
Windows 10 Home
For serious mobile video editors or hard-core gaming fans, the Helios 500 is a laptop that certainly leaves an impression. With updated specs that highlight some of the best technology that AMD has to offer these days, content creators who are willing to buy this machine will certainly be satisfied with their purchase as the Helios 500 strikes a remarkable balance between computing power and performance unseen on any other commercially available laptop thus far.
[source: Dave Lee]
Order Links:
Acer 17.3″ Predator Helios 500 Gaming Notebook (B&H, Amazon)
Claim your copy of DAVINCI RESOLVE - SIMPLIFIED COURSE with 50% off! Get Instant Access!