Zoom have been a popular maker for handy audio recorders not just for indie filmmakers and content creators, but also for a huge number of musicians and podcasters. In the past year or so, Zoom have been also adding and upgrading the video functionality on their audio recorders and are now unleashing their latest video recorder designed primarily for musicians – the Zoom Q2n-4K, which builds upon the already existing Zoom Q2n, however this time with a brand new 4K camera, built from the ground up and capable of 4K/30p recording, a much needed improvement from the 1080p capable Q2n.
The new Zoom Q2n-4K also features a 150° wide-angle lens 15.2mm f/2.8 lens with five different field-of-view settings, enabling you to choose from wide shots or singles without changing lenses. Video with audio are recorded as an MPEG-4/H.264 (.MOV) file, however you can use the Q2n-4K as a standalone audio recorder by selecting the "Camera Off" mode, which enables audio data to be saved independently in uncompressed WAV format (up to 24-bit/96 kHz).
The camera includes an HDR setting, which automatically adjusts the exposure to your subject depending on the lighting conditions. In addition to 12-scene settings, musicians can also opt to put the Q2n-4K in an "Auto" mode and also use one-touch recording. Analogue style control via a knob on the side allows you to quickly adjust the gain of your recording.
Thanks to the 1/4″-20 threaded stud you can easily mount the camera on a light stand or magic arm and frame the shot on the built-in LCD screen (which appears to he quite low res, but should be good enough for framing). The Q2n-4K records onto microSDXC cards and supports capacities up to 256GB. You can monitor your audio via headphones thanks to the 1/8" stereo output jack.
Expected battery life depends on the resolution you are recoding in, with Zoom estimating about 2 hours of recording in 4K/30, and 4 hours if you drop to 1080/30p on 2 x AA batteries, which is pretty decent. However, there is also the Zoom BCQ-2n Battery Case, which takes 4x AA batteries, provides roughly four times the run time and is mounted on the bottom of the Q2n-4K, think of it as a battery grip for your DSLR/mirrorless.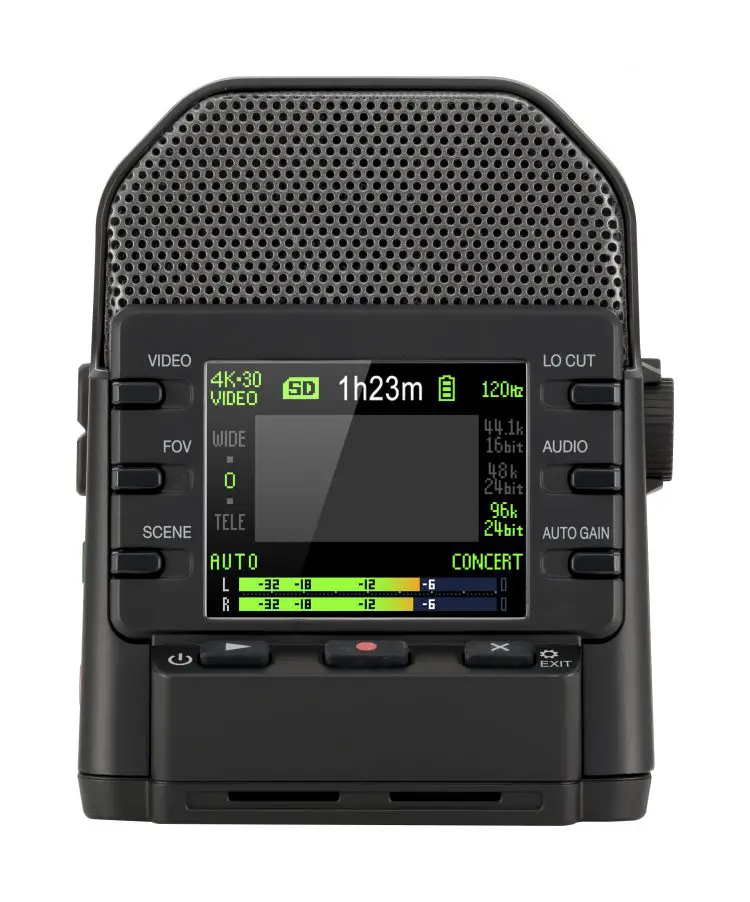 The Q2n-4K also supports streaming (in 720p WVGA) live to popular platforms such as Facebook, YouTube, and Twitch.
Scene Setting on the Zoom Q2n-4K:
Zoom Q2n-4K Features:
High-quality 150° wide-angle lens (f2.8/15.2 mm)
12 'Scene' options for use in different lighting environments,
'Auto' setting intelligently adapts to filming environment
Built-in X/Y stereo microphones capable of handling sound levels up to 120 dB SPL
Can be a standalone audio recorder with data saved in WAV format up to 24-bit/96 kHz
5 field of view (FOV) settings
Easy one-button recording
Color LCD (low res though, use for framing only)
Video modes supported (in .MOV):
Video bitrates up to 76 Mbps for improved image quality
Frame rates:

4K/30fps, 4K/25fps, 4K/24fps,
1080p/60fps, 1080p/50fps, 1080p/30fps, 1080p/25fps, 1080p/24fps,
720p/30fps, 720p/25fps

HDMI video output for connection to HDTVs, selectable between NTSC and PAL
Records to microSD, microSDHC and microSDXC cards up to 256 GB
Analog-style level control with onscreen digital metering
Auto Gain function gives automatic control over audio input level
Stereo input for use with external devices plus support for plug-in power
Headphone/line-level output for fast audio monitoring
Low-cut filter for the elimination of low-frequency noise and rumble
USB interface for live streaming and data transfer
Compatible with third party software:

OBS Open Broadcaster Software,
Skype and other popular streaming applications

USB mic function (with low-latency direct monitoring) when used with computers and iOS devices (Apple Camera Connection Kit or Lightning to USB Camera Adapter required for use with iOS devices)
Runs on 2x AA batteries
Built-in standard tripod mount
Price: $199.99 at B&H
Zoom Q2n-4K: Webcam Mode:
Zoom Q2n-4K Optional Accessories: 
WSU-1 universal hairy windscreen
HS-1 hot shoe mount
MA-2 tripod to mic stand adapter for Handy Recorders
Zoom AD-17 AC adapter
BCQ2n battery case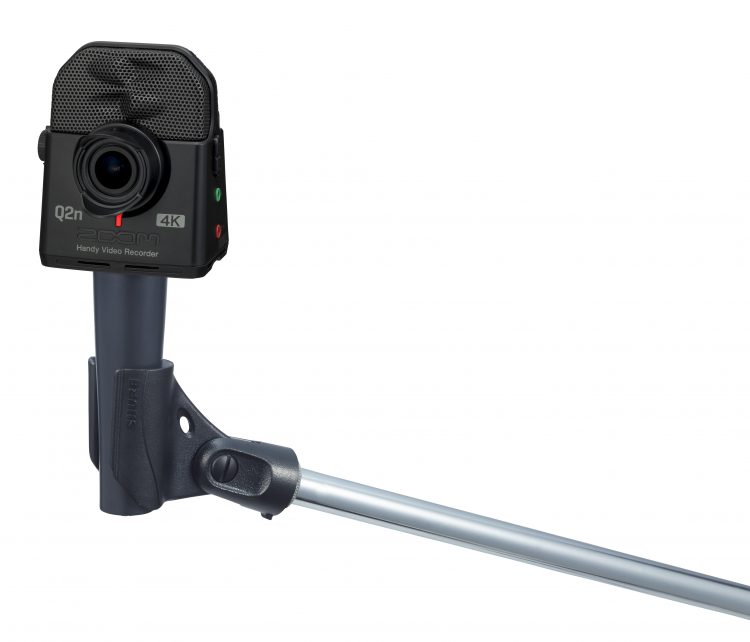 Here is a video/audio sample of the quality you can expect from the Zoom Q2n-4K:
What's included with the Q2n-4K:
Q2n-4K Handy Video Recorder
Lens hood
Lens cap
AA batteries (x2)
Quick Guide
For full specifications head over to Zoom's website here.
Claim your copy of DAVINCI RESOLVE - SIMPLIFIED COURSE with 50% off! Get Instant Access!