Hybrid mirrorless cameras have been evolving rapidly over the past two years to a point where they've eclipsed more traditional DSLRs for professional video use; they are practically everywhere. Every professional cameraman or camerawoman are expected at any given time to "whip out" out of their camera bags the proverbial "A7s" as producers like to call DSLRs type cameras, and get the odd vox pop shot.
4K mirrorless cameras like the Panasonic GH5, the Panasonic GH5s and the A7s II have de-facto become the standard for low-budget web-oriented productions and are often B-cams to more broadcast/corporate gig/documetnary oriented S35 camcorders like the Canon C300/C300 II, FS7, and EVA1.
However, as most of you out there that often shoot multi-camera jobs, can attest, syncing audio from an A7s, GH5, the odd 5D III and the compulsory GoPro camera can often be a nightmare in post. Many of you are probably already familiar and have used the Tentacle Sync products, but for those of you that have not, I did an interview with the company's founder Ulrich from Photokina 2018, which I have linked to below.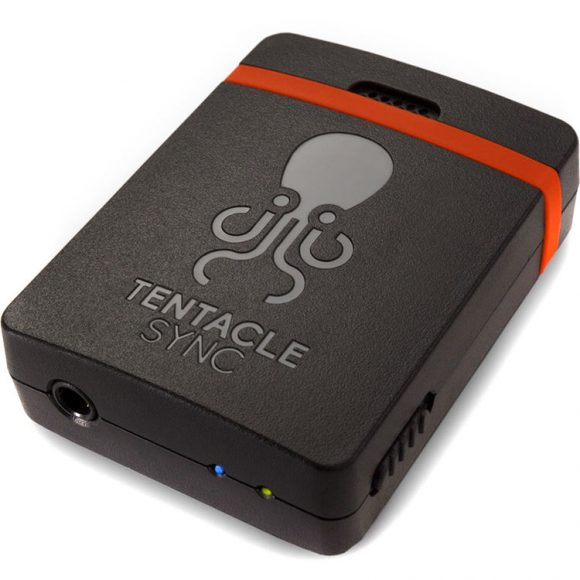 Tentacles (as Tentacle Sync calls their little devices) are basically super compact timecode generators completely stripped-down to the barebones essentials – accurate clock, small, lightweight, smart and easy to use without any fuss or confusion. The versatile timecode output of Tentacle will allow you to connect Tentacles to nearly every kind of camera or recorder. From a DSLRs and mirrorless cameras to an ARRI Alexa, Tentacle works with them.
Once connected, you can leave Tentacles on your equipment for the whole day because Tentacles stay frame-accurate for 24 hours and the built-in battery lasts for up to 40 hours.
Tentacle Sync E is the natural successor, or Generation 2 of the original Tentacle Sync, now with Bluetooth low-energy built-in. Users can now monitor and setup with ease and get a battery life of up to 35 hours.
Tentacle Sync E Features
Can act as Master Clock or Jam-Sync to any External Timecode Source
Setup and Monitoring with Bluetooth via Smartphone  (iOS & Android)
Lockable Connector with the included "Tentacle Clamp"
Built-in Rechargeable and Replaceable Lithium Polymer Battery
Inaccuracy less than 1 Frame within 24 Hours
Runtime up to 35 Hours, Fast Charging via USB-C
Improved High-Quality Built-in Microphone
Switchable Mic/Line Output
Uses LTC Timecode according to SMPTE-12M Standard
SMPTE Timecode Rates: 23.98, 24, 25, 29.97, 29.97DF and 30fps
Integrated Hook Surface for Easy Mounting
Super Small (38 x 50 x 15 mm) and Lightweight (30 g / 1 oz)
2 Year Manufacturer's Warranty
Designed and Made with Love in Cologne, Germany
Learn more about the Tentacle Sync family and their Studio software, which makes audio syncing in post a breeze:
Back in October last year, I assisted my DP Rumen Vasilev on a short film we shot in London using the ALEXA Mini, Zeiss Super Speeds MK3 and our sound recordist was using Tentacle Sync devices to sync the audio from the various mics, the camera reference sound, and his Sound Devices mixer. This little timecode generator was a godsend for our sound mixer and the films editor, and from what I hear, they also used it on a feature film afterwards.
In a true German engineering fashion, Ulrich and his team have developed a neat clamp that you can secure the 3.5mm mini jack, which is one of the most common connectors in the world, but it is far from secure when it comes to accidentally getting disconnected in the craziness of a video shoot. The new Tentacle Sync clamp transforms the 3.5mm jack connection into a lockable one, meaning you don't need to buy any non-standard, unusual cables or connectors. See it pictured below.
Every Tentacle unit comes with a full version of Tentacle Sync Studio (macOS) which enables users to sync material with easy and just a few clicks. Despite its simple and ergonomic user interface, as well as the intuitive drag & drop functionality and advanced metadata support, the Tentacle Studio is a fully fledged professional software that is a must if you often do multi-cam jobs with various cameras regardless of their timecode functionality.
Tentacle Sync Studio exports Quicktime, XML and AAF files so you can use them effortlessly with editing systems such as Premiere Pro, Avid Media Composer or Final Cut X.
For full specs and more information head over to their website here. To grab a Tentacle Sync use the links below:
Claim your copy of DAVINCI RESOLVE - SIMPLIFIED COURSE with 50% off! Get Instant Access!