You know that was coming, right? Earlier in March, SmallHD announced the FOCUS 7 and it was just a matter of time before they announced a wireless "Teradek-powered" version, hence why, today we get the new SmallHD FOCUS 7 Bolt 500 RX, lightweight wireless 7-inch monitor that would make the perfect director/client or 1st AC monitor.
The new FOCUS 7 Bolt gets the same awesome 7″ touchscreen display with 323ppi and 1920 x 1200 resolution from the FOCUS 7, which means that it is also daylight-viewable, thanks to its 1000 nits brightness. As with the FOCUS 7, the new monitor is powered via 2 x Sony L-Series (NP-F style) batteries.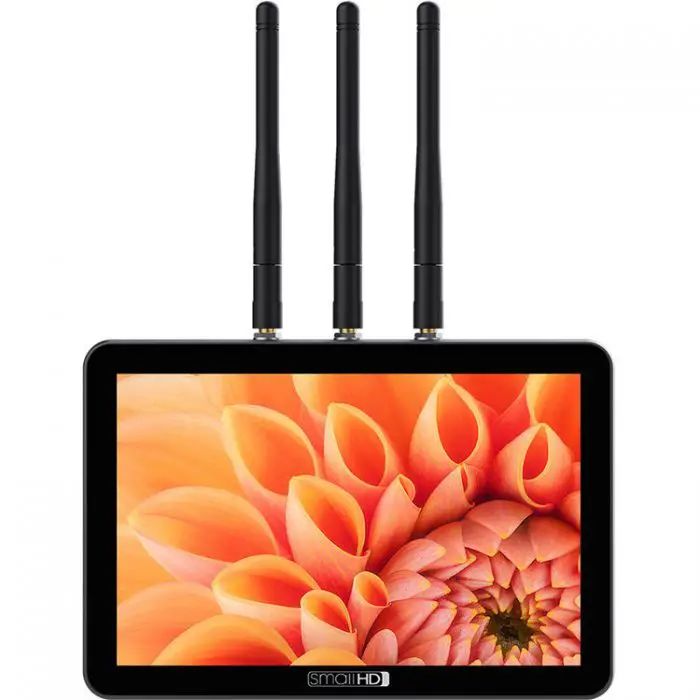 Being a "Bolt" monitor means that the SmallHD FOCUS 7 Bolt has a built-in Teradek receiver working in the 5 GHz range with a 500 feet line-of-sight transmission range, AFS or Automatic Frequency Selection and 128bit AES encryption.
Thanks to its intuitive and large touchscreen, the FOCUS 7 Bolt's touchscreen controls takes the hassle out of wireless pairing. ACs can easily pair the 7-inch monitor/receiver to a FOCUS Bolt 500 TX or Teradek Bolt 500 transmitter and enjoy exceptional HD wireless video with no perceptible delay (less than 1 ms).
SmallHD FOCUS 7 Bolt 500 RX 7-inch Wireless Monitor:
SmallHD FOCUS 7 Bolt 500 RX Features
7-inch 1920 x 1200 Touchscreen Display w 323ppi
1000nits High-Brightness 10bit IPS LCD panel
Built-In Teradek Bolt 500 Wireless Video Receiver
Transmits up to 1080p/60 Video
Up to 500′ Wireless Working Distance
Monitoring features:

Waveform / RGB Parade / Vectorscope
False Color / Histogram / Peaking

Power via Dual, Hot-Swappable Sony NP-F (L-Series) Batteries
160° Viewing Angle
75% DCI-P3 colour space
1 x Full-Size HDMI Input
Pre-order: $1,699 at B&H
The SmallHD FOCUS 7 Bolt will start selling for $1699 and is expected to start shipping soon. For more specs and to learn all about the new FOCUS 7 Bolt head over to SmallHD here.
In other SmallHD related news, the company announced a new lower price for their original FOCUS 5-inch touchscreen HDMI monitor, which is now available as a BASE model for $399.
To avoid some of the possible confusion, the new BASE variant is not a new model, but more of a stripped down version that you can buy – it's the same monitor with same I/O and features, but no Swing/Tilt arm in the package or other accessories (except for a 8″ Micro-HDMI Male to HDMI Type-A Female adapter cable). Those are available now separately, so if you're not into the Tilt Arm and you prefer to rig the FOCUS monitor in a different way, the new $399 price will help you save some money.
The FOCUS 5-inch SDI and FOCUS OLED HDMI also get the BASE-treatment and are now available in a FOCUS SDI Base version priced at $499 and the FOCUS OLED Base HDMI for $599.
SmallHD FOCUS 5″ Base HDMI Touchscreen:
SmallHD FOCUS 5″ Base Features
5-inch 1280 x 720 Touchscreen Display
Micro-HDMI Input
Supports UHD 4K, HD, and SD Input
800 cd/m² 10-Bit IPS LCD Panel
SD Card for Presets and Loading LUTs
L-Series Battery Mount
3.5mm Headphone Output
Camera Power Output
OS3 Interactive Touchscreen Software
Price: $399 at B&H
For more info and full specs on all SmallHD monitors head over to their website here.
Disclaimer: As an Amazon Associate partner and participant in B&H and Adorama Affiliate programmes, we earn a small comission from each purchase made through the affiliate links listed above at no additional cost to you.
Claim your copy of DAVINCI RESOLVE - SIMPLIFIED COURSE with 50% off! Get Instant Access!