The SmallHD FOCUS monitor family just added a bigger, 7-inch brother to the lineup. A lot of you out there were asking for a 7-inch SmallHD monitor that is more affordable, and now with the new SmallHD FOCUS 7 you get your wish granted. The new FOCUS 7 features a 7.0-inch IPS touchscreen with a 1920 x 1200 resolution, quite a bump compared to the 1280 x 720 resolution on the OG FOCUS 5-inch monitor.
The new FOCUS 7 sports a new 7.0-inch display with 323ppi, so pixel density is on par with much more expensive monitors, and the display is also daylight-viewable, thanks to its 1000 nits brightness. Power is derived from 2x Sony L-Series, NP-F style batteries; alternatively you can use a dummy battery to D-tap and power from your V-mount or Gold mount battery of choice.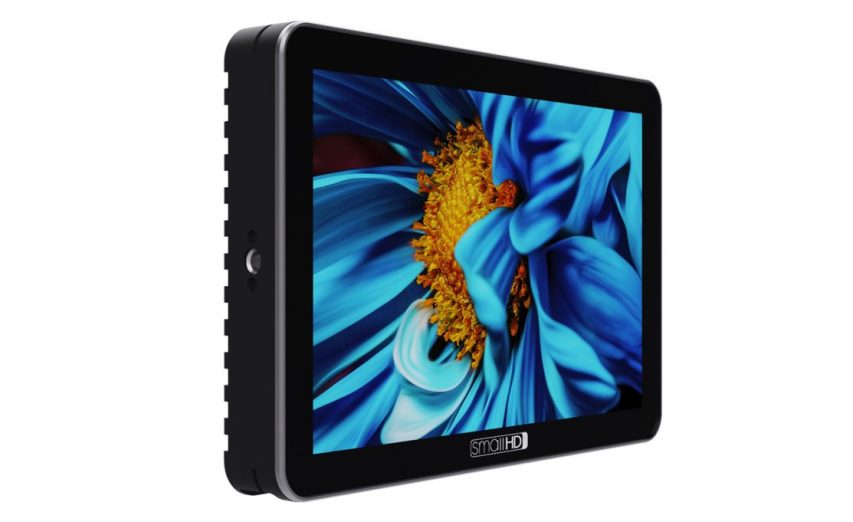 Despite the larger screen real estate, the FOCUS 7 should feel not only rugged built, but also lightweight thanks to its sleek, svelte profile. This new design detail makes the FOCUS 7 easy to attach to a camera and easy to share with a team member or client on set.
The SmallHD FOCUS 7 is priced at $699 US and thus positioned as an affordable and high quality on-camera monitor/gimbal monitor for those using a single-grip gimbal or something more traditional like a Ronin M for example.
It has a full-size HDMI input that is slightly recessed to keep the connection secure and support signals up to 4Kp/30/29.97. Users have the ability to load their own custom 3D LUTs via a full-size SD card slot. Audio output is also available using the monitor's stereo headphone jack.
To help you rig the new 7-inch external monitor to your camera or gimbal setup without too much fuss, SmallHD have made a new and more robust 7-inch SmallHD Tilt Arm. Available in the FOCUS 7 Gimbal Accessory Pack, the 7-inch Tilt Arm provides a simple and convenient way to mount the FOCUS 7 on-camera or on-gimbal.
SmallHD FOCUS 7 Features
7-inch High-Bright Touchscreen with 1000nits
IPS Display with 1920 x 1200 and 323 PPI
Powered via 2x Sony NP-F Style Batteries
Load Custom 3D LUTs via SD Card or USB Storage Device
4K/30p HDMI input
Huge Range of Professional Monitoring Tools:

Pixel Zoom (type) 2x & 4x

with smooth pan via pinch zoom gesture

Frame Guides
Anamorphic De-Squeeze:
Image Rotate: (Manual/Automatic)
Image Flip: (Manual/Automatic)
Focus Assist (Colours)

User Adjustable Colour Style and Intensity

Peaking: User Adjustable Intensity
False Colour
Zebra (Dual and User Configurable)
Waveform: Luma & RGB Style

Fully User Customizable
with Region of Interest Highlighting

Vectorscope/RGB Parade/Histogram (Luma & RGB Style)

Includes Tilt/Swivel Arm
Pre-order: $699 at B&H
SmallHD FOCUS 7 Technical Specs:
Panel Type/Active Area: IPS LCD Touchscreen/7.0 inch
Resolution: 1920 x 1200
Pixel Density: 323ppi
Aspect Ratio: 16:9
Brightness: 1000 nits
Color Gamut: 75% DCI-P3
Colour Depth: 10-bit processing
Viewing Angle: 160 Degrees
Backlight Type: White LED
Supported Resolutions (HDMI)

4K at 30/29.97fps
4K at 24/23.98fps
1080p/60, 1080p/59.94, 1080p/50
1080p/30/29.97/25/24/23.98
1080i/120/119.88/100/60/59.94/50
720p/120/119.88/100/60/59.94/50/30/29.97/25/24

Audio: Stereo Out (headphones)
Connector Type: HDMI input, Full Size HDMI
Audio: ⅛" Stereo mini-jack

Audio Meters Up to 8 channel

Power via: 2 x Sony L-Style Battery slots
Power Out Barrel

(3.5mm outer, 1.1mm inner), for powering camera via battery adapter cables
(Voltage 6.0 – 8.4V)

USB: 1 x Micro-USB
Data I/O: Storage SD Card for Image Capture/Overlay, LUT Loading, Firmware Upgrades
Wireless: Compatible with SmallHD BTR1 Wireless Remote
Overload Protection: Yes
Operating Temperature 32F to 158F
Dimensions:

Height 4.69″ (11.91 cm)
Width 1.1″ (2.79 cm)
Depth/Length 6.92″ (17.58 cm)
Weight (Packaged) 28oz (793.79 g)

Mount Points: (4) ¼-20 thread points (bottom, left & right side, back)
To learn more about the new SmallHD FOCUS 7 on-camera monitor and pre-order head over to SmallHD here.
Disclaimer: As an Amazon Associate partner and participant in B&H and Adorama Affiliate programmes, we earn a small comission from each purchase made through the affiliate links listed above at no additional cost to you.
Claim your copy of DAVINCI RESOLVE - SIMPLIFIED COURSE with 50% off! Get Instant Access!