To celebrate the launch of the latest new products designed for the exploding world of podcasting, the RODECaster Pro and RODE PodMic, popular Australian audio maker Rode Microphones are announcing a new competition for podcasters called My RØDE Cast!
I am sure most of you are familiar and have entered the popular Rode filmmaking competitions of years past, which came packed with loads of prizes in creative software and equipment. This new podcasting competition is no different.
My RØDE Cast is a global competition for podcasters of every experience level and all you have to do to enter is to just submit a 1-2 minute podcast on any topic and in any format to go in the running to win a share in over $150,000 of prizes, which have been carefully selected by the RØDE team to help podcasters kickstart their journey.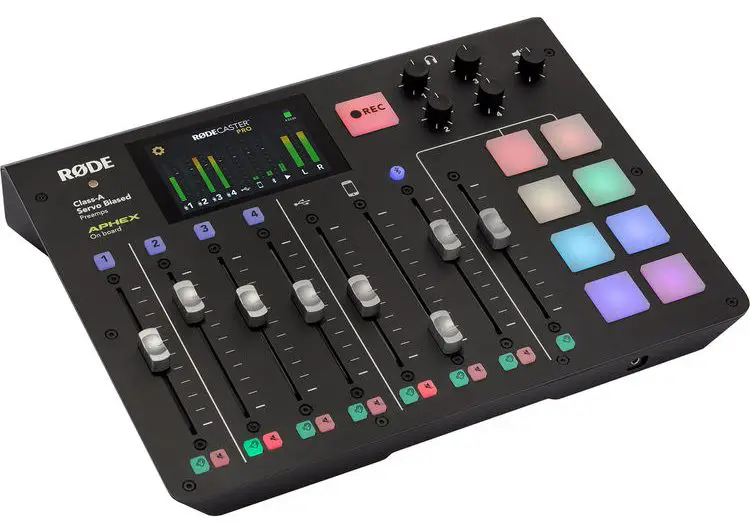 The prizes include numerous RODE microphones and accessories; the aforementioned RODECaster Pro Podcast Production Studio; headphones from Urbanears; sound effects from Blastwave FX; software subscriptions from Adobe; tuition from School Of Podcasting; SSDs from Angelbird, acoustic treatment from Primacoustic, and more.
The 1st 500 entrants will receive a FREE RØDE SC6-L Mobile Interview Kit!
Entries to My RØDE Cast are currently open and close midday (AEST/GMT+11) on March 12th, 2019.
Head to www.myrodecast.com to enter now.
Rode also recently announced their  RØDECaster Pro podcasting studio will be getting an important firmware update 1.1.0 very soon, which will include a more user-friendly interface and channel selection, plus multitrack recording!
MultiTrack Recording is coming to the RODECaster Pro!
The multitrack feature will record 14 tracks: 

A stereo 'live mix' track, as featured on the RØDECaster Pro since its release
A mono track for each of the 4 microphone inputs
A stereo track each for the USB, 3.5mm TRRS, Bluetooth and sound pad channels
RODECaster Pro Features:
4 x XLR inputs for pro microphones:

Class A, servo based inputs able to power studio condenser microphones as well as conventional dynamic microphones.

Separate inputs for:

3.5mm TRRS (phone or device)
Bluetooth (phone or device)
USB (for music/audio or app calls)

Pristine audio quality phone and app calls – with no echo (mix-minus). 

Easily adjust levels – no extra gear or messy set-up involved.

Programmable sound effects pads:

8 colour coded sound effects triggers for programmable jingles and sound effects.

Programmable in the RØDECaster Pro or from your computer via the software.
APHEX Exciter and Big Bottom patented processing for that rich, warm tone only found in professional broadcast systems.

Also includes multistage dynamics: compression, limiting and noise-gating.

Full Colour, High-Resolution Touch-screen

allows easy control of all settings, including EQ presets for a range of professional voicing.

Four high-power headphone outputs and stereo speaker out:

each with independent volume controls.

Records direct to microSD Card 

for completely self-contained operation,
or to your preferred computer and software via USB.

Live streaming capability!
TRRS, USB, and Bluetooth Connectivity
4 Discrete Headphone Outputs
Get it here: $599 at B&H
Check out this awesome overview of the RodeCaster Pro by Ryan Burke from Rode:
Firmware version 1.1.0 featuring the much anticipated and user-requested Multitrack functionality will be available to download at some point in February from rode.com/rodecasterapp.
For full specs and more details on the RodeCaster Pro head over to Rode Microphones.
Claim your copy of DAVINCI RESOLVE - SIMPLIFIED COURSE with 50% off! Get Instant Access!