Atomos just announced a new high-brightness, 5-inch monitor in their growing lineup called the Atomos Shinobi. Priced at just $399, the Atomos Shinobi features a high-brightness, 1000nit 5-inch display with 1920 x 1080p resolution. Much like the Atomos Ninja V, the new Shinobi has a 4K HDMI input, but unlike the Ninja V, it looses the HDMI output as well as recording functionality, while keeping the same form factor.
This of course contributes to the lower price tag and seems like a logical propagation of the current generation compact Atomos monitors that started with the Ninja V for those who do not need the ProRes/DNx recording functionality.
In essence, one can look at it as a more affordable (to the already budget-friendly Ninja V) 5-inch high-brightness monitor, minus the recording functionality. Atomos have designed this new 5-inch monitor mainly for vloggers, creatives and photographers using DSLRs and mirrorless cameras, that need a better monitor while outdoors to frame themselves and also get proper exposure and focus tools that the rest of the Atomos monitor lineup is famous for.
The Shinobi is quite nimble, weighing in at just 200g (7 oz). The weight savings on the Shinobi can be attributed to the more plastic housing, as opposed to the metal outer shell found on the Ninja V; however the Shinobi does share the same HDR 1920 x 1080 display (with 427 ppi) and colour processing found in the Atomos Ninja V.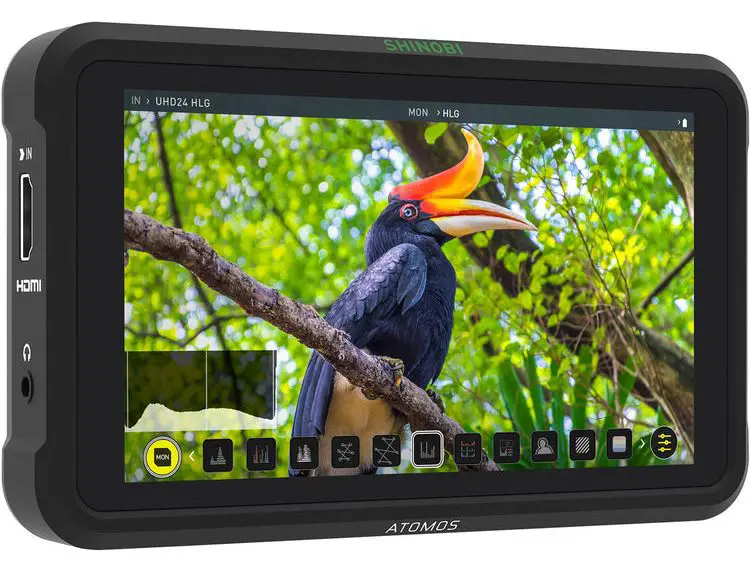 Atomos Shinobi 5-inch HDR Monitor Features
1920 x 1080 5-inch Touchscreen Display, 427 ppi
No SSD, No Recording Functions
4K/30p HDMI Input
1000nits Brightness
AtomHDR Mode with 10-Stop Dynamic Range
New Multi-Tool Analysis View
AtomOS 10 + Pro Monitoring features such as:

Focus Peaking
Histogram
False Colour
Zebras
Waveform
Vectorscope
Frame Guides and more

Supports a Variety of Log Formats:

Sony, Canon, Panasonic and others

Custom 3D LUT support via SD card

Load LUTs onto 8x internal presets

Single Sony L-Series (NP-F) Battery Slot
Headphone output for audio monitoring
Compatible with AtomX accessories
Price: $399 at B&H / Adorama
Available now!
The polycarbonate body is lightweight and durable. The Shinobi has ¼"-20 mounting points on the top and bottom to allow flexible mounting. A headphone jack on the side allows users to monitor audio from most cameras even if it doesn't have a built-in one. Clear on-screen audio level meters give users confidence that their audio is set correctly.
Atomos rate the Shinobi's power efficiency at up to six hours on a single Sony NP-F750 type battery, already commonly found in most video creators' shooters' kits. Since it does not feature an SSD slot, the battery is mounted in the center on the back to help keep the balance of this already lightweight monitor on axis.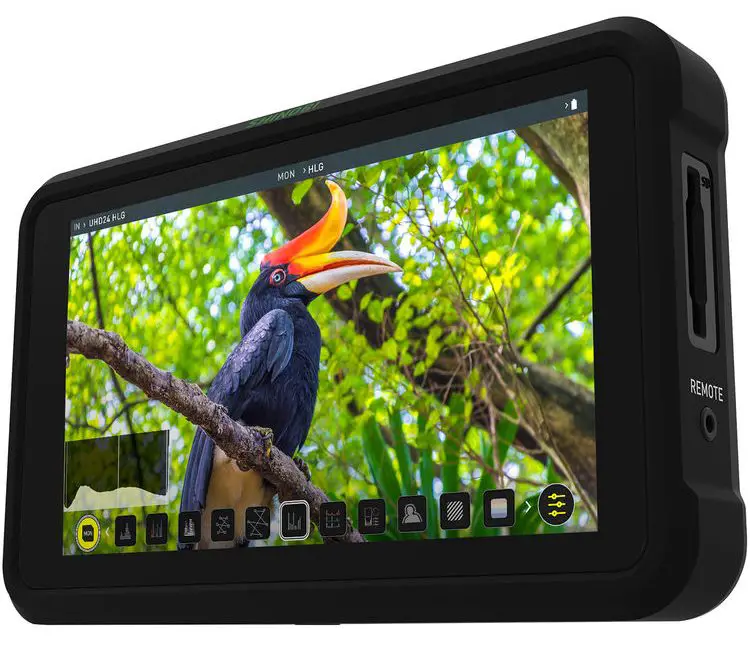 Atomos CEO Jeromy Young said, "Our single biggest customer request has been a stand-alone Photo and Video monitor – Shinobi answers that call. We've taken our pro colour and HDR processing and designed a super lightweight monitor that any YouTuber or IGTV creator can afford."
For broad compatibility the Shinobi's HDMI port can accept signals up to 4K (4096 x 2160) at 30fps, or 1080p video up to 60fps. The screen can also perfectly display 10+ stops of dynamic range when being used with Log or HLG HDR outputs. Atomos' advanced colour science gives a complete range of
in-built gamma presets to match popular cameras when shooting Log or HLG.
3D LUTs can be loaded onto 8 slots in the camera via an SD card input found on the side. In addition, countless more LUTs can be kept on the SD card and loaded in when needed. The same SD card slot can also be used to install any future firmware updates.
For more advanced uses the Shinobi features a new multi-tool Analysis view that simultaneously shows the image, plus waveform, histogram, vector-scope and audio-level meters designed to give the operator a complete picture of what is going on in the image at any time.
The Shinobi can also be properly colour-calibrated using free Atomos software and the X-rite i1Display Pro probe.
The Atomos Shinobi is available now from authorised Atomos dealers and is priced at $399 USD. For full specs and more info head over to Atomos.
Pre-order Links: 
Disclaimer: As an Amazon Associate partner and participant in B&H and Adorama Affiliate programmes, we earn a small comission from each purchase made through the affiliate links listed above at no additional cost to you.
Claim your copy of DAVINCI RESOLVE - SIMPLIFIED COURSE with 50% off! Get Instant Access!