As if CFast 2.0, SxS (and all its versions), as well as XQD weren't enough, Sony have found a way to bring yet another memory card format designed to satisfy the current and future data storage requirements of professional digital imaging tools.
Earlier today Sony announced the development of a Sony CFexpress Type B memory card (CEB-G128), a new ultra-fast next generation memory card that is ideal for professional use. The new card boasts ultra-fast read speeds of up to 1700MB/s (and write speeds up to 1480 MB/s) along with highly reliable toughness, this memory card supports the future evolution of digital devices.
The Sony CFexpress Type B shares the current XQD form factor, but is based on a new specification which adopts the latest interface, PCIe Gen 3, standardised by the CompactFlash Association. Sony will start selling the CFexpress Type B memory card initially with a 128GB capacity, however higher capacity cards with 256 GB and 512 GB capacities are planned for the future.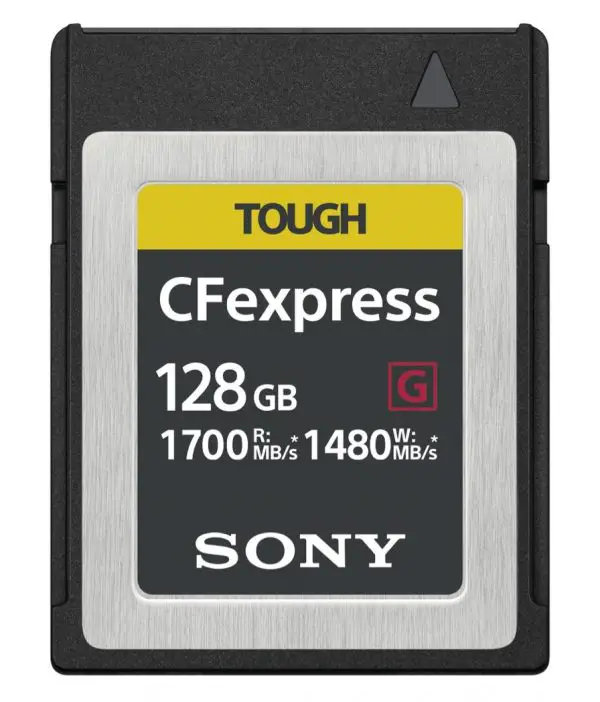 Sony CFexpress Type B Summary
Ultra-fast read and write speeds of up to 1700MB/s and 1480MB/s
TOUGH-badged for high reliability in extreme conditions
New cards will require a new Sony CFexpress card reader, the MRW-G1
Both new card and ready to hit market sometime in Early Summer 2019
No pricing yet
Same form-factor as current XQD
The Sony CFexpress Type B memory card is said to be around 3 x faster than Sony's fastest CFast memory card (with 530MB/s read speed). With a write speed of up to 1480MB/s, the new CFexpress Type B card meets future requirement needs for secure industry data-recording and requirements from professionals to capture hi-resolution images or high-bitrate video (think 8K video).
And while there are wild rumours about the newly upcoming Sony A7S III possibly shooting 8K video on a new Sony developed codec (I really hope this does not end up being true), it is almost certain that upcoming high-end mirrorless cameras from Sony will feature utilize the new card as a recording format.
The Sony FS7 (which records to XQD gen 1 cards) has been around for more than 4 years now (started shipping October 2014) and has dominated the mid-tier corporate, commercial and documentary productions, so it isn't that unlikely that whatever successor 4K (or maybe 6K or 8K) pro camcorder Sony is cooking it surely has to adopt CFexpress.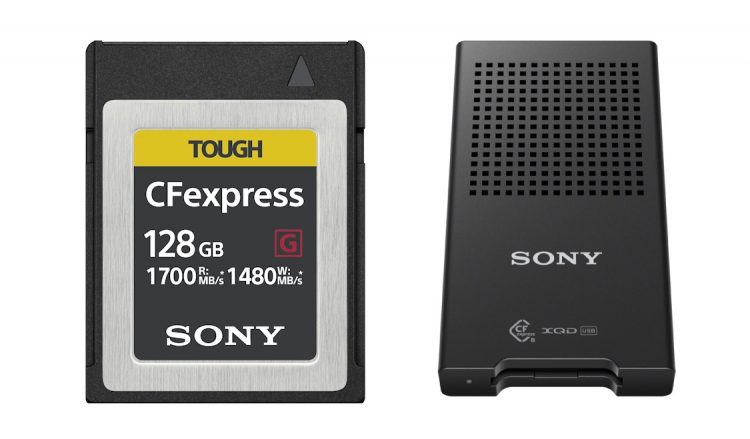 This is of course all speculation on my part, but in my opinion, Sony is not going to make a new recording media and not use it in their top echelon products. Sure, there will be other companies making these new cards, but the first will be Sony branded, "TOUGH"-badged and unfortunately not cheap at all.
It is also very possible that maybe a Sony a9 successor or a the "unicorn" Sony a7S III may record onto CFexpress in order to support their new high-resolution, high-bit rate codec. It is also possible that that "Sony a7S III" may not even be called A7s III, but instead start a new video-oriented full-frame mirrorless lineup, since currently the Sony A7III does a pretty good job of covering all basis in both full-frame 4K video and photography at a very aggressive price for its class.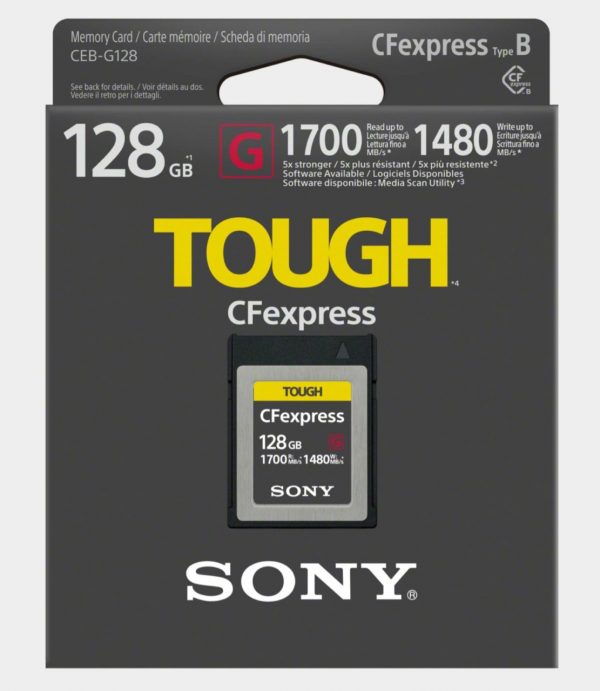 The TOUGH label indicates superior strength and ruggedness – making these new CFexpress cards able to withstand 70N of force in bend (three times the standard), and five times greater withstanding falls from up to 5m high. The new card is also temperature proof, X-ray proof, anti-static and has a UV guard so it can perfectly support use in challenging environments.
In order to take advantage of the significantly faster read/write speeds, Sony also announced a new CFexpress Card Reader, MRW-G1, optimised for Sony CFexpress Type B memory cards. This reader is also compatible with Sony XQD card G series and M series. Whether the new CFexpress cards will be compatible with existing DSLR, mirrorless and pro camcorders using XQD is not yet known.
The Sony CFexpress Type B memory card and the CFexpress MRW-G1 Card Reader will likely start shipping sometime in early Summer 2019.
Disclaimer: As an Amazon Associate partner and participant in B&H and Adorama Affiliate programmes, we earn a small comission from each purchase made through the affiliate links listed above at no additional cost to you.
Claim your copy of DAVINCI RESOLVE - SIMPLIFIED COURSE with 50% off! Get Instant Access!