Sony recently announced a new TOUGH 'designation' SD cards in the SF-G series. The new "SF-G series TOUGH specification" UHS-II SD cards will be available in capacities up to 128GBs (at least upon launch) and according to Sony combine the world's fastest read and write speeds of up to 299 MB/s with an ultra-rugged design that is bend proof to 180N, and drop proof to 5 metres.
I am wondering if the timing of this announcement is just coincidental or maybe serve as a foreshadowing device for the imminent announcement of the new Sony A7s III, which many speculate will either be announced at IBC 2018 in Amsterdam (Sept 14-18th) or a few weeks later at Photokina in Cologne Germany, a much more photography oriented trade show. This may be coincidental, as the current (non-TOUGH) SF-G range SD cards from Sony have the same read/write maximum speeds.
My money is on an IBC 2018 announcement for the A7s III, but take my prediction with a grain of salt as I have no insider knowledge on the matter and know as much as most of you. I will be at IBC 2018 and will attend Sony's press conference and will report on any new announcements from the show floor in two weeks.
Back to the new TOUGH SD cards. The Sony SF-G series TOUGH specification range are also water-proof with an IPX8 rating and dust-proof with an IP6X rating, which is a huge win for wildlife photographers and video creators working in challenging weather conditions.
The new SF-G series TOUGH SD cards are said to be 18x stronger than the SD standard with world's first monolithic structure (one-piece molding, no empty space in the card) and materials of high-grade hardness, unlike conventional SD cards with a thin, 3-part ensemble. They are protected against typical physical damage that can affect conventional SD cards such as a broken plastic casing, broken data protection lock and broken connector ribs.
This has been achieved through a new means that it is the world's first rib-less SD card with no write protection switch. These developments ensure that the SF-G series TOUGH specification is more resistant to bending and easy to break parts are removed entirely and has been engineered by Sony to deliver the best balance of hardness and toughness.
Completely sealed with one-piece molding structure, no water drop, dust or dirt is not allowed to come into the card, meeting highest grade of water-proof IPX8 and dust-proof IP6X.
Sony SF-G TOUGH Series SD Cards Highlights
World's toughest SD card is 18x bend proof and drop proof
World's first one-piece molding structure for strength and hardness
Ribless and switchless design ensures there are no fragile components
World's fastest read speed up to 300MB/s and write speed up to 299MB/s
Waterproof and dustproof world-class ratings of IPX8 and IP6X respectively
Keep your work safe with the SD Scan Utility and File Rescue Software
It is important to note that, the new Sony SF-G series TOUGH specification range also supports V90, the highest standard of video speed class, making it an ideal companion for shooting high resolution 4K video (which should be plenty to support the rumored 10bit internal recording in the upcoming A7s III – fingers crossed for that).
Also, the advertised 'up to' write/read speeds are just that – they are not sustained speeds and it is most likely that the realistic transfer speeds, although fast, won't be anywhere near 299 MB/s.
The Sony SF-G series TOUGH specification SD cards offer a series of further features, designed to give users more peace of mind. These include an 'SD Scan Utility' which allows the user to check that the card is good condition and File Rescue Software which can recover data and photos that might have accidentally been deleted.
Furthermore, SF-G series TOUGH specification SD cards are also X-ray proof, magnet proof, anti-static, temperature proof and feature UV Guard.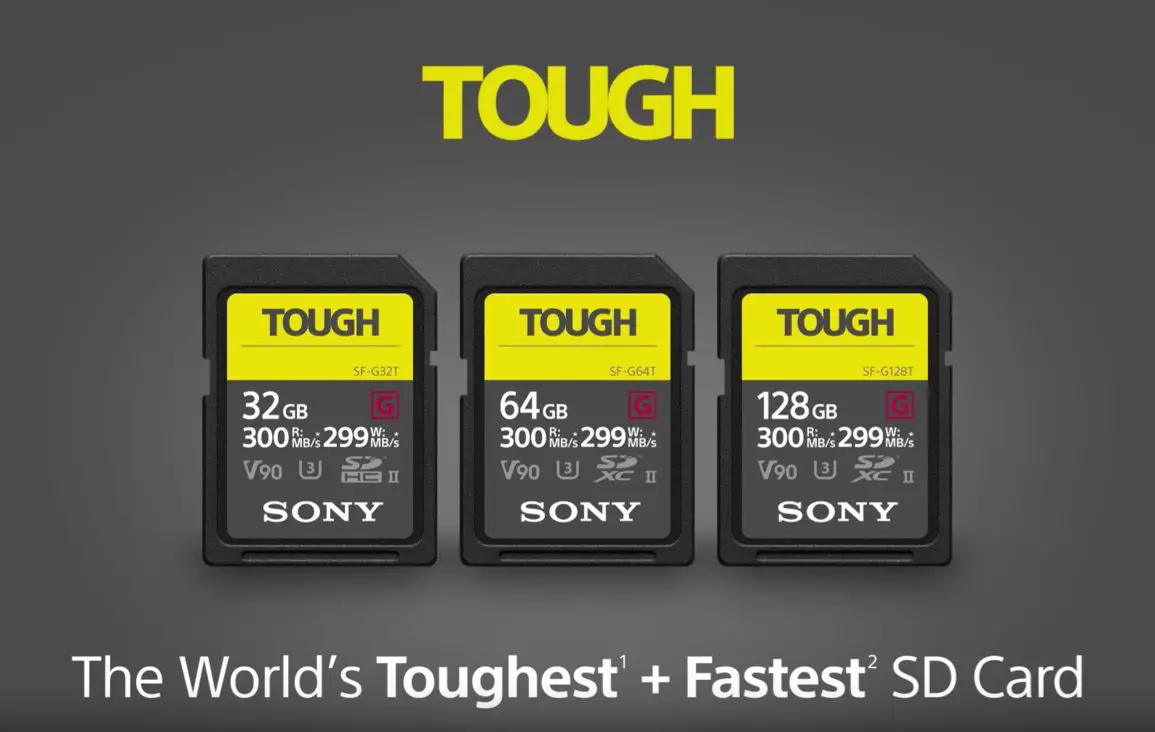 Pricing and Availability
The new SF-G TOUGH series of memory cards are planned to ship in October, at the following suggested retail prices:
SF-G32T/T1 – 32GB – $72.99
SF-G64T/T1 – 64GB – $131.99
SF-G128T/T1 – 128GB — $275.99
For reference you can also check out the the pricing on the current SF-G series SD cards (300MB/s read; 299MB/s write) at B&H, where a 128GB capacity version goes for about $215 USD.
For full specs and more details on the SF-G TOUGH cards head over to Sony's dedicated website here.
Claim your copy of DAVINCI RESOLVE - SIMPLIFIED COURSE with 50% off! Get Instant Access!