Blackmagic Design today announced URSA Mini Pro 4.6K G2, a second generation URSA Mini Pro camera featuring fully redesigned electronics and a new Super 35mm 4.6K image sensor with 15 stops of dynamic range that combine to support high frame rate shooting at up to 300 frames per second. In addition, URSA Mini Pro 4.6K G2 supports Blackmagic RAW and features a new USB-C expansion port for direct recording to external disks.
The new URSA Mini Pro 4.6K Gen 2 is priced at $5,995 US and improves on the original model as it now features entirely new electronics for higher speed processing. Blackmagic Design say there is a new Super 35mm 4.6K image sensor that captures up to 4608 x 2592 pixels with 15 stops of latitude at up to 3200 ISO.
The OG URSA Mini Pro 4.6K wasn't great in low-light, so I am hoping that BMD engineers have worked their "magic" to get some less noisy images at high ISOs with the new chip on the G2 camera.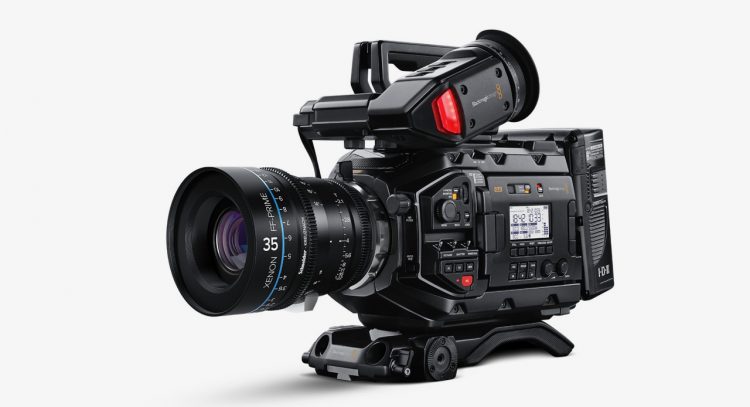 Thanks to these improvements the new URSA Mini Pro G2 can now record 4.6K up to 120fps, as well as windowed 4K DCI at up 150fps, and windowed 1080 at up to 300fps. Of course, this is also made possible thanks to the latest implementation of Blackmagic RAW, the new BMD made visually lossless raw compression that is so much kinder to your hard drives and your computer resources making for a much smoother editing experience, while preserving RAW qualities for extensive post-production.
With Blackmagic RAW, you can choose compression levels up to 12:1 and still get stunning images that can be used for feature films, documentaries and broadcast programming.
Blackmagic URSA Mini Pro 4.6K G2 Features
Digital film camera with 15 stops of dynamic range.
NEW Super 35mm 4.6K sensor

with Blackmagic Design Generation 4 Color Science.

Records the following frame rates in Blackmagic RAW:

4.6K/120fps
4K DCI/150fps
1080p/300fps

Records Blackmagic RAW files in

Constant Bitrate 3:1, 5:1, 8:1 and 12:1 or
Constant Quality Q0 and Q5

Records 4.6K/4K/1080p Apple ProRes in the following flavours

ProRes 4444 XQ,
ProRes 4444,
ProRes 422 HQ, ProRes 422, ProRes 422 LT, ProRes 422 Proxy

Interchangeable lens mount with EF mount included as standard.

Optional PL, B4 and F lens mounts available separately.

High quality 2, 4 and 6 stop neutral density (ND) filters with IR compensation

designed to specifically match the color science of URSA Mini Pro G2

Fully redundant controls including external controls which allow direct access to

external power switch,
ND filter wheel,
ISO, shutter, white balance, record button,
audio gain controls, lens and transport control, high frame rate button and more.

Dual x C-Fast 2.0 and dual SD/UHS-II card slots
High speed USB-C expansion port for recording directly to an external SSD or flash disk.
Lightweight and durable magnesium alloy body.
Dual XLR mic/line audio inputs with phantom power,
12G-SDI output for monitoring with camera status graphic overlay and separate
Built in high quality stereo microphones for recording sound.
4 inch foldout touchscreen for on-set monitoring and menu settings.
Includes full copy of DaVinci Resolve software color grading and editing software.
"The original URSA Mini Pro has been an extremely successful and very popular camera," said Grant Petty, CEO, Blackmagic Design. "Blackmagic URSA Mini Pro 4.6K G2 is exciting because it gives customers second generation electronics and an even higher performance image sensor so they can shoot at extremely high frame rates for crystal clear slow motion images.

URSA Mini Pro 4.6K G2 is powerful enough to be used on high end feature films and television shows, versatile enough to be used for broadcast news and live multi camera event production, and affordable enough for indie filmmakers and even students! It's like getting 3 cameras in one!"
See the full Blackmagic Design presentation about the March 2019 new products and updates below:
The new Blackmagic URSA Mini Pro 4.6K G2 goes into manufacturing next week according to Blackmagic Design and will be available from resellers worldwide for $5,995 US. Let's hope that it will start shipping soon as well.
Also available from resellers are the following optional accessories:
URSA Mini Pro PL lens mount – $245
Nikon F lens mount – $375
URSA Mini Pro B4 HD lens mount – $385
For full specifications head over to Blackmagic Design.
Disclaimer: As an Amazon Associate partner and participant in B&H and Adorama Affiliate programmes, we earn a small comission from each purchase made through the affiliate links listed above at no additional cost to you.
Claim your copy of DAVINCI RESOLVE - SIMPLIFIED COURSE with 50% off! Get Instant Access!