Blackmagic Design is going into 8K territory with the announcement of a their HyperDeck Extreme 8K HDR a new innovative broadcast deck with advanced H.265 8K recording combined with touch screen user interface and traditional broadcast deck controls.
The move towards 8K, at least on the broadcast side of things (despite the whole 8K transmission and 4K for that matter still being in their infancy as far as widespread adoption goes) is kind of a big deal for Blackmagic Design, as they are the kind of company that pushes the boundaries frequently. Thus, 8K marks their theme for this years' NAB Show.
While, there were no announcements of new cameras (no Blackmagic 8K cameras as some were expecting), Blackmagic Design did announce a Battery Grip for the BMPCC 4K, which you can read more about here.
The new HyperDeck Extreme 8K HDR features the trusted reliability of HyperDeck combined with new innovations such as space saving H.265 files, optional internal cache, 3D LUTs, native 8K and HDR support. With the ability to record native 8K in H.265, users get reduced storage costs and amazing image quality. The large touch screen ensures a perfect view of their recording as well as control over all deck settings.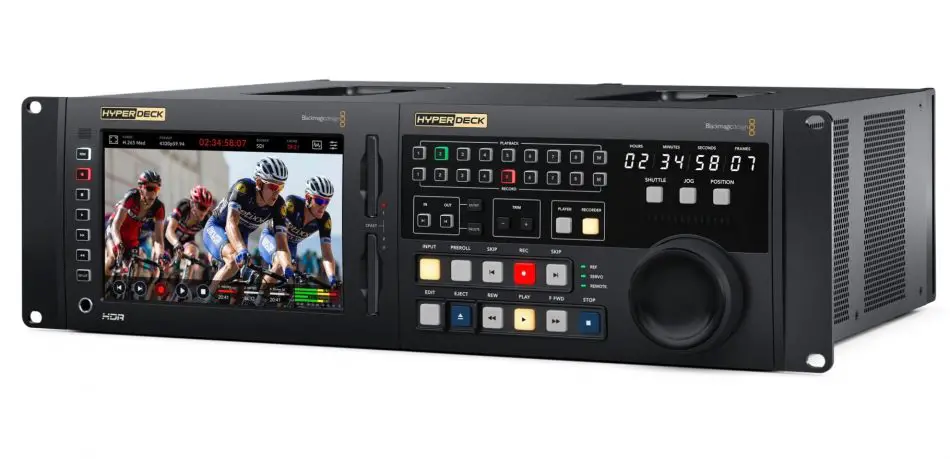 HyperDeck Extreme 8K is rack-mountable and has an innovative touch screen user interface with deck controls as well as a large screen to view their recording. Then add a HyperDeck Extreme Control for traditional broadcast deck controls and a large shuttle knob that feels incredibly luxurious to use. The new Blackmagic HyperDeck Extreme 8K HDR also includes 2x CFast 2.0 media slots, Quad 12G-SDI for 8K, analog connections for archiving, USB-C external disk recording, plus a front panel speaker and headphone jack.
The latest Quad Link 12G-SDI is included so it's possible to record and playback in full resolution 8K. The SDI connections are multi-rate, allowing operators to use Quad Link 12G-SDI to get compatibility with other 8K products, or switch to SD, HD or Ultra HD using the single link 12G-SDI connection. To allow regular CFast cards to be recorded at high resolution 8K, HyperDeck Extreme uses modern H.265 files for 8K recording and playback. This means HyperDeck Extreme 8K is perfect for connecting to the latest 8K televisions and projectors.
The innovative touch LCD user interface provides incredible control. On screen, there are dedicated buttons for play, stop and record, plus a mini timeline for scrolling through their recordings. You can even image swipe to jog. The LCD includes a heads up display of timecode, video standard, media status as well as audio meters. Scopes can be enabled via the touch screen as well as focus and exposure assist. You can also load and save 3D LUTs into the machine.
HyperDeck Extreme Control extends their HyperDeck Extreme to add traditional broadcast deck controls. It works like a traditional broadcast deck with a familiar layout; users can control up to 8 decks via industry standard RS-422 control.
With H.265, users can expect recording times of up to 8 hours at 8K/60p on a 1 TB card, and 17.6 hours in UHD 2160/60p!
The USB-C Expansion port allows you to plug in an external flash disk for recording if you need larger recording capacities. Adding a Blackmagic MultiDock 10G also makes it easy to use SSDs for compatibility with other HyperDeck models.
HyperDeck Extreme 8K features a wide range of video and audio connections such as multi-rate Quad Link 12G-SDI for SD, HD, Ultra HD and 8K SDI devices. The 12G-SDI outputs support fill and key when playing RGBA 4:4:4:4 files. HDMI is included for consumer televisions and video projectors. For archiving work, HyperDeck also includes both balanced analog, HiFi audio plus timecode connections.
The new HyperDeck 8K supports the latest HDR workflows and latest HDR standards. The built in scopes even change to HDR scopes when working in HDR formats. Files are tagged with the correct HDR information then SDI and HDMI inputs will also automatically detect HDR video standards. Static metadata PQ and HLG formats are handled according to the ST2084 standard.
The bright LCD has a wider colour gamut so can handle both Rec. 2020 and Rec. 709 color spaces. The built in HyperDeck Extreme 8K HDR LCD colour gamut can even handle 100% of the DCI-P3 format.
Blackmagic Design HyperDeck Extreme 8K HDR Features
Supports live production, digital signage and archive use.
Supports legacy program ingest for streaming.
Record and playback in full resolution 8K.
Large LCD screen for with touch user interface.
Optional traditional broadcast deck controls.
Dual CFast media cards for non stop recording.
Records direct to external USB-C media disks.
Optional media cache eliminates dropped frames.
Quad Link 12G-SDI for 8K, HDMI and legacy analog connections!
Advanced HDR support with bright wide gamut LCD.
Built in scopes include waveform, vector, parade and histogram.
Latest Multi-rate 12G-SDI for SD, HD, Ultra HD and native 8K.
Standard H.265 and ProRes files for wide compatibility.
Professional multi channel digital and analog audio.
Localized for 11 popular languages.
10G Ethernet for extremely fast remote media upload.
Traditional RS-422 broadcast deck control.
Compatible with new ATEM Constellation 8K switcher.
Works with popular NLE software such as DaVinci Resolve.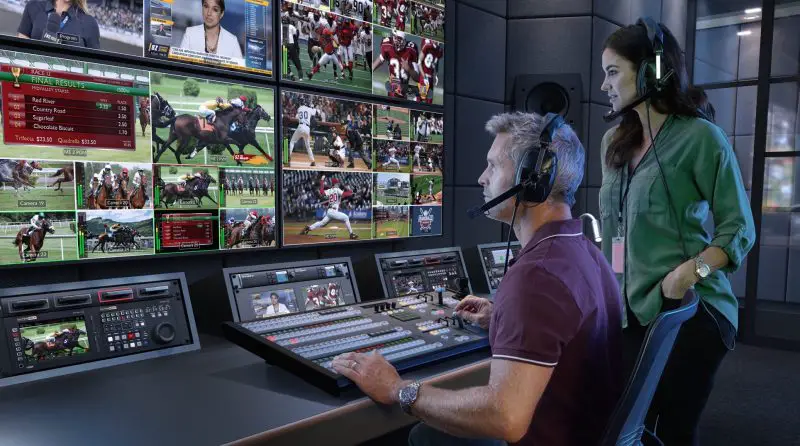 Blackmagic Design HyperDeck Extreme 8K HDR will be available in June 2019 for US$4,995 excluding duties/local taxes from Blackmagic Design resellers worldwide.
At the start of NAB 2019 earlier today, Blackmagic Design also announced the new Teranex Mini SDI to HDMI 8K HDR, a new advanced 8K HDMI monitoring solution with dual on screen scope overlays, HDR, 33 point 3D LUTs and monitor calibration for professional, colour accurate SDI monitoring on HDMI 8K screens.
Teranex Mini SDI to HDMI 8K HDR is an advanced 8K monitoring solution for large screen televisions and video projectors. Unlike basic converters, Teranex Mini can use third party calibration probes to accurately align connected displays for precise colour. There are 2 on-screen scopes that can be selected between WFM, Parade, Vector and Histogram. Teranex Mini SDI to HDMI 8K HDR is perfect for film studios and broadcasters who need professional but affordable colour accurate monitoring.
The front panel feels elegant when placed on a desktop plus it includes buttons and a colour display for video monitoring with audio meters and video standard. The rear panel has Quad Link 12G-SDI for HD, Ultra HD as well as 8K formats. There are also 4 HDMI outputs allowing use with 8K televisions that feature quad HMDI inputs, plus a down converter for using 8K sources on Ultra HD or HD televisions.

Teranex Mini SDI to HDMI 8K HDR will be available in May 2019 from Blackmagic Design resellers worldwide for US$1,295.
To learn more about the latest NAB 2019 announcements, check out the very informative 2 hour+ Technical Product Overview with Blackmagic Design CEO, Grant Petty below:
For more technical details, full specifications, and all other BMD NAB 2019 announcements, head over to Blackmagic Design.
Claim your copy of DAVINCI RESOLVE - SIMPLIFIED COURSE with 50% off! Get Instant Access!