In response to the increasing power consumption by cameras prompted by the need for more internal processing, established 12 Volt systems can no longer cope with the demand for more juice according to ARRI. In order to meet the increasing power demands of camera and lighting systems with a sustainable solution, the Munich battery manufacturer bebob, has developed the B-Mount—a new battery mount that makes it possible to supply 24 Volt devices while providing maximum flexibility regarding the choice of batteries and accessories. ARRI said they will be using the B-Mount for all of its future cameras.
This newly developed B-Mount interface has several decisive advantages compared to its predecessors. The new B-Mount provides 24 Volt high-power but is also equipped to support bot 12V and 24V. Being adaptable for the respective needs of compatible devices, the B-Mount makes it possible to supply all devices on set with a single battery system.
Special attention was paid to designing a stable, robust construction, featuring the seamless interlocking of individual components. Having an open protocol and universal battery communication was also important in the B-Mount's development.
Previously, manufacturers had to develop various data transmission protocols for different device configurations. With the B-Mount interface, only one protocol is required. With the introduction of the B-Mount, ARRI and bebob aim to create a new, universal 24 Volt industry standard.
ARRI bebob B-mount Summary
24 Volt High-power capability featuring universal battery communication
Robust construction and seamless interlocking of components
B-Mount will power all current and future ARRI cameras 
To be used on future ARRI cameras
Open to third-party battery and equipment manufacturers
The specifications for this interface have been made accessible and have already been shared with various manufacturers in recent months.
"Since the introduction of our ALEXA LF, we have been looking for a 24 V standard, which will make it easier to work on set in the future. Bebob has now created a fitting solution with the new B- Mount," says Stephan Schenk, Managing Director of ARRI Cine Technik, responsible for ARRI's Business Unit Camera Systems.

Christoph Aust, Managing Director at bebob comments: "We are very honored that ARRI supports the development of this important project. Besides its high-power capability, we consider the multi-voltage concept of the B-Mount interface to be a real game changer—therefore we will be presenting our first series of bi-voltage batteries with matching accessories at NAB."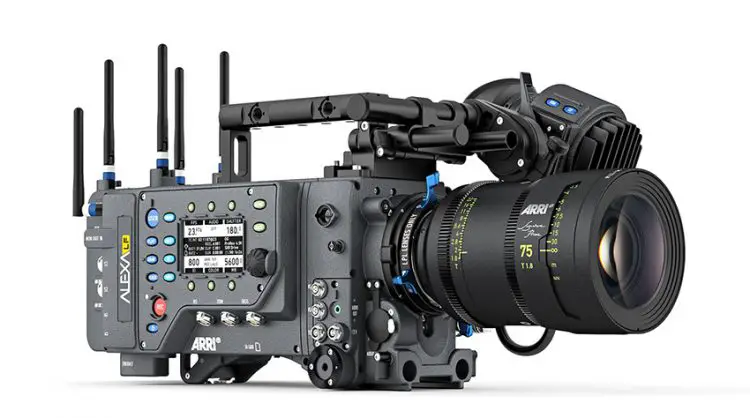 For NAB 2019, ARRI also announced a few new accessories in their ARRI Pro Accessories or ARRI PCA range for short. There is a new versions of the ARRI Bottom Dovetail Plates and Studio Bridge Plates (SBP) with enhanced features. These new Pro Camera Accessories will establish new standards in versatility and improve the professional usability of ARRI and third-party cameras.

Improved features to help speed up on-set configurations
Sturdy but lightweight with a variety of mounting and affixing options
Bottom Dovetail Plates come in four different sizes for optimal fit
SBP-1, in two sizes, offers flexible attachment and adjustment
Bottom Dovetail Plates
The new ARRI Bottom Dovetail Plates come in four different sizes (150 mm/6", 300 mm/12", 450 mm/18", and 600 mm/24") to best accommodate a variety of configurations. They are constructed of aluminium alloy, and all plates are weight-optimized to be both lightweight and robust. One release button at each end of the plate now allows for the camera to be easily slid onto or released from the plate at both its front and back end.
A thread on each side offers additional security when needed and both stopper screws are stored safely in their parking position when not required. Each plate includes multiple ¼-20″ and 3/8-16″ mounting holes and attaches natively to O'Connor 2060, O'Connor 2575, O'Connor 120EX, and Sachtler Cine 30 fluid heads.
Studio Bridge Plate SBP-1
With the help of the Studio Bridge Plates, cameras can be adjusted on the Bottom Dovetail Plates for perfect balancing. The new SBP-1 comes in two sizes (SBP-1 15 mm and SBP-1 19 mm) to accommodate different rod sizes. Unlike other bridge plates, the SBP-1 can be attached from above at every position eliminating the need to slide it from the back or from the front; the SBP-1 automatically locks into the sliding position.
Pushing the lever to the front locks the plate securely and an extra safety locking lever prevents the SBP-1's unintended release from the bottom plate. The ARRI 3/8-16" interface on the right side with holes for anti-twist pins offers the possibility to affix additional accessories.
Attachment screws at the bottom of the SBP-1 are able to be adjusted by four different tools (HEX 4, HEX 5, HEX 5/32", and a flat-head screwdriver) provides flexibility. As with the previous models of ARRI's Studio Bridge Plates, the new SBP-1 is both lightweight and robust.
The Bottom Dovetail Plates and the SBP-1 will start shipping end of May, 2019. You can find full details of the accessories available for all ARRI cameras at www.arri.com.
Disclaimer: As an Amazon Associate partner and participant in B&H and Adorama Affiliate programmes, we earn a small comission from each purchase made through the affiliate links listed above at no additional cost to you.
Claim your copy of DAVINCI RESOLVE - SIMPLIFIED COURSE with 50% off! Get Instant Access!