Just days ahead of one of the most exciting industry trade shows – Cine Gear 2019, German battery and accessories manufacturer bebob has just announced a full family of chargers and power accessories for the recently introduced compact and rugged Vmicro (V-mount) and Amicro (Gold-mount compatible) 14.4V battery packs.
V-mount and Gold mount batteries are getting smaller and smaller, while still retaining decent capacities and providing ample power to modern power-hungry cameras and accessories, and bebob are also getting in on the action.
The bebob Micro batteries are available in 45Wh, 98Wh and 150Wh capacities, and not only offer the lowest weight and dimensions in class, but now also add the benefits of suitably sized fast chargers and an array of accessories for un-matched versatility.
The newly announced bebob Micro chargers are made in both AB (Gold-mount compatible) and V-mount versions, and have been purpose-built to be the most compact and powerful charging solution in the market.
Priced at €298, the AS2micro and VS2micro are currently the smallest 2-Channel Simultaneous Quick Chargers in the industry. They consist of 2x compact components:
the Powerbase, featuring a convenient parallel design of just 66 x 92 x 45mm that balances a pair of Amicro or Vmicro batteries, and
the bebob S1micro AC Adapter/Quick Charger, measuring at just 40 x 138 x 60mm.
Together, they provide charging current of 16.8V / 2.5A (2.5A per channel, or 5.0A total charging current) all while weighing in at only 530g/18.69 oz.
Charging times vary according to battery capacity, but you can expect the following:
2x 45Wh Micros charge for about 1.5 hours
2x 98Wh Micros max out at 2.5 hours
2x 150Wh Micros fully charge in 3.5 hours.
For 4-channel simultaneous quick charging, bebob also offers the AS4micro and VS4micro. With built-in AC Adapter 80W DC and Powerbase function, the chargers weigh 1.0kg/2.2 lbs.
Charge current is 16.8V / 1.25A (1.25A per channel, or 5.0A total). Recharge time for four 45Wh Micros is 3 hours, 5 hours for 98Wh Micros, and 7 hours for 150Wh Micros.
The same size as normal 2-channel chargers, the bebob AS4micro and VS4micro can charge twice the amount of batteries. This immediately reduces the required space by half—an extraordinary benefit when it comes to traveling and shipping equipment.
bebob takes the "half-the-space" design concept even further, being one of the first manufacturers to offer 8-Channel Simultaneous Quick Chargers for V-Mount and Gold-Mount compatible batteries.
The VS8micro and AS8micro 8-channel chargers provide maximum convenience, especially for transport by airplane where only batteries up to 100Wh are allowed. Currently the fastest 8-channel charging solution in the market, it takes just 3 hours to fully charge eight 45Wh Micros, 5 hours for eight 98Wh Micros, and 7 hours for eight 150Wh Micros to reach capacity.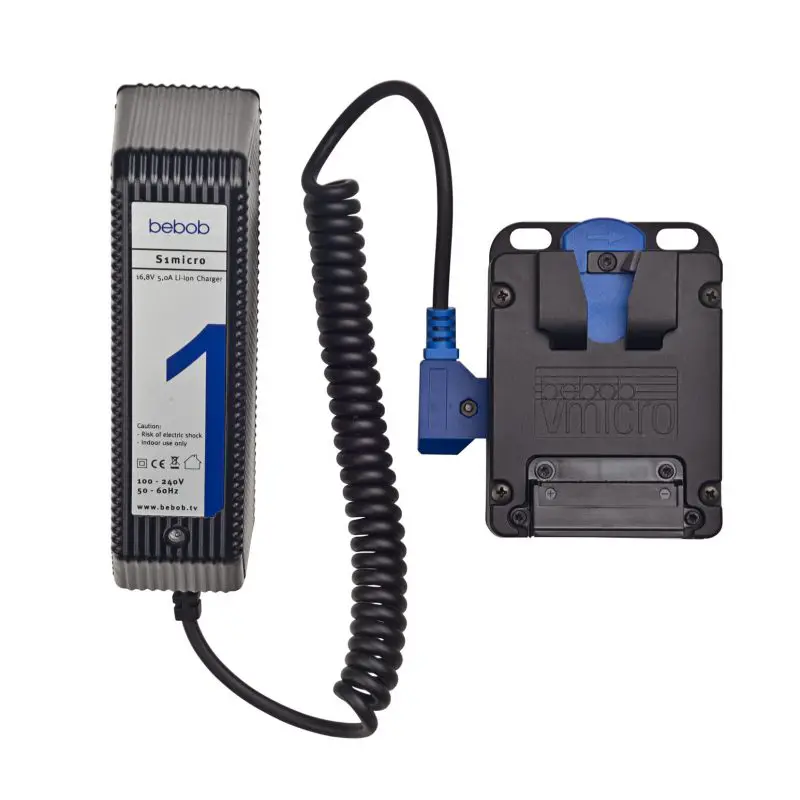 For those of you who prefer a smaller and more handy charger, then you should check out the bebob S1micro D-Tap Quick Charger – sporting an ultra-compact design, the D-tap charger is a cost-effective and extremely fast single battery charger for all kinds of batteries.
Priced at just €99, (or $129 in the US at B&H) the S1micro D-tap charger weighs just 365g/12.8 oz, and charges at 168V, 5A via D-Tap. A 45Wh battery reaches capacity in 45 minutes, a 98Wh in 1 hour 15 minutes, and a 150Wh is ready to go in 1 hour 45 minutes.
For more details and info on bebob micro chargers and batteries head over to their website here.
Claim your copy of DAVINCI RESOLVE 16 - SIMPLIFIED COURSE with 50% off! Get Instant Access!