Yes, it is this time of the year where all you see are Top 5, Best of, and Worst of lists. And as much as I am not a fan of them, I figure, since it's a slow news day and more than half of you won't be sober reading this, I'd use this time to give you my Top 5 Favourite Camera and Support Gear I Used in 2019.
I'd preempt this post with a small caveat before I get blasted in the comments – not all of this gear is now, in fact most of it, if not all has been around before 2019, but I used this kit in 2019, so it qualifies. This is why this list is not called Bestest Gear of 2019.
I hope everyone has recovered from their Christmas hangover, and before you start boozing again later tonight have a skim through these 5 piece of kit that has literally saved my ass this year. This list is in no particular order and it includes one camera from Blackmagic Design, a Sigma lens, a Teradek lens control system, a SmallHD monitor, and a Rayzr RGBWW LED light.
I will do my best to keep this list as short and to the point as possible, and don't expect heavy technical jargon or engineering-level tests. I am not that technologically inclined and I am sure there are plenty of more technical tests and reviews of all of the kit mentioned in my list elsewhere on the internet.
Blackmagic Pocket Camera 4K
Blackmagic Design released a 6K version with a bigger S35 sensor in 2019, but I have not yet had a chance to use the BMPCC 6K camera, so the predecessor model BMPCC 4K makes the list.
The Pocket 4K camera needs no introduction, and despite a lacklustre battery performance, the supreme image quality and the power of Blackmagic Raw more than makes up for it. The Blackmagic Pocket 4K is a strange beast, it is not a camera for everyone, as it does lack some features that, for example, mirrorless shooters have been long used to – such as AF that works well in video and in-camera image stabilisation.
The Pocket 4K has none of these, but despite its smaller 4/3rds sensor and DSLR-like appearance, the menu structure and interface are on another level compared to any other mirrorless (or DSLR) camera. The image quality out of the BMPCC 4K is on par with cameras costing 10x, and as long as you can live with its shortcomings and work around them, the BMPCC 4K can do wonders for you.
The BRAW out of the Pocket 4K was really easy to work in post even on my now ancient and terribly slow (given 2019 standards) 2015 MacBook Pro. This is why despite all its faults, the BMPCC 4K is my favourite camera I used in 2019. In case you missed it, you can check out my hands-on review of the BMPCC 4K camera.
2019 was big for me as I managed to somehow get a spot in the camera department of an indie feature film called "Danny. Legend. God" (see the trailer here and also follow for more BTS on Facebook and Instagram) we shot in Bulgaria on my Canon C300 Mark II (which I still love). Despite my sever lack of any technical skills, I somehow managed to not get fired, get the job done, and even make some new friends in the process.
Sigma 18-35mm T2 Cine Zoom
As with any low-budget indie feature, the producers were tasked with maximizing the budget, so right from the get-go we knew we had to come up with a camera rig that was going to do the job with only the basic essentials. Everything was shot handheld documentary style, which meant that ideally, we would use a single zoom lens to minimize camera downtime.
The Sigma 18-35mm T2 was the perfect lens for the job, as even though it didn't have a huge range, it ticked all the boxes that were an absolute must, such as – great image quality, sharpness, cine ergonomics, fast maximum aperture, a native EF mount and a portable, lightweight design.
You can read more about this awesome lens and how we shot the whole movie with just one lens in my Sigma 18-35mm T2 review here.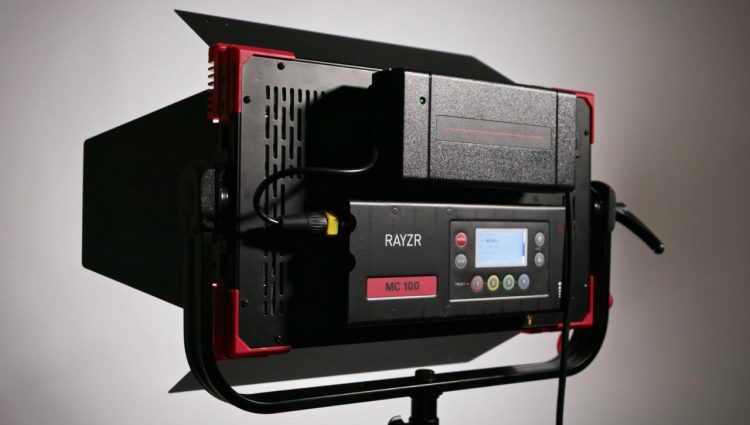 Rayzr MC100 RGBWW LED Soft Panel
When it comes to LED lights, there's plenty on the market to suit just about any budget. From the big-boy, Hollywood bound ARRI SkyPanels, to their competitors from Litepanels and KinoFlo, and even more options for indie filmmakers on the other side of the budget spectrum. Innovative companies such as Aputure and Rayzr have been making high-quality LED lights for those on tighter budgets and this year I had a chance to really put the Rayzr MC100 Soft Panel to the test on the set of an indie feature film.
You can read my full review of this excellent compact soft panel RGBWW LED from Rayrz, but in a nutshell the compact size, durability, easy of use, and overall high quality light output made it possible for our gaffer and cinematographer light the set quickly and with confidence. Rayzr also makes a couple of bigger LEDs in the MC range, but the Rayzr MC100 was the more portable of the bunch, which suited our needs for the film.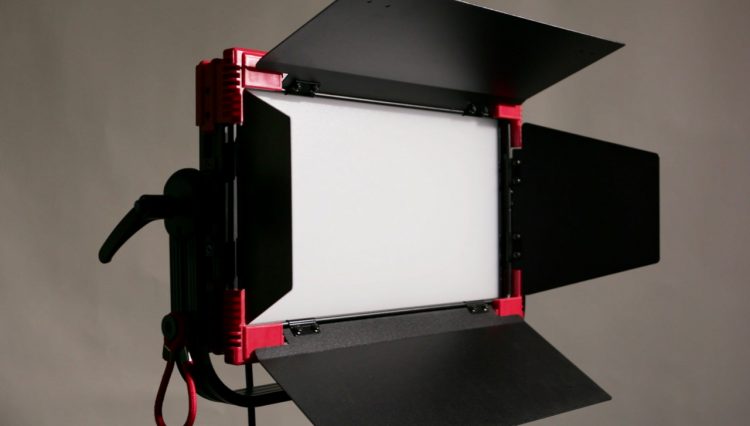 I was very impressed with the huge range of built-in gels and effects, and also the rugged build quality, not to mention the pleasing softness of the light. A truly versatile soft panel LED, the Rayzr MC100 can be a perfect addition to your lighting arsenal for lighting interviews, music videos, low-budget commercials, as in our case, even indie features. To learn more about the Rayzr MC100, check out my full review here.
Teradek RT Follow Focus/Lens Control System
A follow focus unit, and a damn good one at that, is often overlooked and taken for granted as it's just one of those piece of kit that is so vital on set, but you only hear about it when something goes wrong. As is often the case with those magicians called focus pullers, who's job also goes often unnoticed (unless they mess up), a good quality, dependable follow focus control system is support gear worthy of its mission critical status.
I've used budget follow focus systems in the past, but on this feature film I AC'ed earlier in the year, I had my first experience with a "proper" follow focus/lens control system. The amazing people at Teradek were awesome enough to lend us their Teradek RT MK3.1 wireless follow focus with a couple of lens motors, all the cables we'd ever need, and the MDR (brain) for this feature film shoot.
I decided to put it on this list, even though I am not a focus puller, but I quickly had to learn how to set it up and use it, so I can be able to assist the focus puller and DoP on set. After all, I was responsible for my C300 Mark II and everything around it. I was confident with the rest of the kit on the camera, but the Teradek RT, I ain't gonna lie, was intimidating at first. The RT was a complete overkill for what we needed, as we only ended up using a single motor to control the focus (the DoP decided he'd never zoom in shot, making it easier for our focus puller to worry only about focus and not control the zoom also, even though Teradek sent us 2 lens motors, we only used one).
However, after a quick glance at the different parts of the system, I managed to hook it up and get it going without any trouble. If I could do it, so can you.
The Teradek RT MK3.1 consist of three main parts – a receiver (a.k.a MDR brain), a handheld wireless controller, and a lens motor(s):
RT MK3.1 Lightweight Receiver Module (3 Axis) – compact size, about 10cm in length, easily positioned in cold-shoes. I opted to mount it on the back of the C300 Mark II handle via the cold-shoe. This is basically the brain, or MDR of the lens control system. It is quite impressive, how Teradek have managed to shrink the size of it and give it a reliable integrated antenna on top.

controls for focus, iris, and/or zoom.
It also offers a start/stop function for select HD cameras such

ARRI, Blackmagic, Phantom Flex,
RED, Sony, and LANC-compatible models.

Features include an auxiliary port for slave (analog) controllers or wired mode support
RT MK3.1 Handheld Controller (4 Axis)

offers control of up to four lens motors
FIZ – focus, iris, zoom control
Has a large focus knob, one slider control, and two side knobs (A and B).
Each input can be mapped to any lens axis
Remote start/stop for selected:

ARRI, Blackmagic, Phantom Flex,
RED, Sony, and LANC-compatible models.
One of the coolest features of the RT MK3.1 Controller is the awesome OLED screen display, which gives you easy access to the menu. The automatic calibration options made it easy to calibrate the lens motor to the Sigma 18-35mm zoom we used. Of course, for those focus pullers and ACs that have more experience and are more technical, there is a manual calibration options as well.
The adjustable knob on the side feels smooth to operate. The RT system features 42 selectable channels and minimal latency of 2 ms, although I had not tested this, according to our focus puller there were no latency issues whatsoever. This thing is fast, very responsive, and built to last – the aircraft-grade aluminium gives it a rugged feeling; and yes, it can take a beating on set even though we took good care of it on set.
The lanyard mount and three 1/4″-20 mounts provide options for alternative mounting and also free up your hands to do other camera related things.
The RT MK3.1 handheld controller is powered with a single Canon LP-E6 battery, which lasted us a whole day. There is also a USB port, which can be used to power the control unit, but I did not use it.
RT MK3.1 Brushless Lens Motor

a vital piece of the kit, the high-torque lens motor, comes with an integrated heat sink and backlash compensation.
Can be attached to either 15mm or 19mm rods (it is native 19mm, but comes with a 15mm bracket included)
0.8 pitch gear is included.
Not much to say here – worked flawlessly and quietly. No issues.
Overall the system was easy to connect and setup – just mount the MDR (the receiver) somewhere on top of your camera to ensure optimum wireless reach, and then connect the lens motor(s) with the appropriate and included LEMO cable to the MDR. I used one of the included Lemo to D-tap cables to get power from the Hawk-Woods distribution plate on the back of the C300 II, but there are also dedicated ARRI and RED cables if you use those cameras. In our case, we used a simple LEMO to D-tap cable. The right angled cable ends towards the lens motor side are very helpful as they don't get in the way at all.
The handheld controller connected to the receiver after power-up, and then I ran an automatic calibration so that the lens motor can detect the beginning and end of the lens focus throw and give accurate readings on the OLED display.
Overall, after the shoot, I spoke with our focus puller, and she said she'd definitely use the RT on future shoots. It is a high-end piece of kit, that even though may look intimidating at first, was easy to set up and reliable to use.
The Teradek RT MK3.1 is still available to purchase from B&H, where it is priced at $4,995. Teradek have since upgraded the system with a newer model, which you can learn more about by heading over to Teradek.
SmallHD FOCUS Bolt Wireless Monitor
SmallHD have been expanding their on-camera monitor lineup in the last couple of years and their continuous integration with Teradek wireless receivers and transmitters is doing wonders for the industry, greatly simplifying on-set workflows.
The SmallHD FOCUS Bolt with an integrated Teradek Bolt 500 RX was the main monitor our focus puller used in the set of "Danny. Legend. God" – the indie feature film I was involved in and mentioned in the beginning of this post. I also had a chance to have a play with the monitor, which is basically the awesome 5-inch 1280 x 720 touchscreen display of the SmallHD Focus, but with the benefit of an integrated Bolt 500 RX on the back designated by the 2 antennas on top. This meant we had a clean wireless feed from the camera as long as we were within 500 feet line of sight from the transmitter mounted on the back of the camera.
Power is via a Sony NP-F style battery and the two comfy handgrips on the side make it easy for a director to hold in case you use this monitor as a director's monitor, which is another fine use for it. SmallHD are known for their slick monitor interfaces and the Focus Bolt is no different – it's a joy to use and even someone like me, who is not trained as a 2nd AC can set it up in minutes to receive a camera signal from the Bolt 500 LT TX, which was hooked up to get its signal from our Canon C300 Mark II camera.
The SmallHD Focus Bolt is rated at 800nits brightness, and although this is not super-bright, we never had problems using it outdoors in bright exteriors. You can send a wired feed into the monitor via HDMI, thanks to the HDMI type D input on the side – but be careful as you need to use the SmallHD provided HDMI cable due to the recessed HDMI port, which prevents normal HDMI cables from going in.
This can be DIY-ed by physically cutting the cosmetic corner edges of the monitor, but this is not advisable, as it would void your warranty. I have seen some do this to their SmallHD Focus monitors so they can use a other non-SmallHD cables, but I personally would not do this. Thankfully we didn't have to resort to such measures on our unit. Not having to worry about cables can be a rather freeing experience, and the wireless integration with Teradek is something every other monitor manufacturer should be thinking of.
If I was to buy a director's monitor or a monitor to use to pull focus from and I didn't have loads of cash to spend, I'd definitely look into the SmallHD Focus Bolt, as the 5-inch version is priced at just $1,200 at B&H, which is quite affordable for a 2-in-1 wireless monitor kit that would last you ages.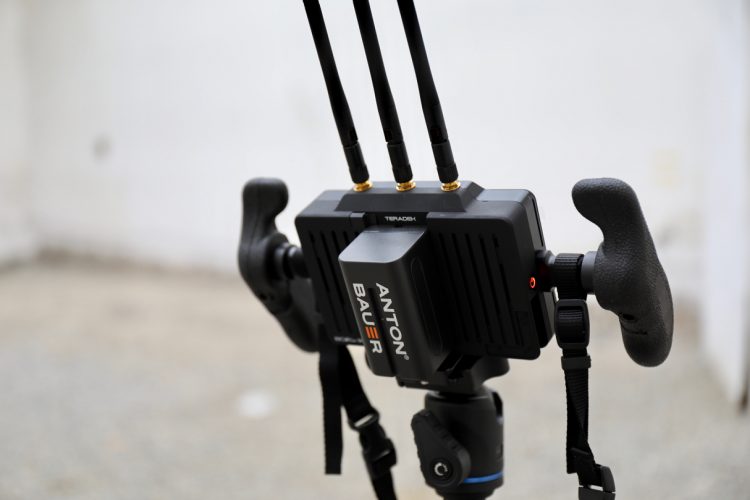 You can learn more about how I used this monitor with the Teradek Bolt 500 LT in my review here. Huge thanks to Teradek and SmallHD for lending us the kit for the shoot, which we sent back to them.
Well, that was it. My favourite piece of gear I used in 2019, but more importantly I want to know what is your favourite piece of kit that you used in the last twelve months. Let me know in the comments below and have a marvellous 2020!
Claim your copy of DAVINCI RESOLVE - SIMPLIFIED COURSE with 50% off! Get Instant Access!