Samyang Optics officially announces the launch of new XEEN CF cine primes, the first to use carbon fibre for optimum lightweight construction.
Indie filmmakers and small production companies have been loving the original Samyang/Rokinon XEEN cine prime lenses ever since their launch a few years back in 2015 as they pretty much offered the highest ratio of proper cine lens value-to-price out of any brand out there. Specifically designed for video use exclusively, the original XEENs have been used on everything from low-budget commercials to big pop promos and indie feature films.
The newly developed XEEN CF seek to expand the user-base of the already existing XEEN cine primes and give even more filmmakers an opportunity to get a "real cine lens" feel, optical quality, and ergo for not a lotta of $$$.
Samyang/Rokinon XEEN CF Features
Full-Frame/Large Format sensor coverage
Lightweight construction, featuring Carbon Fibre
Advanced Optical Design (same as XEEN)
Luminous focus markings
11-blade aperture for beautiful bokeh
Total of 5 Cine Primes

XEEN CF 16mm T2.6
XEEN CF 24mm T1.5
XEEN CF 35mm T1.5
XEEN CF 50mm T1.5
XEEN CF 85mm T1.5

Available in PL, Canon EF, Sony E mount
Weight about 2.1 lbs.
Price: TBD
Available: Q4 2019, Q1 2020
The new Samyang XEEN CF (to be sold under the Rokinon brand in North America) will consist of 5 prime lenses – stating off with the XEEN CF 16mm T2.6, 24mm T1.5, 35mm T1.5, 50mm T1.5, and finally the 85mm T1.5. At least for the time being.
The optical design features a total of 9 lens elements in 8 groups; with 8 of those elements being specialty elements (3 x Aspherical, 2 x High Refractive and 3 x Extra Low Dispersion) embedded into the lens design to create results with incredible sharpness, low chromatic aberration and minimal distortion.
Carbon fibre is a big thing in the design of these new XEEN CF lenses. And of course they offer full-frame, large format coverage much like their predecessors.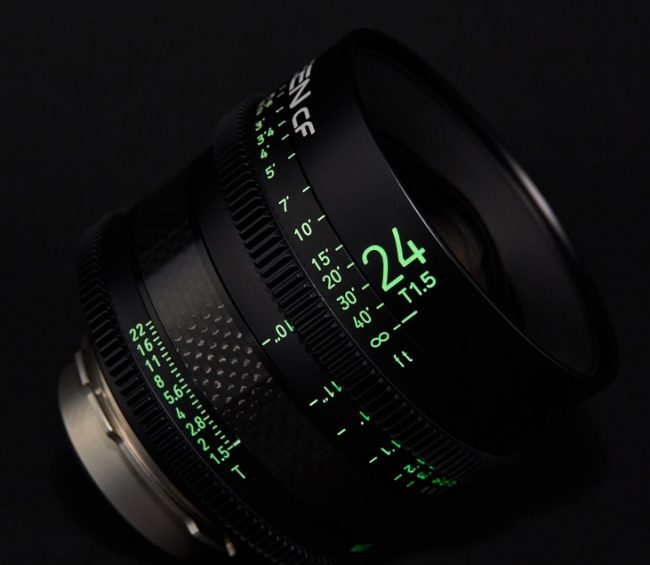 Designed to deliver outstanding resolution and image quality, the XEEN CF cine primes are the first full-frame cinema lenses to incorporate carbon fibre (lighter and stronger than metal) into the lens barrel. They also feature luminous scale markings in a new, clearly visible font.
XEEN CF lenses support 8K as well as other 4K+ resolutions, not to mention the latest large format sensors. The XEEN CF range will be available in PL, Sony E and Canon EF mounts. At just over 2 lbs, their extreme lightweight design makes them particularly suitable for drones and handheld stabilizer gimbals.
The XEEN CF are said to feature the unique X-Coating technology, giving the images they produce uncompromising clarity and detail, which can be effectively controlled to create a distinctive smooth and cinematic look (even with flare and ghosting for dramatic effects). The bright T1.5 maximum aperture opening on four of the lenses combined with the 11-bladed diaphragms produce excellent low-light performance and beautiful bokeh.
The XEEN CF 24mm, 50mm and 85mm primes will be the first three to ship in the third quarter of 2019, followed by the 16mm and 35mm lenses later during the first half of 2020.
The new Samyang XEEN CF cine primes will be unveiled for the first time at IBC 2019 in Amsterdam (13-17th September 2019) with pricing to be announced soon.
Claim your copy of DAVINCI RESOLVE - SIMPLIFIED COURSE with 50% off! Get Instant Access!