At the ongoing Cine Gear 2019, Atomos has introduced a brand new line of HDR monitor-recorders all with true 10-bit displays and a myriad of professional features. NEON series consists of four different units (17-inch HD, 24-inch, 31-inch, and 55-inch 4K HDR field monitors) primarily designed for playback, recording, monitoring, and video editing.
The NEON monitor/recorders support up to DCI 4K input and feature 10-bit DCI-P3 color, a 1000:1 contrast ratio, and record up to 4K60 or up to 1080p240 video. Other notable features include anamorphic de-squeeze, calibration, 3D LUTs, SDI loop-through output, 4K downscaling, pre-roll record, serial LANC control, jog control, genlock/LTC, Dolby integration and many more.
The NEON series not only complements the existing Atomos offerings such as the Shinobi SDI, Ninja V, Shogun 7 and Sumo 19 but also provides a flexible ecosystem of field reference monitors aiming at different audiences.
According to Atomos, the 17-inch model is targeted at focus pullers and as an on-set reference monitor next to a laptop whereas the 24″ and 31″ NEONs are more suitable for video villages serving as a reference monitor for DITs, cinematographers, editors, and directors. The 55-inch NEON, on the other hand, is designed for clients, showrooms and professional color graders.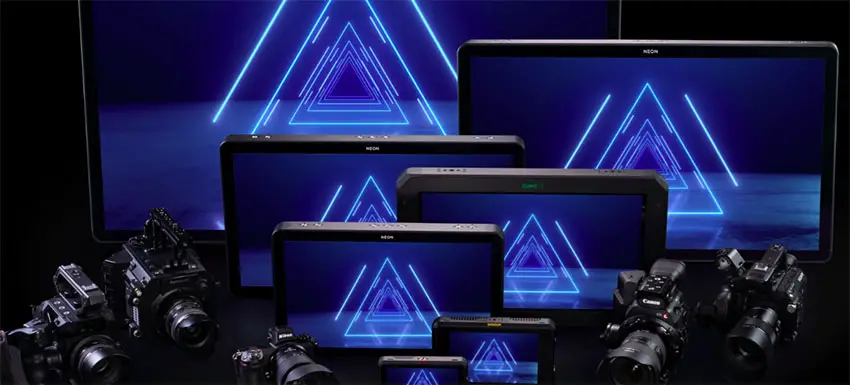 The NEON 17″ comes with Full HD (1920x 1080) display with 142 PPI and 128 zoned dynamic backlights. The NEON 24″ and 31″ feature full 4K DCI (4096 x 2160) displays providing a 10-bit DCI-P3 100% color coverage, 512 zoned dynamic backlights and impressive 1,000,000:1 contrast ratio. The 55-inch model supports UHD resolution (3840 x 2160 pixels) with a PPI of 84 and 512 zoned dynamic backlights.
All of the NEONs can record from HDMI, SDI and Quad-Link SDI sources up to HDMI 10-bit uncompressed as well as 12G-SDI with 12-Bit and 4K RAW in up to 60p. The supported recording formats include ProRes RAW, ProRes (LT, 422, 422 HQ), Avid DnX and Cinema DNG RAW. Just like the Shogun and Ninja V, the NEON monitor/recorders use the latest version of AtomosOS.
Regarding build quality, all the units feature an aluminum chassis and polycarbonate back plate. Additionally, they come packed in their own custom designed high-performance crush-proof and water-tight road cases (except for the 55-inch model).
Atomos has also unveiled a dedicated iOS app that allows users to control 4K recording, syncing and playback on up to 1000+ Neon monitor/recorders using Bluetooth.
Besides that, the app provides a multitude of handy tools and features such as real-time playback, focus peaking, exposure, calibration, zoom waveform monitor, RGB monitor, vectorscope, LUT selection and more.
Atomos NEON monitor/recorders should be available in August and September 2019 starting at $3,999.
[source: Atomos]
B&H Pre-Order Links:
Claim your copy of DAVINCI RESOLVE 16 - SIMPLIFIED COURSE with 50% off! Get Instant Access!