Blackmagic Design have just released the next beta version of Resolve 16. DaVinci Resolve 16 Beta 4 comes packed with several performance and stability enhancements based on beta feedback from editors, colourists, VFX artists and sound editors.
Those of you practicing the (witch)craft that is editing will be pleased to know that DaVinci Resolve 16 beta 4 enables Rec.2020 tagging on video monitoring outputs, adds support for frame.io line and rectangle annotations, and also improves stabilisation behaviour for rotated clips.
DaVinci Resolve 16 Beta 4 also makes improvements to the way clips are resized on the Edit page after Fusion effects have been added, fixes issues with undoing actions when in cinema mode, and allows you to add a description, set the visibility and define a category when uploading video to YouTube.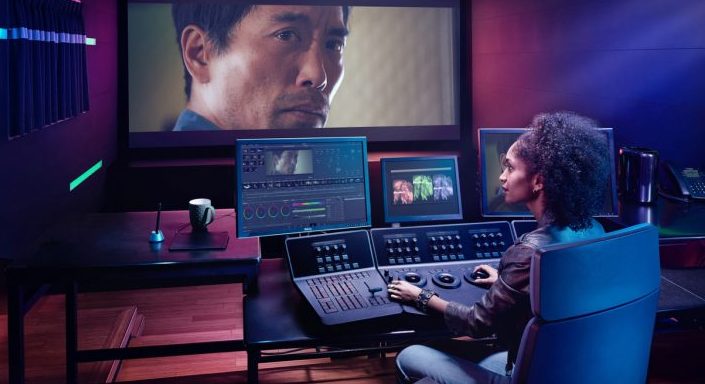 Since Resolve is still used mainly for colour grading, colourists will be pleased to know that in Beta 4 of Resolve 16, alpha channels are now handled better in colour managed workflows, data burn overlays now show the correct duration, colour trace reliability is improved for custom frame rate timelines, the render cache is now refreshed correctly, and copying and pasting node attributes without keyframes is more accurate.
In addition, DaVinci Resolve Public Beta 4 addresses issues with interactivity in the classic stabilizer, film grain tools when using Resolve Live, Dolby Vision metadata, simultaneous HDR and SDR monitoring, and more!
The Fusion page has been improved with faster performance with multi stroke paint, improved temporal effects, more accurate masks from EXR files, as well as correct placement of on-screen polygon controls.
Sound editors can now create audio crossfades on the Fairlight page and apply presets to Fairlight buses for equalizer, dynamics, plugins and channel setups.
DaVinci Resolve Public Beta 4 also addresses an issue with the behaviour of audio unit plugins on Macs with the Fairlight Audio Accelerator, improves playback and monitoring performance when deleting unused tracks, correctly reflects changes in the bus format dialog, and fixes the layout of audio meters and track controls when using a large number of channels.
And finally, DaVinci Resolve Studio Public Beta 4 improves accuracy, performance and stability with broadcast wave files, Panasonic AVC-Intra 50 clips, HDR metadata, and the rendering of timelines with transitions or adjustment clips.
For a complete list of improvements, and to download Resolve 16 Beta 4 please visit the Blackmagic Design website.
Claim your copy of DAVINCI RESOLVE - SIMPLIFIED COURSE with 50% off! Get Instant Access!