Hey guys, this is just one last reminder that the Complete Video Creators Bundle 2019 sale is coming to an end over at 5DayDeal in less than 24 hours!
At 12:00 PM (noon) PST tomorrow (that's 8:00PM GMT or 9:00 CET, a bit less than 24 hours from now), it will be gone for good, and the products included at this massive discount will NEVER return again (at these prices or part of this bundle).
So, if you ever consider participating, this is your very last chance.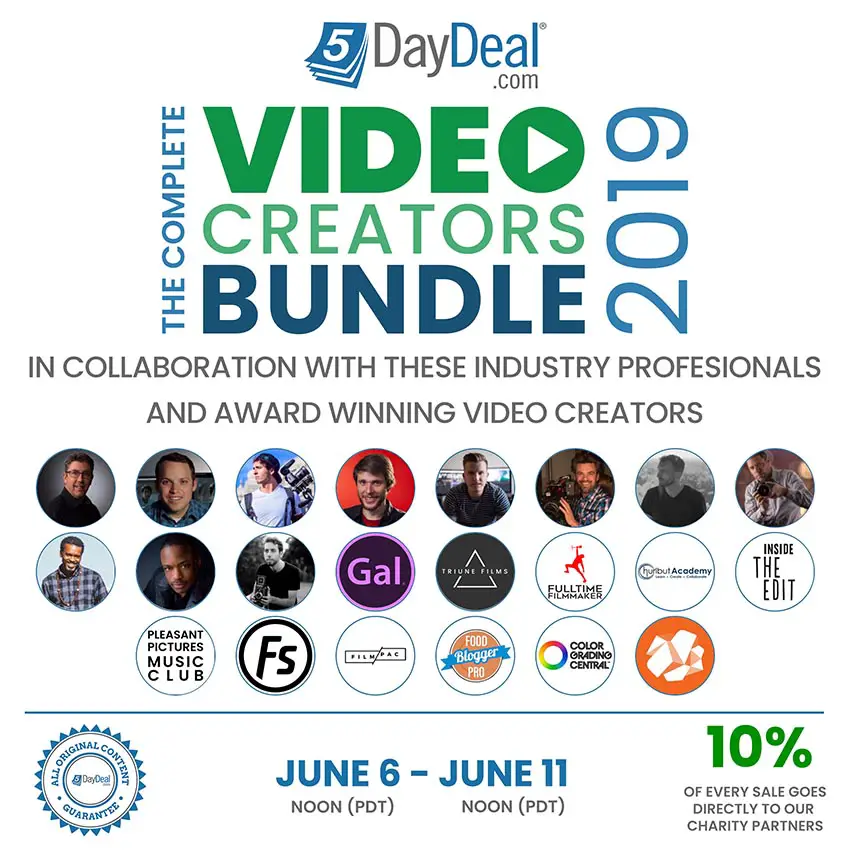 The opportunity to save 95% on these resources is really amazing (it would cost you otherwise $1700+ to get them individually!) – I hope you've checked it out and/or shared it with your friends. But don't take it just from us, check out some of the amazing feedback received from fellow filmmakers, who've already purchased last years bundle:
I have purchased the video creator's bundle twice and I have learned somuch. The price is such an amazing deal. The bundle is packed with value fornovice and seasoned professionals alike. This is a must-have for anyone thatuses a camera or a smartphone to capture video. I have only been creatingcontent for about three years and a good percentage of the knowledge I'vegained has come from using the resources provided in this bundle. Not to mention, you're contributing to a good cause. A total win-win. – QuinParmer | United States

Superb deal with a wealth of marvelous content! A ton of great resources regardless of your skill level and tools for use in everyday processing. Many of these resources are normally priced higher than the cost of this special deal. Put them together with important charities being supported and how can you walk away without contributing ? Looking forward to digging into all the resources. – Andris Koemecs | Latvia
As usual, you get a massive collection of expert training, tutorials, eBooks, software, and digital tools for all levels of video creation – there's truly something awesome for everyone! Again, here's a brief summary of all the products included in this year's bundle.
Credit Pack from Hurlbut Academy by Shane Hurlbut, ASC – $175.00
Final Cut Pro X Editing Workflow by Parker Walbeck – $129.00
Cinema Grade Pro for Mac by Denver Riddle – $149.00
EXTINCTION: Sci-Fi Weapons FX by Tim Connoly & Ryan Connoly– $95.00
Action Elements Pack [5K Studio Quality Effects] by Jordy Vandeput

 – 

$97.00
ColorClarity for Mac by CrumplePop.com – $99.00
Learn Adobe After Effects CC 2019 for Beginners by Jordy Vandeput – $100.00
Lighting Secrets Workshop + 76 Cinematic Lighting Setups by Eric Thayne – $214.00
Practical Filmmaking with Barry Andersson – $249.00
Living Pictures Masterclass by Elyan Parker – $97.00
How To Interview Like A Boss by Frederick Van Johnson – $99.00
The Complete Background Music Pack by Pleasant Pictures Music Club – $99.00
Serge Ramelli Signature Portrait & Light LUTs Collection – $97.00
Serge Ramelli Signature Urban & Landscape LUTs Collection – $97.00
Normally, the above resources would cost about $1,798 to buy separately, but right now you can get more than 95% discount by purchasing the Complete Video Creators Bundle 2019 for just $89!
Last but not least, 5DayDeal Team has also partnered up with a select group of video educators to bring you a charity bonus resource packages. By selecting these bonus options at checkout you'll give even more to charity. It all comes to an end in less than 24 hours, so don't miss out!
Claim your copy of DAVINCI RESOLVE - SIMPLIFIED COURSE with 50% off! Get Instant Access!