The concept of creating an open source camera isn't new nor groundbreaking, especially to indie filmmakers who have witnessed the DSLR revolution along with all breakthrough camera technologies that emerged in the years afterward.
We've seen a few similar projects popping up in the past that had some elusive success the most significant results of which refers to the AXIOM camera crafted by Austrian based Apertus Company.
Fast forward to 2019 and now we have another similar project aiming to gain traction and shake up the industry once again. This time, the project is initiated by the UK based Octopus Cinema. Unfortunately, their offering is still in a prototype stage which means that we won't be able to get our hands on a production unit any time soon. Nevertheless, the OCTOPUS Camera (as they call it) offers some enticing features worth considering.
First and foremost, this is an open platform digital cinema camera with removable and upgradable parts meaning that it's not tied to a single image sensor but supports a range of image sensor modules from third-party sensor module manufacturers.
The prototype version of the OCTOPUS Camera sports a 4K 4/3-inch and a 5K full-frame image sensor with a base ISO of around 2000ASA manufactured by XIMEA (a Germany/Slovakian company specializing in imaging modules), CMV and Sony. The camera body itself is made of CNC milled aluminum with a glossy white finish and it measures 110 x 110 x 110mm while weighing just 900g.
It has been reported that both sensors are capable of lossless 12-bit RAW at 4K 30fps in Cinema DNG. Users can also choose between 10-bit HEVC or compressed RAW for higher frame rate recording. Additional recording formats can be added trivially with the SDK through Libavcodec or 3rd party libraries.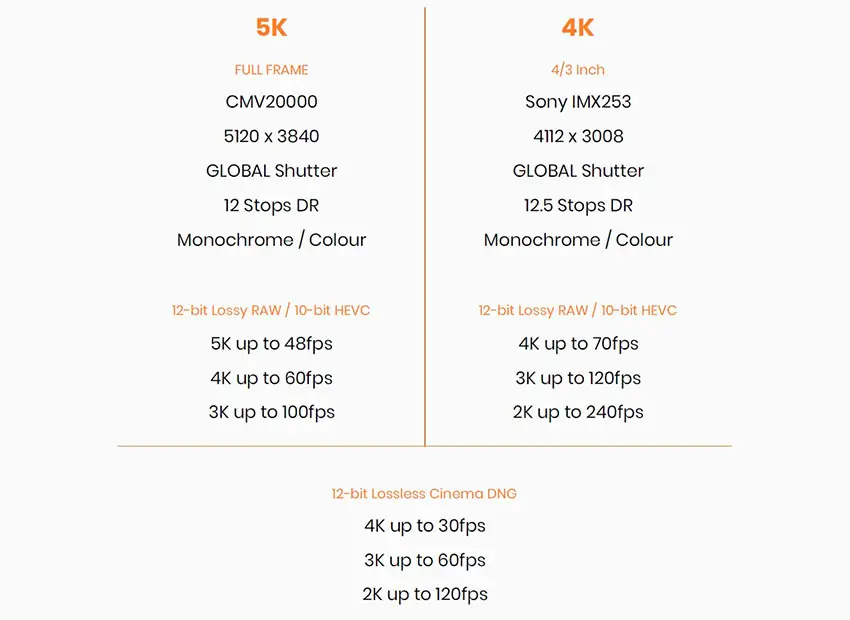 Other than that, the camera runs on Linux, powered by an 8-core i7-8650U Intel CPU with 16GB of DDR4 RAM (upgradeable to 32GB). Regarding recording media, the OCTOPUS offers SSD and CFast 2.0 options using the SATA III and USB3 ports connected to the main board.
Interestingly enough, all camera components can be removed and upgraded, including the board itself when newer boards are available. All in all, the Octopus Cinema team aims to fill the gaps in specialist requirements, such as native monochrome sensor imaging and a fully open SDK to extend and embed custom behavior within the camera.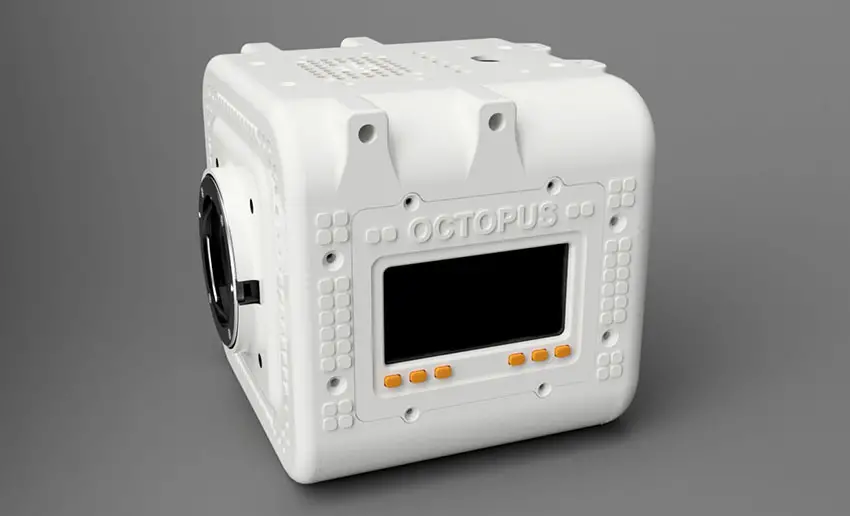 There is no word on pricing and availability yet, nor we know which lens mount is being used on the current prototype version. According to the creators, though, the camera should be ready by next summer.
[source: Octopus Cinema]
Disclaimer: As an Amazon Associate partner and participant in B&H and Adorama Affiliate programmes, we earn a small comission from each purchase made through the affiliate links listed above at no additional cost to you.
Claim your copy of DAVINCI RESOLVE - SIMPLIFIED COURSE with 50% off! Get Instant Access!