Well, it looks like Blackmagic Design are getting closer to unleashing the live release of DaVinci Resolve 16 upon the masses, as the company just released DaVinci Resolve 16 and Resolve 16 Studio Public Beta 5 earlier today.
The latest beta version adds new support for editable video tracks on the Fairlight page, support for 4:4:4 SDI input when using Resolve Live (DaVinci Resolve Studio 16), improved timeline renaming behaviour, audio waveforms on sub-clips, and waveform display for clips with synced audio. Other improvements include improved crossfade menus on the Fairlight page, better support for AAF files, enhanced marker annotations and more reliable QuickSync options for H.264 and H.265 encoding on Windows laptops.
Fusion 16 Studio Public Beta 5 on the other hand, improves the performance of paint when using a large number of strokes, has better tiling calculations for more efficient 3D rendering, and adds support for GPU accelerated LUTs. In addition, the UltraKeyer matte results are improved, attaching modifiers to clone controls is more stable and channel boolean operations are more accurate.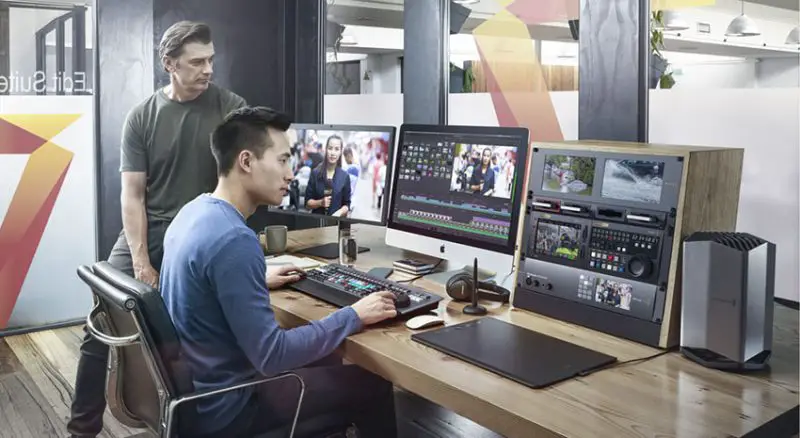 DaVinci Resolve 16 Beta 5 – Summary:
New Features Resolve 16 Studio Beta 5:

Initial support for selection and editing of video tracks and clips in the Fairlight page
Support for monitoring audio from external monitoring sources
Support for annotating markers using lines and rectangles
Support for 4:4:4 SDI input for Resolve Live
Cut Page issues addressed where:

Custom defaults for transitions in the Cut page would not be persisted between application restarts
Cut page viewer would not show waveforms for some clips in Range Edit mode
Edit Page – new features/improvements:

Improved easing behaviour for position keyframes
Support for option to display individual audio channels in the Edit timeline
Improved visual progress and feedback when rendering savers on the Fusion page
Improved the performance of paint when a large numbers of individual strokes are used
Improved tiling calculations in renderer3D, allowing larger render sizes to be handled more efficiently
Improved performance of LUTs used with GPU acceleration
Removed non-functional blend control from Renderer 3D node
Color Page – issues fixed:

where deleting the last node in the color page node graph for a clip with OpenFX applied would sometimes cause a crash
where showing clip handles in Color page when live save is enabled would cause the application to freeze
where grabbing a still in the Color page would not automatically highlight the still
where applying ResolveFX stylize would show incorrect results on some macOS systems
where the enabled state of a shared node would sometimes not be saved
where deleting a timeline copy would sometimes invalidate the cache from the original timeline
where the waveform scope colorize option would not be persisted across application restarts
where GPU accelerated scopes would not refresh during playback when the Color page viewer was hidden
where marker and flag filters in the lightbox view in the Color page would not be persisted across application restarts
where images with alpha would have artifacts when cached in Resolve Color Management or ACES workflows
Fairlight – issues addressed:

where the bus format dialog would not show the correct track format when applying global track presets in the Fairlight page
where the bus assign dialog would not be refreshed when undoing bus assignment changes in the Fairlight page
where the context menu for adding crossfades would sometimes be grayed out in the Fairlight timeline
where SMPTE timecode generator settings in the Fairlight page would not be persisted between application restarts
where audio fades and waveforms would not be displayed for stereo tracks at certain track heights in the Fairlight page
where clip fade handles and gain keyframes could be edited in elastic wave mode
where audio fades made by keyframing clip gain would show noisy playback in the Fairlight page
where bus return from external patching sources would not be recalled correctly in Fairlight timelines
where punching out of automation changes would incorrectly hide automation curves till playback is stopped in the Fairlight page
Media and Codecs – fixed issues:

where analyzing clips for people would sometimes cause a hang on some systems with NVIDIA graphics cards
multiple issues with importing AAF files
where toggling proxy mode would invalidate render cache
where show non-rectified waveforms in the media pool would not be persisted between application restarts
where extracting audio from some QuickTime clips would not work correctly
where aspect ratio metadata would not be encoded correctly to DPX clips
where some color metadata would be read incorrectly for some ProRes clips
where some ProRes clips would be decoded with incorrect resolutions on Windows
where hardware accelerated encoding of H.264 clips would sometimes fail when rendering beyond the high bit rate supported in hardware
where media pool selection and sort order would not be synchronized across pages
Improved detection of the DolbyVision track in IMF clips
where the supplemental package option would sometimes not be available when creating IMF packages in the Deliver page
where laptops with external monitors connected would sometimes not show the QuickSync option to encode H.264 and H.265 clips
where the audio track format would display incorrectly in the Deliver page settings
General Improvements/Fixes

workspace scripts sub-menu would sometimes not correctly reflect the underlying scripts folder
loading a project with very small resolution timelines would sometimes cause a crash
where some context menu actions would not be listed with the correct name in the keyboard customization dialog
General performance and stability improvements
For a full list of fixes and improvements and to download the latest Beta 5 version head over to Blackmagic Design.
Claim your copy of DAVINCI RESOLVE - SIMPLIFIED COURSE with 50% off! Get Instant Access!