What's one of the first piece of kit that one buys as soon as they receive their BMPCC 4K? In most cases this is a cage. With the explosive demand and despite treacherous shipping situation, the Blackmagic Pocket Cinema Camera 4K is still easily the hottest camera of 2019, so it's not surprising to see third party manufacturers join the party and create their own dedicated accessories for it.
Recently, I posted about the new LockCircle cage for the BMPCC 4K, and before earlier in the year we had cages from manufacturers such as Vocas, Wooden Camera, and Tilta, and I am sure there are a few others I've missed, and now Ikan is having a go with their Ikan STRATUS cage.
Priced at just $300 US, the Stratus cage offers a BMPCC 4K form-fitting design with plenty of threaded holes for accessories such as top handles 15mm rods, cold-shoes (because you know you'll need one or two with the BMPCC 4K), I/O protection and industry standard quick-release mechanisms. The cage comes in four main parts: the top handle, top rod mount, base, and cage frame.
The form-fitting design provides cutouts on top for button and dial access with enough room on the left and right sides of the cage for access to memory card slots, A/V inputs & outputs, and remote port access. There is also a cutout on the bottom of the cage over the battery port, allowing for quick swaps without having to unmount the cage. The cable clamp on the left side of the cage is positionable and universal and can be used to support most HDMI and USB-C cables.
The Stratus Cage also natively supports Metabones Speed Booster adapters, thanks to the included Metabones adapter support system which connects to the 1/4-20 screw thread of the adapter. This reduces the amount of stress on your lens mount when using full-frame lenses on the adapter.
STRATUS Cage for Blackmagic Pocket Cinema Camera 4K Features:
Form-Fitted for the BMPCC 4K
Arca-Swiss Plate Compatible
Multiple threaded holes for accessories/cold-shoe accessories
Top Handle Mounts Directly to NATO Rail/Top Rod Mount
Top Handle can Accept 15mm Rods for accessories
Cut-Outs for Battery, Memory Card, and A/V Output Access
Mounts to Tripod Quick Release Plate with 1/4-20 and 3/8-16 Mounts on Base Bottom
Mounts to ARRI Standard 19mm Dovetails
Price: $299.99 at B&H
To learn how to assemble the STRATUS Cage for the BMPCC 4K, check out this video by Ikan:
Here is what you get included in the package:
1 x Cage Frame
1 x Top Rod Mount w/ NATO Rail
1 x Top Handle
1 x Metabones Support
1 x Samsung T5 SSD holder
1 x HDMI/USB-C Clamp
2 x 200x15mm Rods
2 x 100mmx15mm Rod Extensions
1 x Base w/ ARRI Standard 19mm Dovetail Mount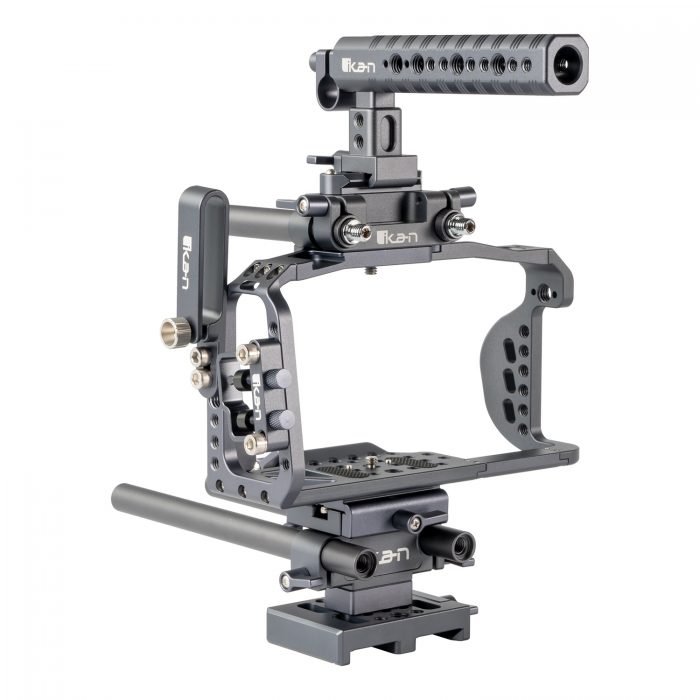 STRATUS Cage for BMPCC 4K Specifications:
Base Connection Type:
Build Material:
Cable Clamp:
Camera Compatibility:

Blackmagic Pocket Cinema Camera 4K

Mounting System:

Top Handle: NATO Rail
Cage Frame: Arca Swiss Plate
Base: 19mm ARRI Standard Dovetail

Rod Compatibility:
Rod Extensions:

2 x 100mm/4″ Rods with Coupling Included

Rods: 200mm / 7.875″
Shoe Mounts: 1; Backless Cold Shoe (Body), 1; Cold Shoe (Top Handle)
Stratus Rod Style:
Top Handle Mount:
From the looks of it in the demo video and their promo materials, I think the new Ikan Stratus cage is a looker that also offers significant versatility and ticks pretty much all the boxes – multiple threads, aluminium construction, Arca-Swiss compatible, ARRI dovetail compatible base and also a place to support an external SSD at a competitive price of $299.
So, what do you guys think of the STRATUS cage? I'd love to read your thoughts on what sort of cage you are using with your BMPCC 4K. Granted you've received your order… Do share in the comments section below.
Disclaimer: As an Amazon Associate partner and participant in B&H and Adorama Affiliate programmes, we earn a small comission from each purchase made through the affiliate links listed above at no additional cost to you.
Claim your copy of DAVINCI RESOLVE - SIMPLIFIED COURSE with 50% off! Get Instant Access!