Just days ago Panasonic released the much-awaited Firmware Update 1.2 for the Panasonic S1, unlocking the full potential of the video-oriented 4K full-frame mirrorless camera. You can find the link to where you can download the firmware update towards the bottom of this post, but before that let's take a look at what is included in the firmware update.
Panasonic S1 firmware update v1.2 unlocks major video functions such as support for the Upgrade Software Key DMW-SFU2 (rather unfortunately priced at $199), which gives users access to 4K/24p 10bit 4:2:2 and full V-Log for getting the most dynamic range and quality out of the camera's 24 megapixel full-frame sensor. It is worth to point out that the V-Log here is the EVA1 "full V-Log", not the Panasonic GH5/GH5S – V-Log L variant. Same V-Log as in the VariCam LT too.
Other notable new features include the addition of 4K/60 and 50p 4:2:2 10bit output via HDMI, V-Log Assist function so you can see a Rec.709 monitoring LUT while recording in V-Log, support for 3rd party LUTs, which you can load onto the camera via SD card, and a Waveform monitor function to help you nail exposure.
Panasonic S1 Firmware Update 1.2 Details:
Improved performance of the IBIS

correction performance of the camera Image Stabilizer improved from 5.5 stops to 6.0 stops.
performance of the Dual I.S.2 improved from 6.0 stops to 6.5 stops.
Improved AF performance

[AF-ON: Near Shift] and [AF-ON: Far Shift] functions added.

[AF-ON: Near Shift] preferably focuses on a subject nearby
[AF-ON: Far Shift] preferably focuses on a subject far away.
The tracking performance when using [Tracking] AF mode in video recording has been improved.
Live view display during auto focusing is now easier to see.
Support for Upgrade Software Key DMW-SFU2:

An [Activate] function for update key DMW-SFU2 added
New video recording modes [MOV]

4K 60p/50p, 4:2:0 8bit LongGOP, 150Mbps, LPCM
4K/30p/25p, 4:2:2 10bit LongGOP, 150Mbps, LPCM
4K/24p, 4:2:2 10bit LongGOP, 150Mbps, LPCM
1080/60p/50p, 4:2:2 10bit LongGOP, 100Mbps, LPCM
1080/30p/25p, 4:2:2 10bit LongGOP, 100Mbps, LPCM

HDMI Output – 4K/60p/50p 4:2:2 10bit via HDMI output
V-Log added in Photo Style
The [V-Log View Assist] function added

enables viewing the V-Log file with LUT when recording video in V-Log

[Read LUT File] function will be added,

allows users to install and apply 3rd party LUTs.

WFM (Waveform Monitor) display function added
[Luminance Level] adjustment function that complies with 10-bit.
[XLR Mic Adaptor Setting] function that enables high-res sound recording

when using the XLR Microphone Adapter DMW-XLR1
Improved operational stability

Operational stability with XQD memory cards improved
Head over to Panasonic's support page here to download Firmware update 1.2 for the Panasonic S1 mirrorless camera.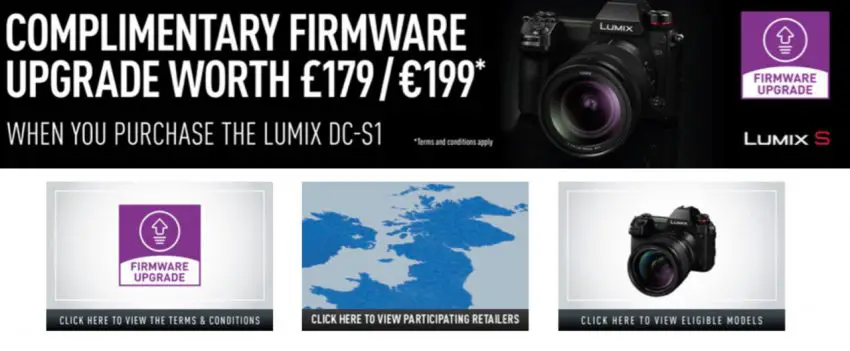 Are you currently a Panasonic S1 owner? If you are, and are also based in Europe you may be able to claim your free Upgrade Software Key DMW-SFU2 and save yourself €179 if you buy the S1 before end of September.
For full T&Cs, eligible retailers, and more info on how to claim head over to Panasonic here.
I can't find any information if this offer applies to North America, so best to check with Panasonic USA or your local dealer.
Here is a link to the DMW-SFU2 upgrade license at B&H, where it's priced at $199.
Disclaimer: As an Amazon Associate partner and participant in B&H and Adorama Affiliate programmes, we earn a small comission from each purchase made through the affiliate links listed above at no additional cost to you.
Claim your copy of DAVINCI RESOLVE - SIMPLIFIED COURSE with 50% off! Get Instant Access!