Z Cam E2 just became an even more versatile and appealing tool with the inclusion of ZRAW – the proprietary Raw codec specifically designed for Z Cam cameras. The codec will also be available on the recently announced E2C as well as E2-S6, E2-F6 and E2-F8 cameras. This is a major upgrade for the popular Micro 4/3 camera that's already capable of shooting compressed 4K 10-bit video at up to 160fps.
Of course, there are certain limitations coming with this new format, the most significant of which is the fact that you'll need to install ZRAW VideoSuite that is currently available for Windows only. You will need to convert the RAW encoded video into H265, DNxHD, or YUV using the software which you can download for free here.
At this time, there are still no plugins available that will allow you to open the format in any other NLE but I'm pretty sure that this will change quickly. It's also worth noting that ZRAW supports up to 4096×2160 at 30fps at this stage, but Z Cam ensures that ZRAW 4K 60fps will be supported soon as well.
Other than that, internal Proxy recording isn't possible when shooting in ZRAW, but you can still use an external device to back up your footage.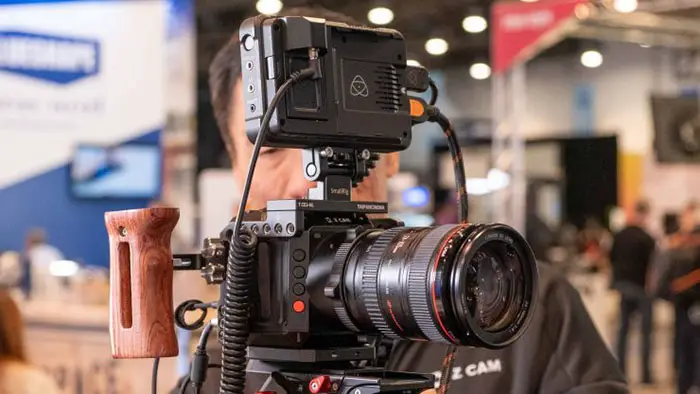 Below, you can find all details and specifications regarding the actual firmware update.
Firmware 0.88 New Features
ZRAW (partial debayer), supports up to 4096×[email protected] initially
Monitor preview LUT, x33 cube format
Pre-rolling
Still image capture (JPEG only)
VFR fine control, 1 frame per step
Native ISO toggle control
Parade view
Improvements
Card formatting compatibility
AWB always use a white priority in Z-Log2
Performance optimization
Bugs fixes
Time Code sync to an external device
Other minor bug fixes
Remarks
ZRAW VideoSuite is required to convert ZRAW
ZRAW 4K 60fps will be supported later
No proxy recording is allowed when ZRAW is selected. Use iOS device or HDMI to record proxy file instead
The Z Cam ZRAW format requires the use of ZRAW VideoSuite. No plugins are available for any NLE's at this time.
The E2 firmware 0.88 is already available for download, so if you already own the Z Cam E2, you can test it out right away.
[source: Z Cam]
Order Links:
Z CAM E2 Professional 4K Cinematic Camera (B&H, Amazon)
Claim your copy of DAVINCI RESOLVE - SIMPLIFIED COURSE with 50% off! Get Instant Access!