Just hours ago, Panasonic held a press conference in the heart of Hollywood to officially launch the Panasonic S1H, revealing key specifications and further details for their top echelon 6K full-frame mirrorless camera geared towards Hollywood and indie film productions.
As most you recall, Panasonic actually did a S1H "soft launch" or an "announcement of an announcement" for the S1H back in the beginning of the summer at Cine Gear 2019, where we got a glimpse of what top brass at Panasonic were cooking – a 6K full-frame camera that is the size of the Lumix S1. So, I guess today's press conference was the official Panasonic S1H launch.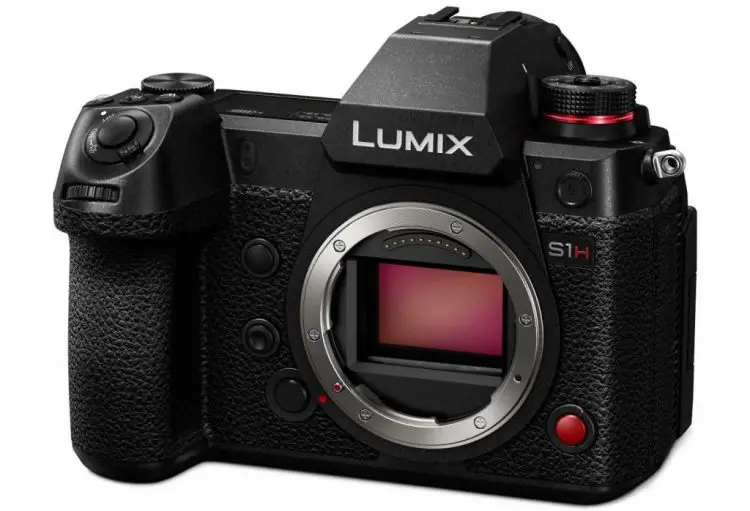 The Panasonic S1H is touted as a "world's first" when it comes to the sensor size and maximum resolution it can capture video. Not trying to take anything away from the Panasonic camera here, it sure does look impressive on paper, but I am sure this title won't stay true for long, as arch-rival Sony are lurking in the shadows waiting out the competition in preparation for the imminent Sony a7S III reveal, which some say may happen as early as next week.
And this time around, new Sony has to deliver and give us 4K/60p 10bit internal in a decent codec that you can edit on a regular computer. Looks like the gloves are off, and the A7s III will inevitably be compared and stacked against the Panasonic S1H, which appears to be one hell of a video camera with healthy 4:3 Anamorphic capabilities, 6K full-frame, HLG and V-Log/V-Gamut (same profile as in the Varicam LT and EVA-1) and internal image stabilization.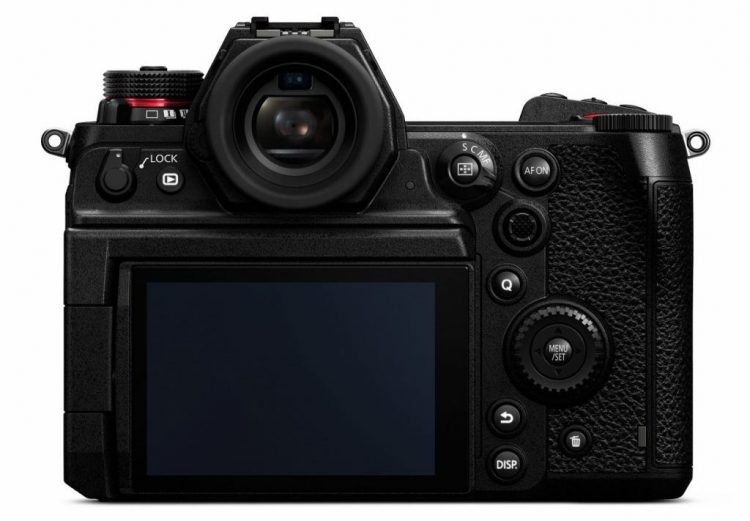 Panasonic S1H Features
24.2MP (6,024 x 4,016) Full-Frame CMOS sensor
6K/24p video at 3:2 aspect ratio
5.9K at 30p at 16:9
4:3 Anamorphic support
4K DCI (4096 x 2160) and UHD 4:2:2 10bit up to 30p
4K/60p HEVC (10bit 4:2:0)
V-Log/V-Gamut, "Varicam Look" Library Support
Dual Native ISO (640 and 4000)
HFR/Slow-motion with Sound!
1080p up to 180fps
HLG (Hybrid Log Gamma), 4:2:2 10-bit HDMI output
4K Raw output via HDMI? (with Atomos)
5-Axis Sensor-Shift Image Stabilization
5.76m-Dot 0.78x-Magnification OLED LVF
3.2″ 2.33m-Dot Tilt/Free-Angle Touch-LCD
1.8″ Top LCD, Tally Lamps, Dual SD Slots
ISO 100 – 51200 / Up to 9 fps Shooting
Dual UHS-II SD card slots
Contrast-Detect 225-Area DFD AF System
Pre-order: $3,998 at B&H
Available: September 2019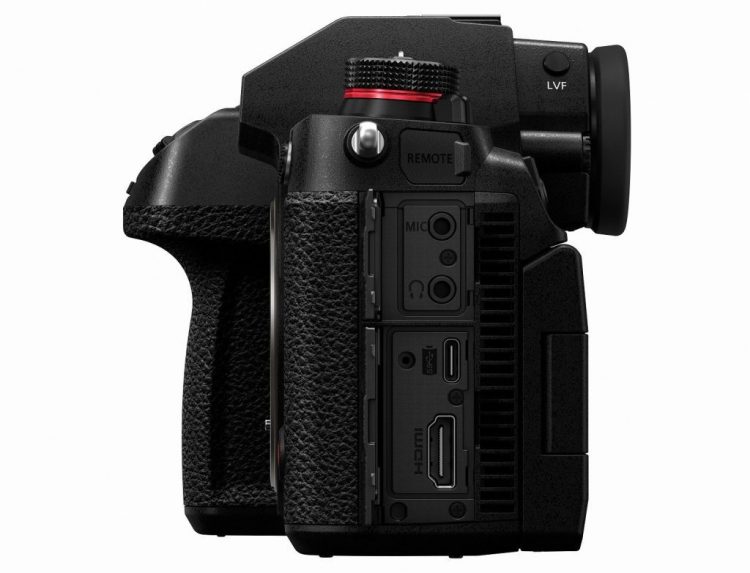 It looks like Panasonic have really thought about this camera and thrown everything they have and the kitchen sink! The Panasonic S1H has an actively cooled sensor to accomodate the vast options in resolutions, frame rates and codes in order to make sure the camera stays operational even in extreme environments.
This will have a bit of a sacrifice on weather-proofing due to the exposed exhaust fan vents on the side, but hey – during the presentation, Panasonic GH/Lumix/S-line guru Matt Frazer said the fan will not be a problem for your sound recordist so it looks like ti will be quiet, but of course this has to be tested. Still, quite a feat for a mirrorless camera and another "world first" AFAIK…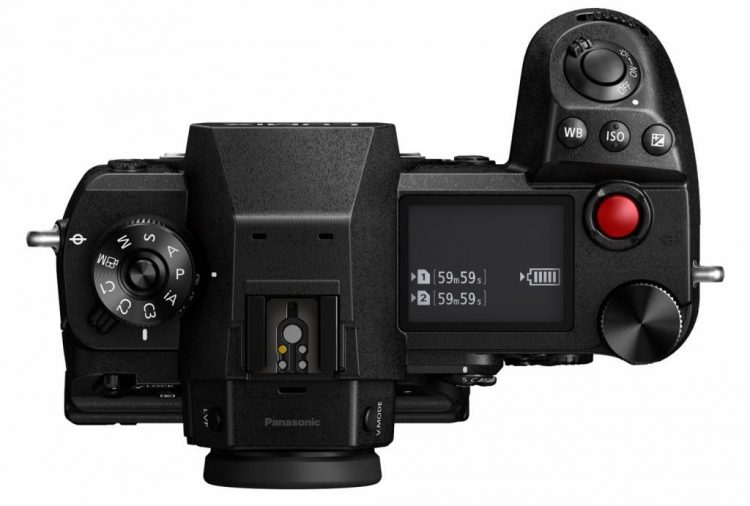 The Lumix S1H is also is capable of outputing 4K/60p in 10bit 4:2:2 via HDMI to a compatible Atomos recorder, and it was even hinted during the press conference that Panasonic and Atomos are working on getting 4K Raw out of the camera via HDMI with more details on that feature to be revealed at a later date. Intriguing indeed…
4:3 Anamorphic in 4K was a major talking point during the livestream, and rightfully so, Matt Frazer said it best – their goal with the S1H was to "democratize Anamorphic filmmaking", which they have been doing very well since the GH5, but now you get to do it with a larger sensor.
The VFR (Variable Frame Rate) options let users record overcranked or undercranked video in 4K DCI and UHD up to 60 fps and Full HD at 180 fps with sound and even when using auto focus!
The S1H also gets a Waveform Monitor and V-Log View Assist as well as Tally lights on both the front and rear sides for use in a multiple camera setups.
Here are some sample films shot on the new Panasonic S1H:
"KEPLER 138" Shot on Panasonic S1H by Jacob Schwarz:
"Alive" shot on Panasonic S1H by Carrisa Dorson:
"In Hope of Nothing" Panasonic S1H short film shot by Peter Hamblin:
Panasonic S1H Behind the Scenes with creators:
In addition to the S1H launch, Panasonic also officially announced the Lumix S PRO 24-70mm f/2.8 L mount lens to compliment the S1H full-frame mirrorless camera.
The lens features a rugged dust/splash proof design giving it the ability to withstands harsh conditions. The lens has an 82mm front filter diameter and an impressive 11-blade circular aperture diaphragm.
The optical design encompasses 18 lenses in 16 groups, three aspherical lenses and four ED (Extra-low Dispersion) lenses designed to effectively battle both axial chromatic aberration and chromatic aberration of magnification. Furthermore, a UHR (Ultra-High Refractive Index) lens achieves uniform image quality from the centre to the edges of the image while downsizing the lens unit.
A double focus system combining linear and stepping motors achieves sensor drive at a maximum speed of 480 fps. The new LUMIX S PRO 24-70mm is expected to start shipping sometime in October for $2199.99.
Lumix S PRO 24-70mm f/2.8 Full-Frame L Mount lens footage:
So, what do you guys think? Is the S1H on top of your wishlist or are you waiting for the Sony A7s III? Maybe you're in the Blackmagic camp, who have strong following with the BMPCC 4K and the newly announced BMPCC 6K EF. Do let me know in the comments below.
The Panasonic S1H is now available to pre-order for $3,998 at B&H. The camera is expected to start shipping towards the end of September.
Read more over at Panasonic.
Claim your copy of DAVINCI RESOLVE - SIMPLIFIED COURSE with 50% off! Get Instant Access!