Aputure has announced a new and very versatile light modifier for their COB LED lights, the Aputure 120D II, 120D and 300D. The new Aputure Spotlight Mount, is also said to be "the world's first Bowens spotlight mount" according to the manufacturer. The Spotlight Mount gives cinematographers a much greater degree of control when shaping the light with increased precision is the desired outcome.
The Aputure Spotlight Mount provides pinpoint accuracy when projecting your light with your choice of 3 different lenses – 36, 26, and 19 degrees, all of which are user-interchangeable.
Built out of aluminium alloy die-cast metal, the Spotlight Mount has been designed to last, ensuring durability while utilizing a more lightweight design than typical tungsten ellipsoidal lights.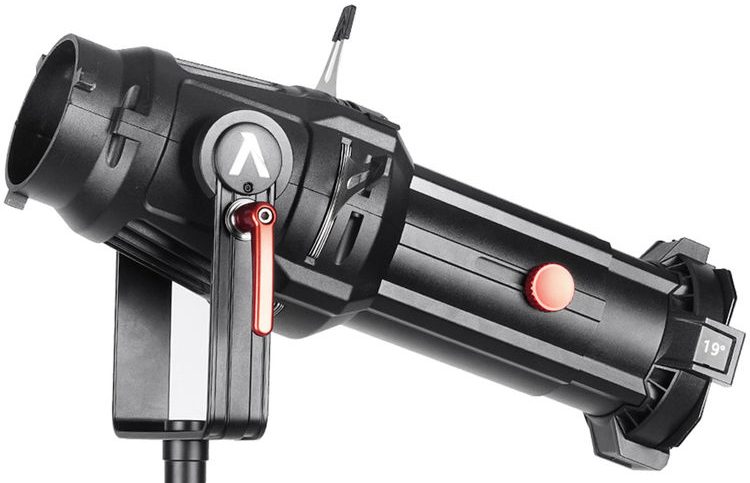 Aputure engineers have designed this light modifier for increased precision with minimal edge fringing; The Spotlight Mount's new lens technology minimizes chromatic aberrations around the edge of the illumination circle.
Compared to similar ellipsoidal fixtures, the Spotlight Mount significantly decreases its edge colour fringing to a mere 1mm at a distance of 0.5 meters.
With the included B-size Gobos, Gobo Holder, and gel frame the Spotlight Mount allows for even further light manipulation, to easily project any shape or colour you can think of.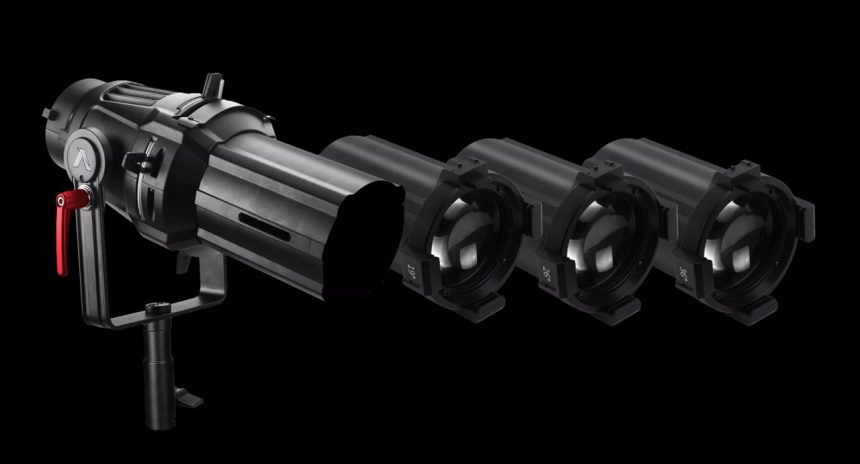 The optional removable iris also allows filmmakers to further hone in the shape and size of the Spotlight Mount's light output. The Spotlight Mount's dual slot design allows filmmakers to use both their Gobos and iris simultaneously.
The Spotlight Mount is created with rigging in mind. This is why the Aputure Spotlight gets a dual Junior/Baby mount so it can be attached to anything from a C-Stand to a Combo Stand or underslung from a lighting grid.
The three lenses for the Spotlight Mount were designed with professionals in mind. In addition to allowing the 120d II to produce 10 times its original output, the high-resolution lenses produce an even beam of light, with minimal light falloff on the edges, while maintaining a shift in colour temperature of less than 200 degrees Kelvin.
The Aputure Spotlight mount and accessories are expected to start shipping very soon, with pricing set at $499 including either a 19, 26, or 36 degrees lens. The Spotlight mount iris is priced at $99, which individual lenses at $259.
Pre-orders are open at official dealers such as B&H.
Claim your copy of DAVINCI RESOLVE 16 - SIMPLIFIED COURSE with 50% off! Get Instant Access!