New for IBC 2019, ARRI unveils Orbiter – a versatile, ultra-bright LED with inter-changeable optics, state-of-the-art ARRI Spectra six-color light engine, detachable control panel, advanced connectivity and tons more!
Bringing next-level brightness and tune-ability to their lighting arsenal, the ARRI say Orbiter is "the most technologically advanced fixtures ever produced for image capture and color fidelity."
Everything in the ARRI Orbiter is completely new and has been designed with versatility in mind. The Orbiter features a variety of optics including open face, projection, dome, and light banks, while the ARRI Spectra six-color wide gamut light engine ensures extremely powerful output tuned for maximal brightness and perfect colors.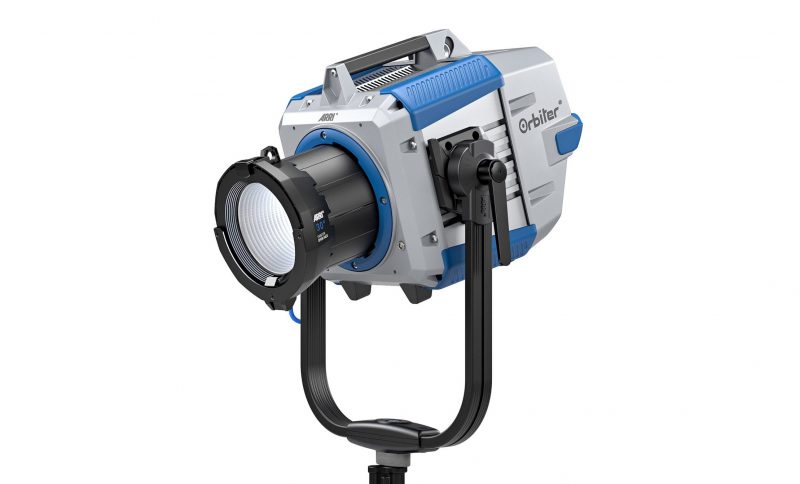 The Orbiter is powered by a Lighting Operating System (LiOS) with powerful software features such as integrated color sensor for matching ambient light. The light comes in a weatherproof housing, while a detachable and intuitive user control panel gives gaffers, lighting technicians and DPs control over all aspects of the light including super smooth dimming to zero and full colour control.
The outer design of Orbiter meets the demands of heavy, daily usage on set and in the studio. A new weatherproof housing enables outdoor application by using an aluminium cast body with bumpers made of reinforced plastic. The handle makes transport comfortable and allows for handheld operation due to perfect balance.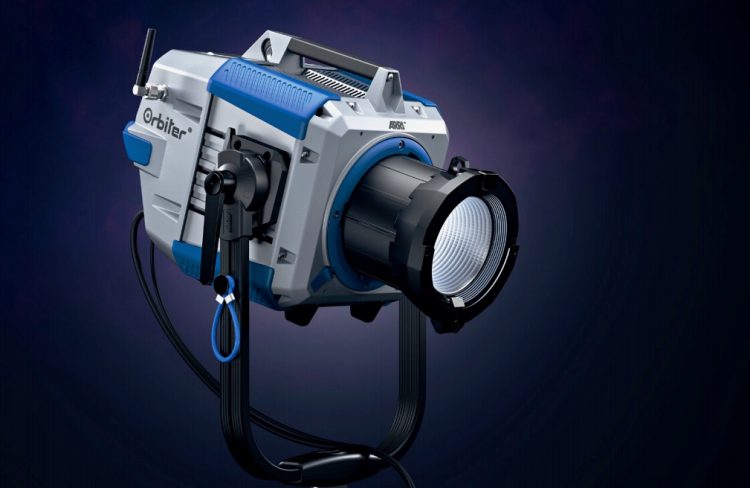 ARRI Orbiter Features/Highlights
Variety of optics including:

open face, projection, dome, and light banks

ARRI Spectra six-color, wide gamut light engine
Extremely powerful output for maximal brightness and perfect colors

2,000 – 20,000K continuously variable CCT
CRI Average > 98
TLCI Average > 95

Lighting Operating System (LiOS) with powerful software features
Weatherproof housing
Integrated color sensor for matching ambient light
Detachable control panel
Full suite of connectors and sensors
Perfected smooth dimming 100 to 0
Internal power supply
Wireless DMX, and battery input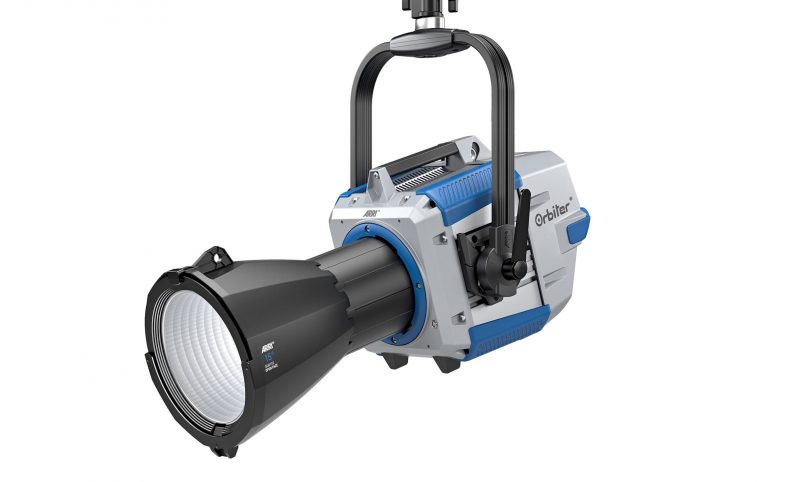 ARRI Orbiter with Inter-changeable Optics
Changeable optics is the core innovation in Orbiter and thanks to a huge variety to choose from, the light transforms into the perfect lighting tool for narrative drama and broadcast applications without sacrificing beam, output, or color quality. The Quick Lighting Mount (QLM) in Orbiter allows for optics with vastly different properties to be attached to the fixture. The high-output, directional beam of the open face optic is ideal for throwing light long distances.
The high precision of the projection optics creates a perfect circle of light that can be shaped with cutters, focus, and gobos. The dome optic provides omnidirectional, soft light, great for illuminating large spaces, and a universal QLM adapter creates a direct mounting point for Orbiter-specific Chimera and DoPchoice diffusors.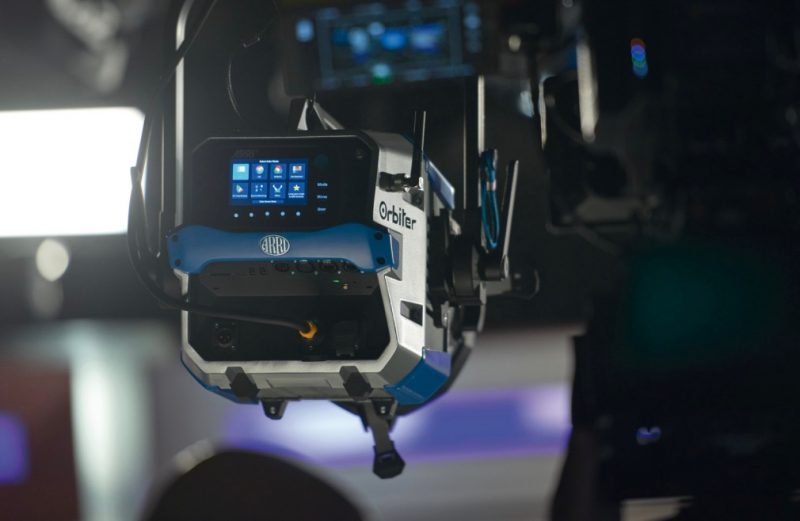 ARRI Spectra Six-Color Light Engine
Orbiter is a powerful directional LED fixture with an output similar to that of the corresponding HMI systems; however thanks to the advanced ARRI Spectra light engine, the light becomes highly tunable.
Including a red, green, blue, amber, cyan, and lime LED, the ARRI Spectra six-color light engine translates into a wider color gamut, more accurate colors, and most importantly, higher color rendition across the entire CCT range. Skin tones look amazing and natural, and hues are precisely reproduced.
Orbiter has a larger CCT range of 2,000 to 20,000 K with ultra-high color rendition across all color temperatures. Using a combination of three dimming techniques, Orbiter's cutting-edge electronics provide smooth dimming down to zero without color changes or jumps.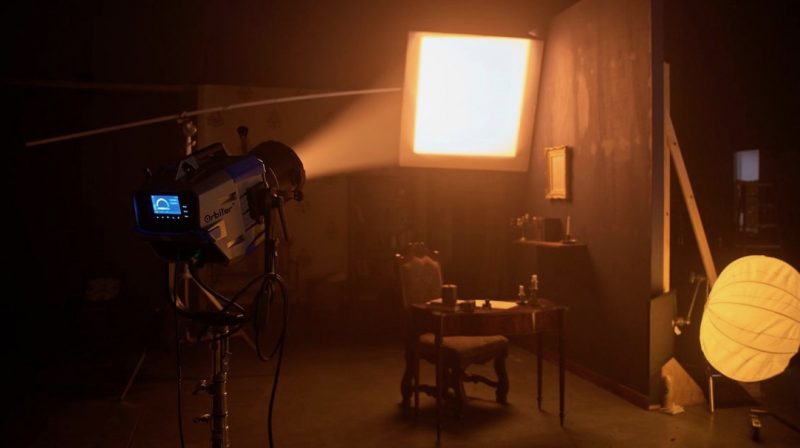 LiOS – Lighting Operating System
The Orbiter is so advanced, it has its own operating system called LiOS (Lighting Operating System) that includes all the innovative and groundbreaking features of the SkyPanel plus others, making Orbiter one of the most fully-featured LED lights on the market. LiOS's eight-color modes include CCT, HSI, individual color, x/y coordinates, gel and source matching, lighting effects, and the new color sensor mode that measures ambient light and recreates it through Orbiter's output.
Other new features in LiOS include simplified DMX modes, performance-enhancing operational modes, over 240 slots for favorites to be stored, optics recognition, multi-language support, a custom boot screen, and many more still to come.
Detachable User Control Panel
The Orbiter comes with a detachable 4-inch full-color display with quick navigation buttons and a simplified menu structure. This intuitive design makes changing the color or finding a setting easier than ever before. In addition, the control panel is removable and can be used handheld with the aid of a 5 or 15 m (16.4 or 49.2 ft) control panel cable.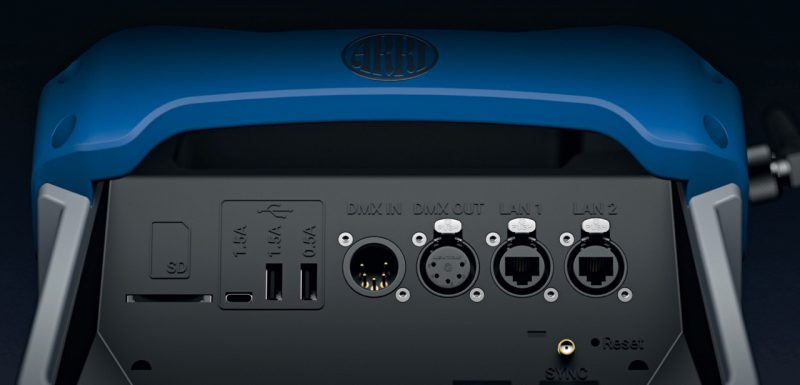 Future-Proof Connectivity & Versatility
Ethernet daisy chaining is now possible with two EtherCON ports supporting Art-Net 4, sACN, and TCP/IP. 2x USB-A ports are used for LiOS updates and connection of third-party peripherals such as Wi-Fi USB dongles. LumenRadio's CRMX solution is included, allowing for wireless DMX. 2x 5-pin XLR DMX ports used for conventional DMX & RDM communication in and through, and a 3-pin XLR DC input for 48 V power station.
An SD Card slot enables future expansion of the software and an USB-C port is available for computer communication and servicing.
Included in Orbiter is a color sensor for measuring the ambient light, a 3-axis accelerometer and magnetometer for sensing the pan, tilt, roll, and heading of the fixture, heat sensors for keeping the LEDs and electronics at exactly the right temperature, and an ambient light sensor for automatically dimming the control panel display. All these sensors make for a better user experience and increased control over the fixture. Available data improve workflow also in postproduction and service.
Pricing and availability is to be confirmed at a later date. To learn more and keep up to date with all things Orbiter head over to ARRI here.
Claim your copy of DAVINCI RESOLVE - SIMPLIFIED COURSE with 50% off! Get Instant Access!