Teased in July earlier this year at the Sigma fp launch, SIGMA just launched the new FF Classic Prime Line of cine lenses designed for cinematography.
The current Sigma FF High Speed Cine Primes have been delivering outstanding image quality while offering the highest resolving power in its class for some time now, and it almost seemed like a logical move for Sigma to offer a new range of cine primes providing a more "vintage" look, that has been quite popular in cinematography lately.
Designed to meet the highest demands of 6K and 8K resolution large format sensors, while still keeping a compact footprint, the new FF Classic Prime Line is  based on existing FF High Speed Cine Primes, however this time around the new Classic Primes incorporate more non-coated optical elements for a more vintage, organic look reminiscent of a Hollywood era gone by.
Make no mistake, the new FF Classic Cine Primes still retain the high resolution capability of the current Sigma Cine Primes, however the new range offers a unique combination of low contrast and artistic flare/ghost in the image. As with all other lenses from the FF High Speed Prime Line, it creates beautiful bokeh effects to improve creativity.
The new Sigma FF Classic Prime Line has implemented newly developed coatings on the glass elements and offers consistent T value across the lineup (14mm and 135mm at T3.2 and the rest of the lenses at T2.5). This will greatly contribute to the effective workflow in post-production.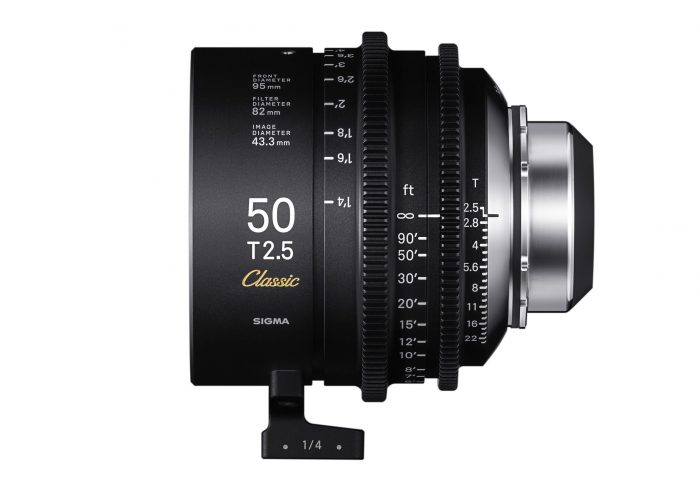 The Sigma FF Classic Primes do have a slightly slower T-stop compared to the FF High Speed Cine Primes, and unlike them, the new FF Classic Prime Line (which you can get in Canon EF, PL and E mount) will be available only in PL mount; the mount conversion service that you can get with the FF HS Primes is not going to be available with the new FF Classic Primes.
Sigma FF Classic Prime Line Highlights
PL mount (/i Technology compatible)
Full-Frame/Large Format sensor coverage
Image circle diameter: FF 43.3mm
Illumination circle diameter: over 46.3mm
Focus ring: Marked in feet
95mm front diameter
9-blade rounded diaphragm
Sold as a set of 10 lenses:

Sigma 14mm T3.2 FF
Sigma 20mm T2.5 FF
Sigma 24mm T2.5 FF 
Sigma 28mm T2.5 FF
Sigma 35mm T2.5 FF
Sigma 40mm T2.5 FF
Sigma 50mm T2.5 FF
Sigma 85mm T2.5 FF
Sigma 105mm T2.5 FF
Sigma 135mm T3.2 FF

Price: TBD
Available: Q4 2019
Furthermore, the new FF Classic Prime line range is compatible with the communication protocol of Cooke "/i Technology", thus an ideal tool for shooting and editing with the latest technology, and a great compliment for VFX.
A special coating is implemented on the front and rear elements so that the lens durability is ensured as with all other cine lenses from SIGMA.
Be sure to stop by the Sigma stand at IBC 2019 in Amsterdam (September 13th-17th) to check out the new Sigma FF Classic Prime line.
Claim your copy of DAVINCI RESOLVE - SIMPLIFIED COURSE with 50% off! Get Instant Access!