At IBC 2019, Sound Devices showed-off their latest 833 Portable Compact Mixer-Recorder. IBC 2019 attendees were the first to experience this new release from Sound Devices, which features 6 mic/line preamplifiers, 8 channels, a 256 GB internal SSD, and dual Sony NP-F L-series battery charging and powering.
In addition to the 833 mixer/recorder, other new products the company exhibited at IBC 2019 included the MixPre II Series and the Sound Devices Scorpio.
Like the popular Sound Devices 633, the Sound Devices 833 is a compact and lightweight mixer-recorder that is perfect for bag use on location. The 833 has 6 mic/line preamplifiers, 8 channels, 12 tracks, 6 analog outputs, and super-accurate timecode.
Sound Devices 833 Mixer/Recorder Features
6 ultra low-noise, all-new microphone preamplifiers
8 channels, 6 buses, 12 tracks
6 analog outputs
Ultra-accurate timecode
256 GB internal SSD, 2 SD card slots
USB-A and C ports for:

SD-Remote app linear fader control via MCU, keyboard, and file transfer

Dugan Auto-mixing for up to 8 channels
Pre-order: $3,995 at B&H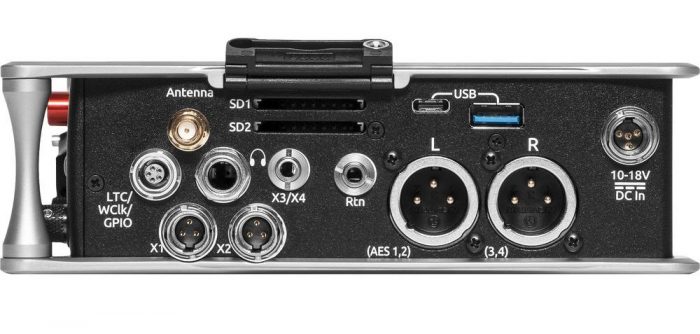 Many features have carried over from the top-end Sound Devices' Scorpio, such as Sound Devices' new pre-amplifier design, 2 SD card slots, dual L-Mount charging and powering, and an internal 256 GB SSD. The 833 features industry-renowned Dugan Auto-mixing for up to 8 channels.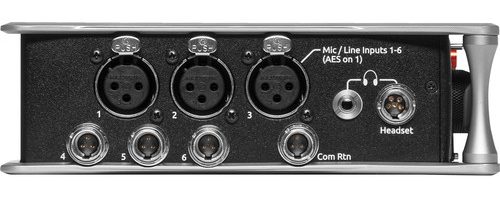 Sound Devices has had a prolific year for product announcements. The second generation of Sound Devices' award-winning MixPre Series, the MixPre II Series, was announced and began shipping in late August.
All models feature 32-bit float recording, internal timecode generation, sample rates of up to 192 kHz, and an astounding 142 dB of dynamic range.
The Scorpio premium portable mixer-recorder was announced earlier this year at NAB 2019. With 16 mic/line preamplifiers, 32 channels, 36 tracks, 32 channels of Dante, and 16 channels of Dugan Auto-mixing, Scorpio is the most powerful product ever designed by Sound Devices.
In addition, Sound Devices has recently partnered with Sony to add SuperSlot compatibility to the new Sony DWR-S03D Digital Wireless Receiver.
The DWR-S03D joins other RF receivers from Audio Limited, Wisycom, Sennheiser, and Lectrosonics in implementing SuperSlot compatibility. The new Sony, and other SuperSlot receivers, may be used with the Sound Devices Scorpio mixer-recorder and the SL-6 wireless distribution and powering system. The new Sony receiver is expected to ship later this year.
Explore 833 here: sounddevices.com/product/833.
Claim your copy of DAVINCI RESOLVE - SIMPLIFIED COURSE with 50% off! Get Instant Access!