Core SWX, have been making kick-ass batteries and charging solutions for filmmakers and broadcast professionals for some time now, and recently at IBC 2019 in Amsterdam, the company debut a few new innovative power solutions. One of them was a the CoreSWX Nano-C98 – a new OEM BP-A style battery designed for the Canon C500 Mark II, C200, and Canon C300 Mark II.
Another battery aimed at the both the cine and broadcast markets, the Hypercore NEO is the next generation of power solutions with features that have never been seen before in lithium ion battery packs. To complement the brick batteries, Core SWX releases a new Rapid Quad Charger with a colour touchscreen LCD, the Fleet Quantum.
"Being in what is now an inundated battery market, provides us the opportunity to continue to set ourselves a part, and we're doing it again with the launch our Hypercore NEO line," says Ross Kanarek, CEO, Core SWX. "The Neo line took years of suggestions from our customers, and we've incorporated all the features into one pack to provide the most complete and comprehensive 14v on-camera power solution ever offered to the market."
The CoreSWX NANO-C98 takes care of the increasing need for a more "pro" style power option for the latest generation Canon EOS Cinema cameras that accept the Canon BP-A style battery packs such as the Canon C200, C300 Mark II, or the new C500 Mark II. The "smart" battery pack is equipped with a 4-stage LED gauge, a 5V USB and a D-tap output for powering various accessories.
The P-tap is a Smart Tap that serves as a standard D-tap and is able to communicate SMBUS/smart battery data which is part of a future integration. The CoreSWX NANO-C98 can charge either via the P-tap, or with the OEM Canon chargers. NANO-C98 is estimated to start shipping in November for $245.
CoreSWX NANO-C98 Features
EOM Battery for Select Canon Cameras
Canon BP-A Battery pack for C200 and C300 Mark II
USB and D-Tap out
4-stage LED gauge
Capacity: 98wh (14.8v, 6600mah)
Size: 3.85″ x 2.6″ x 1.65″
Weight: 0.9lbs
The Hypercore NEO line consists of Gold mount and V-mount Mini 98Wh lithium ion battery packs (also known as the NEO 9 Mini) capable of handling 16A peak loads, 12A continuous. The batteries were constructed similar to the award winning Helix battery line, in terms of being built more modular, which reduces cabling and maximizes product integrity. They are put together like building blocks within a very small battery housing, reducing the chance of a failure due to a drop.
Other features similar to Helix are the new Core SWX intuitive backlit multipurpose LCD on the front of packs, and RFID to receive all the battery vitals to your smartphone via a touch on the front of the pack to the VoltBridge ID app that will available in the iTunes app store shortly.
Furthermore, the packs are equipped with a "smart" D-Tap to allow users to power any 12vdc device while also receiving all battery data from the port.
One feature exclusive to NEO Mini 9 batteries, is the advanced 5v USB port that doesn't just charge your phone anymore. It offers additional functionality as a firmware upgrade port, so users will never be left behind as we continue to develop.
The Hypercore NEO Mini are priced at $249 USD and are available now.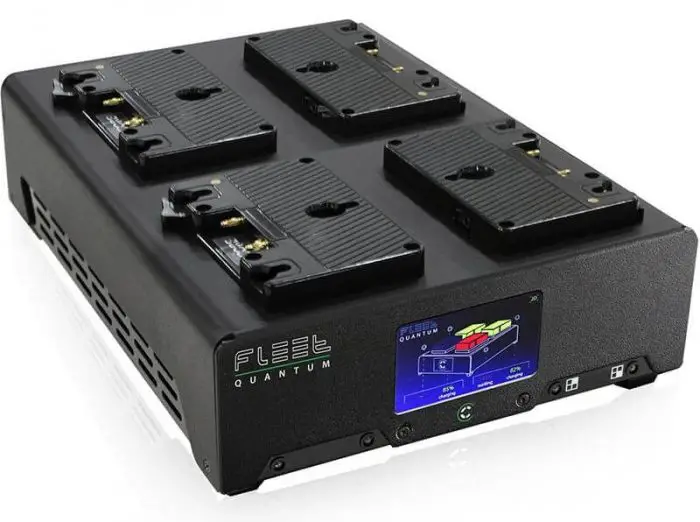 Complementing the NEO battery packs is the new addition to the CoreSWX Fleet chargers, the Fleet Quantum. The Quad Charger is available in two versions, one for V-mount and one for Gold mount, and offers a highly efficient 4A 2×2 simultaneous charge. When four batteries are connected to the charger, the charger will detect which two packs have the most charge capacity, and first charge those to full capacity.
With a large colour touchscreen LCD with graphical user interface, the charger provides the utmost transparency on stored smart battery data including state of charge, cycle count, capacity data, etc.
The Fleet Quantum quad charger will be available in November for $879 USD. To learn more head over to CoreSWX.
Claim your copy of DAVINCI RESOLVE - SIMPLIFIED COURSE with 50% off! Get Instant Access!