Picking the right music track for your video creative can be a challenge. With lots of competition in the sector and various pricing models, filmmakers are often at a crossroads when it comes to good quality music for video.
Music Vine, one of the leading licensing platforms for filmmakers and video creators seeking top quality music, are actually trying to make the process simpler. The company recently made a major announcement that they will be launching a subscription service in October.
Filmmakers and creatives looking for high quality music tracks for video will be able to choose from several plans, each providing unlimited access to Music Vine's entire catalog and granting clearance for different types of content and usage.
"Music Vine has become widely recognised for being a hotbed of highly authentic, inventive and stylish tracks for film and video," said Lewis Foster, CEO at Music Vine. "We're now excited to combine those qualities with the convenience of a straightforward subscription offering."
The Music Vine subscription service will features two main subscription options: 'Pro' and 'Creator'. The Pro plans will be for filmmakers, businesses, freelancers and production agencies, while the Creator plans are specifically tailored for YouTubers, personal social media and other creator platforms.
While full details of the pricing have not yet been unveiled, Music Vine have disclosed that there will be a $20 per month 'Pro Lite' plan, which grants clearance for small-scale productions such as corporate videos, wedding films, content marketing and micro/low-budget indie films.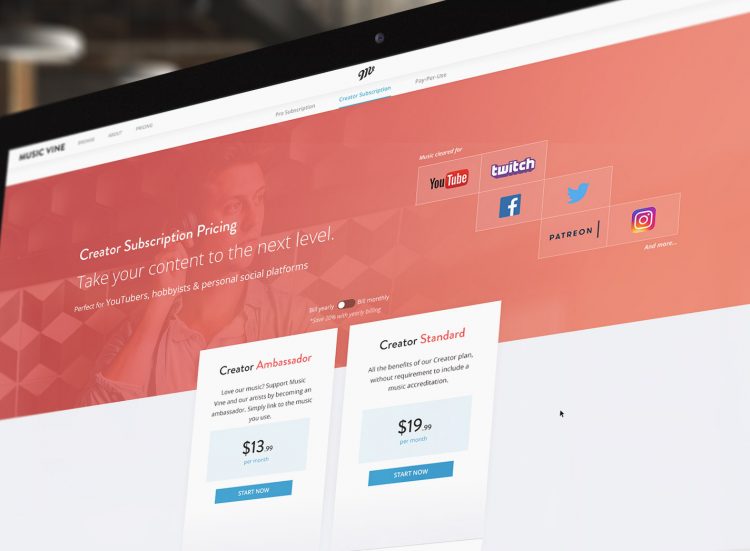 For those working on larger-scale productions, Music Vine's 'Pro Standard' plan will start at $35.99 p/month and offers broader clearance for marketing, advertising, entertainment and informative content. This plan can be extended to provide clearance for those who are working on very large scale productions, and/or who require clearance for All Media.
In a similar fashion to the Pro plans, it's been announced that there will be two options for the Creator subscriptions: 'Creator Ambassador' and 'Creator Standard', the former being a reduced rate plan for those happy to include a music accreditation when they publish any content featuring tracks from Music Vine. These plans will cost $13.99 and $19.99 p/month respectively.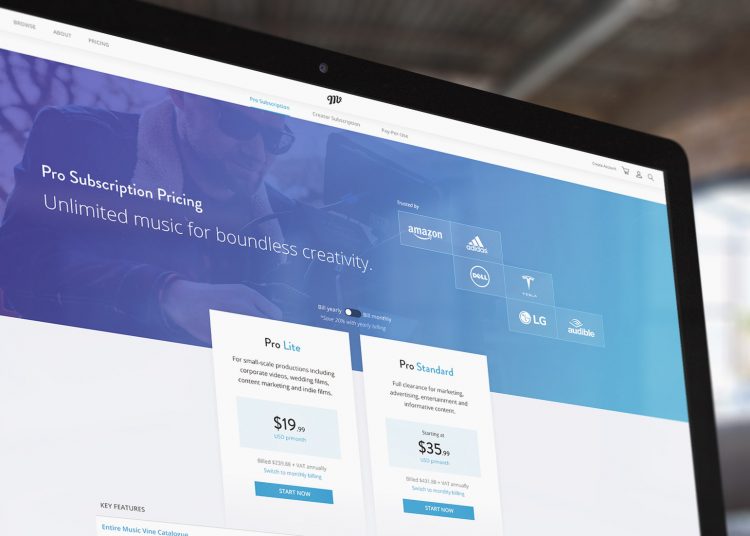 Music Vine believe the approach they have taken in structuring their subscription strikes the right balance to achieve both simplicity for filmmakers and fair compensation for musicians.
"We've seen huge demand for a subscription solution," says Foster, "it's clear that the production music market is shifting in this direction. The challenge for us has been to build a solution that is practical and attractive for filmmakers and video creators, while ensuring our artists get paid appropriately for usages of various scales, and enabling us to continue attracting the top musical talent."
The launch of Music Vine's subscription coincides with a period of rapid catalog growth for the company; "We have a packed release schedule of incredible new artists over the coming 12 months," reports A&R Manager, Shane McKenna. "We're extremely excited about the creative possibilities our growing catalog provides to filmmakers, editors and creatives who are looking to keep taking their content to the next level".
Filmmakers and video creators can sign-up to get notified when the subscription plans launch here: https://musicvine.com/subscription-coming-soon
Claim your copy of DAVINCI RESOLVE - SIMPLIFIED COURSE with 50% off! Get Instant Access!