Esteemed backpack and accessories maker Lowepro updates Pro Trekker range with 4 new models for video creators and photographer explorers. The new four new models include the more compact, and somewhat of a "baby trekker" Lowepro Pro Trekker BP 350 AW II , Lowepro Pro Trekker BP 450 AW II Backpack, the roller-enabled Pro Trekker RLX 450 AW II, and the the Pro Trekker BP 550 AW II designed for maximum storage for those hauling more than one DSLR or mirrorless camera with a bunch of lenses.
The newly expanded range has been designed with a handy collection of core features, including expanded and easy carry-on adaptability for those video creators, cinematographers, and photographers, who often have to hop on a plane and travel for work.
Lowepro have been making some of the finest pro backpacks out there for photographers, adventurers and travelling videographers. The second generation of the Lowepro Pro Trekker bags improves on the best features these provide – durability, ample storage, protection from the elements, while in the wild, and most of all ergonomic portability.
Lowepro Pro Trekker BP 350 AW II is the smallest of the new range, but it makes no compromise when it comes to decent storage. Thanks to the MaxFit divider system, photographers can arrange one DSLR or chunky full-frame mirrorless camera with a 70-200mm lens or equivalent, as well as chuck in a few compact primes, and still have enough space for a few extra batteries and a USB-powered external drive for backup in the field.
You can also easily fit a 15″ laptop and a tablet in the conveniently sized CradleFit sleeves. The Pro Trekker BP 350 AW II can be pre-ordered at B&H for $250.
The next level-up, the Pro Trekker BP 450 AW II gets some more room for a few more lenses, or maybe a 2nd compact drone or extra hard drives.
Otherwise, the BP 450 AW II shares the same DNA as the its more compact brother; users get the benefit of adjustable inner-storage compartments, additional pouch for memory cards, batteries, cables and many more tiny accessories that can otherwise get scattered all over the inside and create a huge mess when you're in a pinch and can't find that right-angle HDMI adapter for your monitor, for example.
The BP 450 AW II, also gets an "all-weather" cover to protect your backpack from the elements and can is available to pre-order for $299 from B&H.
If you want the convenience of rolling your back to the gate, then you need to check out the Pro Trekker RLX 450, which is basically the same as the BP 450 AW II, but with the added benefit of a retractable handle and heavy-duty rollers. If you are a frequent flyer the added mobility will make a huge difference.
Lowepro Pro Trekker RLX 450 AW II Features
Rugged construction
Heavy-Duty Rollers and Retractable Handle
Carry-On Size for Most Airlines
Spacious Main Compartment
Removable Equipment Pouch
Holds 15″ Laptop and 10″ Tablet Computer
Multiple Organizational Pockets
External Pouch Attachment Webbing
Stow-Away Backpack Straps
Removable Tripod Cup, Waist Belt
Weather-Resistant Design, Rain Cover
Pre-order: $349.95 at B&H
And finally, for those who want to pack a lot of gear, including a 2nd camera, and a few more lenses and accessories, then the Lowepro Pro Trekker BP 550 AW II should get the job done as it's been rated to be able to handle 2-3 DSLR bodies, a massive 400 zoom lens and a few other prime lenses. You can pre-order the Lowepro Pro Trekker BP 550 AW II at B&H for $399.
I have been using their Pro Runner BP 450 AW II backpack (pictured below) for a couple of years now, and I'm quite happy with it. It's never let me down on a couple of short films and even a feature film I assisted on a few months back, not to mention countless trips around the UK. The new RXL 450 though has my interested as it has those incredibly useful rollers, so I may be upgrading soon.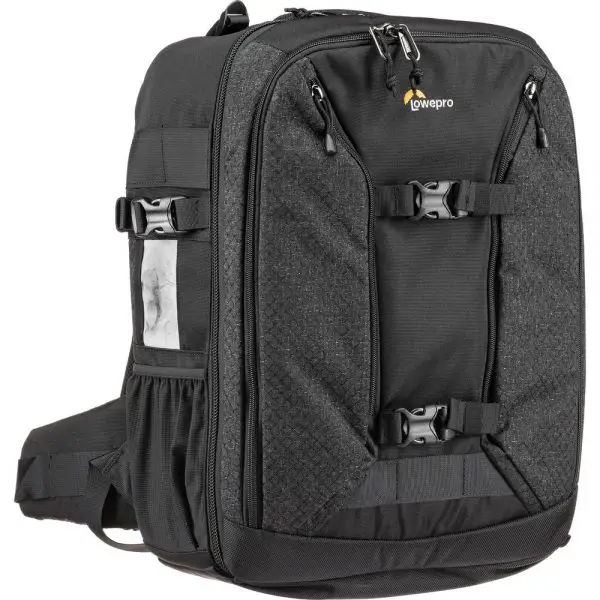 What backpack are you using for travel? Let me know in the comments below.
Explore the Lowepro backpacks in more details on their official website here.
Claim your copy of DAVINCI RESOLVE - SIMPLIFIED COURSE with 50% off! Get Instant Access!