Tamron has been killing it with their zoom lenses lately, providing an exceptional price-to-performance ratio, and now the company is launching three new compact full-frame prime lenses for Sony E-mount full-frame mirrorless cameras: the Tamron 20mm f/2.8 Di III OSD (Model F050), Tamron 24mm f/2.8 Di III OSD (Model F051), and Tamron 35mm f/2.8 Di III OSD (Model F053).
The 24mm and 35mm lenses will be available on November 20th and the 20mm will be available in January 2020. Pricing for all three has been set at $349, making them within reach for just about everyone serious about their photography or video.
Starting off from the front, Tamron have matched the same filter size (67mm) for all three new prime lenses with their two previously launched zooms the Tamron 28-75mm f/2.8 Di III RXD and the Tamron 17-28mm f/2.8 Di III RXD, both of which have been a huge hit with Sony a7 III and other Sony alpha photographers and video creators.
This lets you use the same polarizers, ND and other filters and share among your lenses without having to bother with step-up rings, which can easily get lost. Having the same size lens caps is also a huge plus and one less thing to worry about when packing to travel.
Furthermore, the 20mm, 24mm and 35mm lenses are all capable of focusing very close, to an unprecedented in this category magnification ratio of 1:2. Other features include Moisture-Resistant Construction (for outdoor shooting) and a Fluorine Coating on the front element for easy maintenance and fingerprint removal.
The new E-mount Tamron prime lenses are also compatible with many of the advanced features that are specific to certain Sony alpha mirrorless cameras such as:
Fast Hybrid AF/Eye AF
Direct Manual Focus (DMF)
In-camera lens correction

(shading, chromatic aberration, distortion)

Camera-based lens unit firmware updates
The three new Tamron Sony full-frame prime lenses can focus very close. The MOD (Minimum Object Distance) for the 20mm, 24mm and 35mm is 4.3, 4.7 and 5.9 inches respectively. Plus, the maximum magnification ratio for all three is 1:2. This remarkable performance allows users to create compositions that emphasize perspective (closer subjects are larger and distant ones are smaller) and that are unique to wide-angle lenses.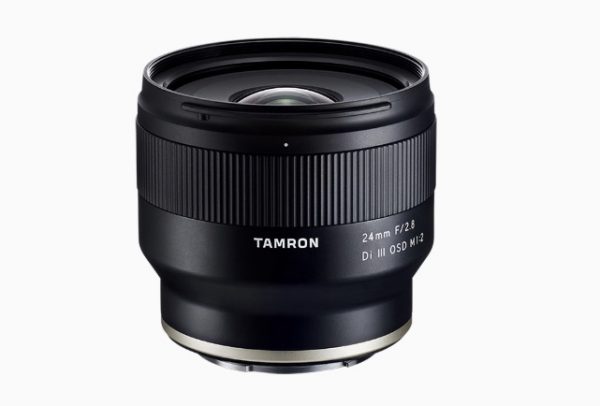 The new Tamron 20mm weighs just 7.8oz, while the 24mm tips the scales at just 7.6oz and 7.4oz for the 35mm f2.8, making these lenses exceptionally light and perfect for travel photography, handheld gimbal work and many more applications.
All three lenses have a uniform 2.5 inches length making for a great balance with Sony E-mount cameras. Also, manual focusing is easier because the focus ring is positioned toward the front of the lens within natural reach of the thumb and index finger.
The sophisticated optical formula created with the latest lens design technologies boasts exceptionally high rendering performance from edge to edge thanks to the optimal arrangement of LD (Low Dispersion) and GM (glass-molded aspherical) lens elements. Any remaining minor distortions sometimes common in wide-angle lenses are corrected using in-camera functions.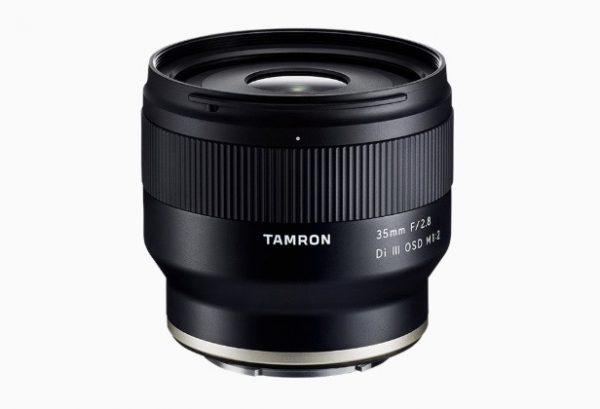 Additionally, Tamron's legendary BBAR (Broad-Band Anti-Reflection) Coating effectively reduces ghosting and flare. With excellent resolving power achieved through uncompromising optical performance and camera-based distortion correction, these lenses can be used with complete confidence for a wide range of applications from casual family snaps to serious professional photography.
The AF drive system employs an OSD to ensure quiet operation. In comparison to conventional AF types with built-in DC motors, Tamron was able to greatly reduce the drive noise as well as vastly improve AF performance and speed. The lower ambient noise level is sure to be appreciated by video shooters.
The lenses have a sealed back to prevent infiltration of moisture and/or rain drops and afford Moisture-Resistant Construction, thus providing an additional layer of protection when shooting outdoors under adverse weather conditions.
Also, the front surface of the lens element is coated with a protective fluorine compound that has excellent water- and oil-repellant qualities. The lens surface is easier to wipe clean and is less vulnerable to the damaging effects of dirt, moisture or oily fingerprints, allowing for much easier maintenance.
In addition to the three new Sony full-frame prime lenses, Tamron also announced the development the Tamron 70-180mm F/2.8 Di III VXD (Model A056) for Sony full-frame mirrorless cameras. This zoom is due to hit the store shelves sometime in Spring 2020.
Sticking to their design guns, Tamron are designing the new telephoto zoom with the same convenient 67mm filter diameter as all other Tamron lenses in this Sony E-mount series.
The optical design is said to included several specialized glass elements that contribute to the lens's superb imaging performance and its very short 33.5mm Minimum Object Distance expands overall versatility. The new zoom is also to feature Tamron's newly developed VXD (Voice-coil eXtreme-torque Drive) linear motor focus mechanism that produces a quiet, quick autofocus drive.
Other features that support a great shooting experience include a Moisture-Resistant Construction helpful for outdoor shooting and Fluorine Coating for easy maintenance. In addition, Model A056 is fully compatible with various camera-specific features including Fast Hybrid AF and Eye AF.
More specifics will be available as we get closer to release in a few months. For full-specifications on the three new Sony E mount primes head over to Tamron's website.
B&H pre-order links below:
Claim your copy of DAVINCI RESOLVE - SIMPLIFIED COURSE with 50% off! Get Instant Access!