Pro audio accessories maker K-Tek has a new Stingray bag designed for the portable Zoom F6 mixer/recorder. The K-Tek KFS6 offers safety and protection while accommodating common working styles with access to all Zoom F6 connection points.
Zoom have been making awesome handheld portable audio recorders for filmmakers for years, and their latest Zoom F6 multi-track field recorder offers a nice form-factor that lends itself to bag use. The F6 has an immense 32-bit float resolution and quality dual-path A/D converters, enabling the recorder to deliver more than impressive dynamic range for both professional filmmaking applications, corporate gigs, documentaries, social media video content and podcasting.
Lot's of sound recordists though do need a dedicated bag solution for their mixer/recorders, hence why K-tek has got your back when it comes to the Zoom F6.
The K-Tek design team emphasized easy entry all around. Dual zippers encircle each side panel to fully reveal inputs, outputs and controls. The bottom flap opens wide to access the internal battery packs on the bottom of the F6. A large buckle securely snaps the bottom closed or opens it just as securely.
Whether it is carried over the shoulder or worn around the body, the integral Waist Belt/Shoulder Strap is adjustable for various sizes. Made of breathable material and padded for comfort, it also offers 2 MOLLE rigging points for additional accessories.
For convenient tabletop operation, a built-in adjustable kickstand enables easy control interface and comfortable viewing whether the user sits or stands.
To better protect the Zoom F6, an integrated frame enables stability and protection. Multi-layer walls offer exterior durability and the soft orange high-contrast interior makes it easy to visually separate the bag from the recorder. Inside, extra wide Velcro straps securely attach the F6 for solid support.
Positioned around the bag and strap, 6 oversize MOLLE-style straps are ready to hold additional accessories ranging from wireless receivers to other Stingray bags, like the popular carryall Gizmo bags.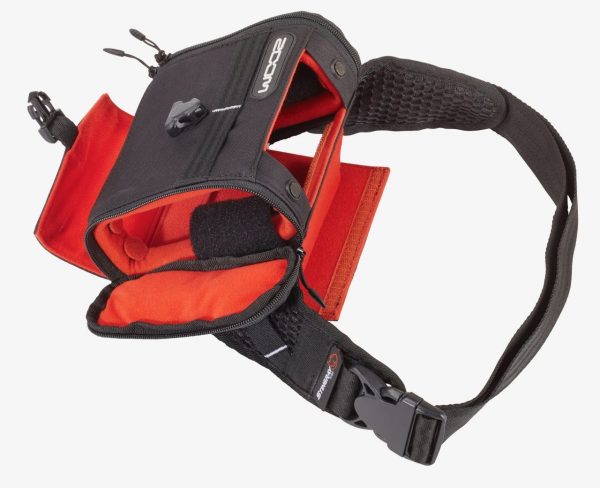 External dimensions for the Stingray Zoom F6 bag are 7.7 x 6.5 x 3.2 inches (196mm x 165mm x 80mm) and the internal size is 7.48 x 6.3 x 1.62 inches (190mm x 160mm x 41mm). The weight of the empty unit is just 0.98lb / 0.44kg.
One thing that is noticeable from the demo video and press photos is that the KSF6 is missing a rain cover, to protect the front of the Zoom F6, which when used vertically in the bag can be susceptible to the elements. A DIY solution make fix this, or maybe K-Tek will be coming out with an update soon. Nevertheless, check out the K-Tek KSF6 bag for the F6 in the video below.
You can pick up the new K-Tek KSF6 Stingray Bag for the Zoom F6 for $120 from authorised dealers such as B&H.
For a dealer list or more information about K–Tek products visit ktekpro.com
Claim your copy of DAVINCI RESOLVE - SIMPLIFIED COURSE with 50% off! Get Instant Access!