Premium filmmaking gear maker Kessler Crane has announced the brand new KillShock Mini mount system for small handheld gimbals. Just like its bigger sibling the Kessler KillShock which was initially designed for bigger camera setups, the newcomer comes with identical design, but smaller footprint and lower payload.
In a nutshell, the isolator system consists of two base plates that are attached by an array of shock cables. The top is suspended to provide a shock-absorbing base for your camera setup once it's attached to a crane, jib, dolly, or vehicle. Additional 3/8″-16 and 1/4″-20 threaded holes are available on the top and bottom plates for attaching various mounting and support accessories.
KillShock Mini Promo Video from Kessler Crane on Vimeo.
All in all, the KillShock Mini is an excellent solution for removing any sort of vibrations and jitters when shooting high-octane action sequences or when you simply need the smoothest shot possible while filming from a moving vehicle.
The all-new system is compatible with most compact gimbals such as the Ronin-S, Ronin-SC, Moza Air, Zhiyun Crane 2 and many others, plus it can be used directly with your mirrorless camera or DSLR.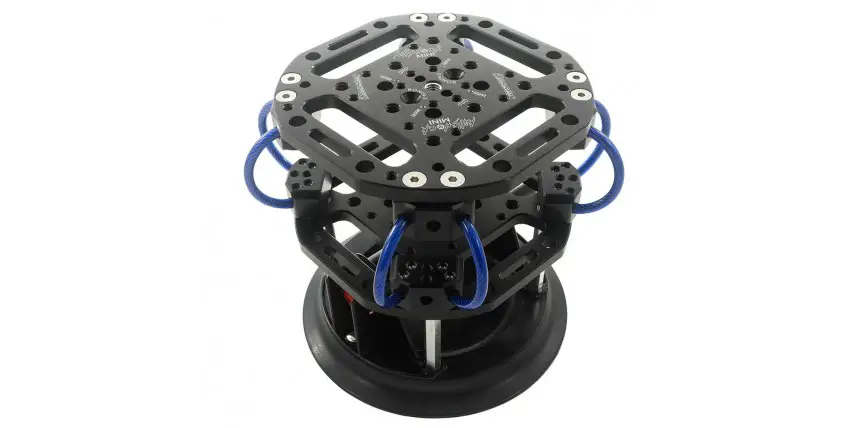 Just like the predecessor, with the KillShock Mini users can pick from different swappable shock modules each providing the right amount of isolation depending on the size and weight of your rig.
The unit brings a wide array of mounting options thanks to its built-in Mitchell mount and top cheese plate design. Additionally, the bottom plate includes 1″ extended slits for harnessing the Killshock Mini with straps or wires, or mount with Kessler's Mitchell Boss with Castle Nut adapter. Other than that, the system comes with an 8" suction cup base with a hold rating of 175lbs.
KillShock Mini Highlights
8" suction cup base with a hold rating of 175lbs
4x 1" tether points on the bottom plate for ratchet strap tie downs
Holes for carabiner safety wire
4x built-in handles
4x Shock Module Blocks with Blue Light Duty shock modules pre-installed
Optional Red Medium Duty Shock Module Blocks
Option to add a third cable per shock module via the Fine Tuning Kit Add-On
Mounting holes for Ronin S universal adapter, Kessler HD angle plate, Kessler Kwik Release Receiver, Movi Toad in The Hole (Movi M5 use), mounting holes for speed rail clamps and much much more
Weight: 4.7lbs
Suction Cup Diameter : 8″
Height: 10.5″
The KillShock Mini is already available for order selling for $699.
[source: Kessler]
Disclaimer: As an Amazon Associate partner and participant in B&H and Adorama Affiliate programmes, we earn a small comission from each purchase made through the affiliate links listed above at no additional cost to you.
Claim your copy of DAVINCI RESOLVE - SIMPLIFIED COURSE with 50% off! Get Instant Access!