The upcoming RED Komodo 6K camera has recently completed a successful testing run in some extremely harsh winter conditions courtesy of Matt Tremblay from RED and his team.
The yet to be officially launched Komodo 6K camera, is said to not only be the most affordable RED camera to date, but also their most compact; offering a new S35 6K sensor design encased in a cube-like shape packing enough horsepower to crank out Hollywood-level 6K imagery in the venerable REDCODE RAW format.
RED president and CEO Jarred Land has been teasing images, features, and specs of the Komodo for months on the company's official reduser forum as well as his Instagram profile, and the latest images from the blizzard test are further proof that the Komodo means business!
From the latest Komodo pics below, we can see a SmallHD (maybe OLED) monitor mounted on top of the Komodo and a GDU custom handgrip of sorts. I can't make out the lens, but from the size of it, it looks like a manual focus third party (non RF lens, possibly a Leica, Zeiss or other).
(Komodo images below by Matthew Tremblay/Jarred Land/RED)
6K harsh environment test… Passed with flying colors. Elevation: +10k ft, Temperature: 5-10 Degrees Fahrenheit, 70 mph wind gusts. Blizzard-whiteout conditions. Sustained usage with intermittent recording for 1.5 hours. Wet/Freezing media and cable swapping. Powered by a tethered V-Lock battery with a 6ft cable run through the sleeve of my 1987 PRE-GORE-TEX jacket. – Matt Tremblay via his Instagram profile.
As Jarred has previously pointed out the Komodo is still in a testing/pre-pro phase, we very well may be months away from an official release, but as 2019 comes to a close in a couple of days, the hope of seeing at least official footage from the Komodo 6K sometimes in early 2020 remains strong with many, present company included.
To learn more about the RED Komodo 6K specs, price, and features (that we know so far) – check out this post here.
Just a week ago, Blackmagic Design released the latest DaVinci Resolve 16.1.2 update, which included the much-awaited CUDA-based GPU r3d acceleration among other new features and improvements. On his Instagram profile, Jarred Land from RED said this regarding the update: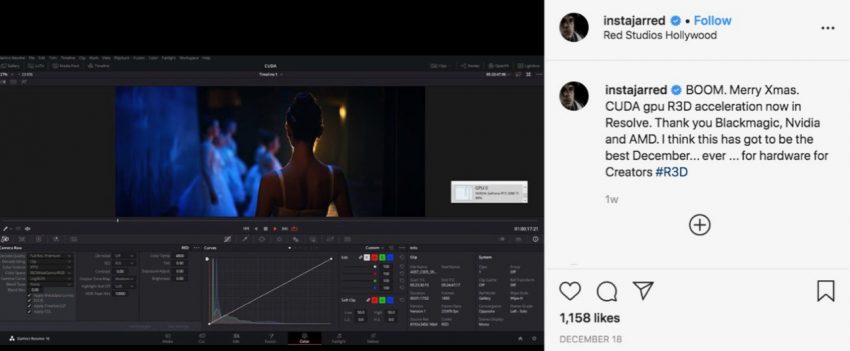 BOOM. Merry Xmas. CUDA GPU R3D acceleration now in Resolve. Thank you Blackmagic, Nvidia and AMD. I think this has got to be the best December… ever … for hardware for Creators #R3D
CUDA GPU acceleration for RED raw footage in DaVinci Resolve is great news for editors working with Nvidia graphics cards and AMD CPU's in their Windows rigs, but some may say – what about the MacOS crew, and more precisely the FCP X crowd, who unfortunately cannot take advantage of CUDA acceleration on the MacBook Pros, iMacs and Mac Pros?
Well, some of the more observant of you out there, may have noticed that a couple of weeks back, RED also quietly announced that its team and Apple have finally completed METAL GPU accelerated R3D support in the SDK, which has been distributed to 3rd party developers to be integrated into the next major FCP X update, which should be rolling in sometime in the near future, hopefully a bit after New Years.
The exact time frame of the next FCP X upgrade is of course not yet known as Apple are known for keeping their cards close to its chest, but as we move to January, CES and NAB 2020, chances are sooner or later FCP X editors working with high resolution r3d footage will have a reason to celebrate.
Disclaimer: As an Amazon Associate partner and participant in B&H and Adorama Affiliate programmes, we earn a small comission from each purchase made through the affiliate links listed above at no additional cost to you.
Claim your copy of DAVINCI RESOLVE - SIMPLIFIED COURSE with 50% off! Get Instant Access!