Music licensing company Audiio has just announced the release of its new online platform comprised of songs from 250+ indie artists and composers alongside a lifetime membership option to early customers.
"We are excited to launch today and serve creators around the world!" says Audiio co-founder and former Universal Music Group artist, Clay Jones. "For the next 60 days we're giving filmmakers a chance to pay a one-time fee of $199 to download unlimited music from our platform for the rest of their life."
Audiio partners with labels, publishers, and independent artists in Nashville, Los Angeles and other areas to recruit notable indie artists like Willyecho who recently won NBC's Songland competition. The company also represents dozens of commercial composers including J Scott Rakozy and Matthew L. Fisher, known for his work with Disney, Star Wars, and Warner Bros.
The team has also recently collaborated with advertisers to provide music for Wrangler's 70th anniversary, Mars Inc's global campaign for Galaxy Chocolates and projects for IBM, Trainline, and Adidas.
"Our mission from day one is to help filmmakers find the perfect song, fast.", Clay states. "Curating a high-quality catalog is the first step. As Audiio grows, we plan to roll out new technology that will change the game for the entire industry."
Check out Audiio's songs featured in these projects:
Here are a few highlights about how Audiio works:
Lifetime membership. To celebrate its launch, Audiio is giving every early customer a chance to get lifetime access to its platform. Filmmakers pay $199 only one time and will be able to download music on the platform for the rest of their career. Learn more and sign up directly at audiio.com/lifetime – the offer ends on March 1, 2020.
Flexible, affordable pricing options. In addition to the lifetime membership promotion, Audiio offers single-use licensing starting at $49 and a $199/year annual subscription. The Audiio subscription provides filmmakers with an unlimited number of songs per year and the license covers almost any project imaginable including commercial content and YouTube monetization. The annual subscription is $199/year.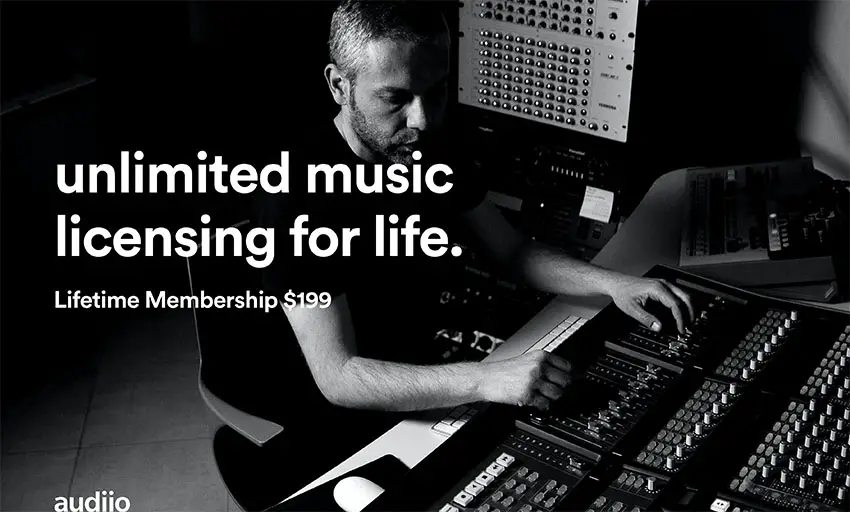 A fast browsing experience. Audiio has been built for speed with all the features you expect including filtering songs by genre, mood, instruments, energy levels, and browsing by lyrical or instrumental versions. Users can create custom playlists and save favorite songs for future reference. The technology team at Audiio is working around the clock to continuously improve performance and add requested features.
"We want to speed up the search process for filmmakers", says tech co-founder Bodie Leonard. "With our beta platform, that means creating a seamless browsing experience and then rolling more features out on mobile. We also have a few big tech surprises coming!"
Highly curated music. The artists on Audiio are a result of the team's combined 30+ years of experience in the industry. The company is on pace to add 300+ new songs each month and continues to curate new and existing playlists weekly.
For a limited time, Audiio is offering early adopters a chance to get unlimited music for life with it's lifetime membership. Learn more about Audiio and secure your lifetime membership by visiting the following link.
[source: Audiio]
Claim your copy of DAVINCI RESOLVE - SIMPLIFIED COURSE with 50% off! Get Instant Access!