Less than seven days before the official announcement of the Fuji X-T4, Fuji Addict has released a couple of low res pictures showing what the Fuji X-T4 would actually look like once it hits the market.
It seems that the newcomer will sport the familiar X-T3 body design with the inclusion of advanced 5-axis image stabilization and a fully articulated screen. The new mirrorless camera will also feature a stills/video toggle on the top panel as well as a new AF-ON button, beefier 2350mAh battery and hard corners on the frame of the body itself.
According to multiple sources, the new mirrorless camera will have the same sensor found on the X-T3, meaning it won't be able to record 6K video internally as it was initially rumored while topping at 4K/60p recording.
As a reminder, the X-T3 captures UHD 4K60p video internally as well as 4K60p 4:2:2 10-bit via HDMI output both at up to 400 Mb/s.
Fuji X-T4 Leaked Specs
26MP Super 35 Sensor as the X-T3
4K/60p 10bit recording
5-axis In-body Image Stabilisation (IBIS)
Fully articulated screen
New AF-ON button
2350mAh battery
6 mm thicker than X-T3
Hard ridges on the frame (for strength)
Dual SD card slots
"Incredible buffer" much larger than X-T3
D-pad moved further to right to make room for thumb-cutout to pull on the LCD
Notice the sub-wheels, on the left there is an "HDR", and on the right, the photometry dial has been removed for "STILL…..VIDEO" and other info
USB PD protocol implemented, as it charged very quickly with a PD 30W USB-C charger. Not so fast with a normal QC charger
Multiple Boost modes including normal / economy / boost AF / boost FPS / boost Res etc.
Expected MSRP: $1,700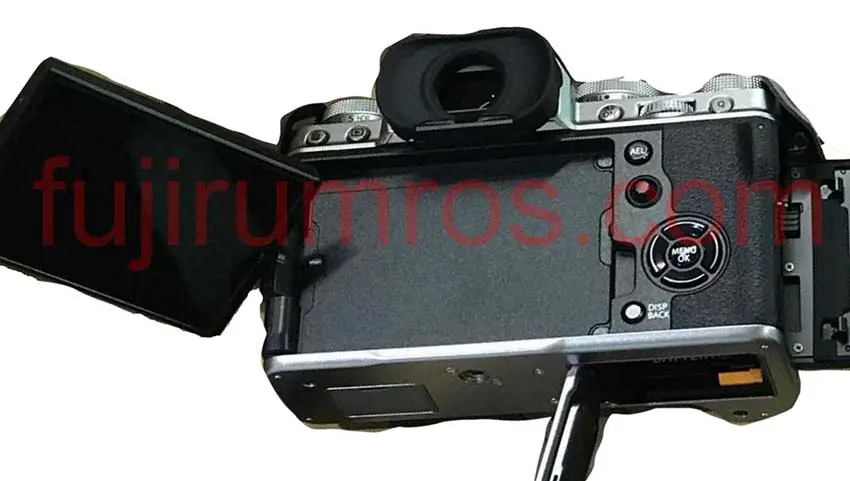 The above picture leaked by Fuji Rumors earlier today, on the other hand, showcases the fully articulating screen of the X-T4 in action which seems pretty similar to the one found on the GH5. FR also mentions that the upcoming camera will have some sort of fast charging as well as multiple boost modes including normal, economy,  boost AF, boost FPS, boost Res, etc.
Last but not least, the X-T4 is expected to hit the shelves with a retail price of $1,700, which is again only a rumor at this stage. One thing is for sure, though, the long-awaited camera announcement will happen on February 26th, as it was already officially confirmed by Fujifilm executive Toshi Ida on the third X Summit in London two weeks ago. Stay tuned for more details.
[source: Fuji Addict]
Claim your copy of DAVINCI RESOLVE - SIMPLIFIED COURSE with 50% off! Get Instant Access!