It seems that in the exciting world of filmmaking, there aren't that many heights left to be conquered these days, or at least not before we look deeper beneath the surface. Besides the numerous tools and devices that already allow us to shoot a wide variety of silky smooth, professional shots both on the ground and up in the air, now you also have the ability to explore some new creative opportunities underwater as well.
With its slick design, easy to operate piloting controls, low-light sensors and image quality algorithms, the world's most affordable and user-friendly underwater drone called Gladius is ready to take your underwater videography to the next level. The device is capable of shooting 4K video directly to internal storage while diving up to 100 meters (328ft) deep with a horizontal range of 500 meters (1,640ft) for up to three hours.
The underwater drone is not only intelligently engineered but also provides a wide range of features that are suitable for multiple professional applications including 4K video capturing, high-resolution photography and even immersive underwater live streaming.
The unit comes equipped with a quad thruster system that allows responsive and accurate navigation in all directions. Due to its powerful rear thrusters, Gladius can reach a speed of 2 meters or 6.6 feet per second or at 4 knots.Furthermore, the internal cabin of the drone is sealed and uses aluminum alloy materials with oxidation treatment to ensure the unit is waterproof and corrosion resistant.
The unique semi-tether connection system, on the other hand, increases the practical range of Gladius up to 500m or just over 1,600 feet and also allows the drone to communicate with the towable buoy included in the pack by direct wiring. The buoy itself broadcasts wirelessly back to the controller, which connects to your phone or tablet, much like a traditional drone controller.
Gladius Underwater Drone Highlights
Most Affordable – Compared to other underwater drones with similar features, Gladius is a steal at $599.
Easy To Control – Piloting is easy with its Quattro Thrusters, four degrees of freedom and gaming-like controller.
Long Range – Semi-tether connection increases range to 500m and 100m deep, triple the industry average.
Image Optimization – Light sensors and image optimization algorithms create stunning 4K videos without distortion.
Portable Case – Weighing only 6.6lbs and measuring 16.9″x10.2″x3.7″, transport anywhere via backpack or Gladius's included hard-shell case.
The unique onboard stabilizing mechanisms of Gladius combined with low light sensors and image quality optimization algorithm allow users to capture smooth and crisp 4K videos or take 16-megapixel photos without any compromises. The built-in LED lights on either side of the camera feature dimming controls for varying visibility conditions and provide 135-degree illumination angle to light a clear path for the drone and illuminate underwater subjects.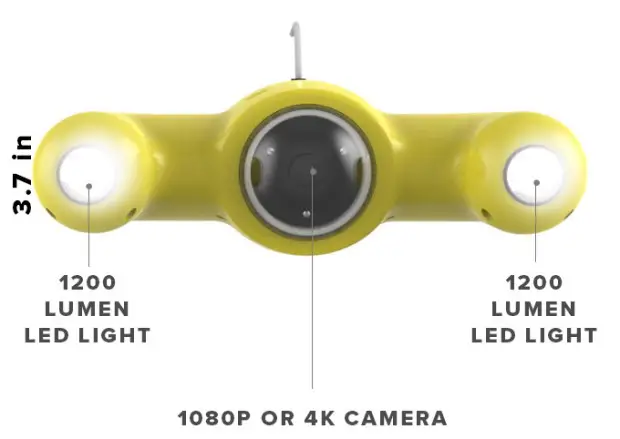 Besides its unique multi-use underwater design, Gladius is also extremely easy to control and navigate. Simply insert your iOS or Android smartphone into the remote control, launch the dedicated app and you're set to go. The drone can store the captured 4K videos and images you take on the included SD card while live streaming directly to your smartphone in 720p resolution.
It's also worth to note that the platform is equipped with two powerful polymer lithium batteries offering three and a half hours of continuous operation while only requiring 1.5 hours of recharge time.Currently, you can opt for the Standard, Advanced or Professional package starting at just $599 depending on your personal requirements and needs.
The Standard version of the underwater drone offers 1080p video recording only, while the Advanced and Professional ones come equipped with a 4K camera along with the extended wireless operation range. The Gladius IndieGogo campaign has been crushing it lately while exceeding its initial goal multiple times already, so if you want to learn more about the project and give your support, use the following link.
[via: Fstoppers, source: IndieGoGo]
Claim your copy of DAVINCI RESOLVE - SIMPLIFIED COURSE with 50% off! Get Instant Access!