Affordable anamorphic lenses have always been in great demand. Hence there's no surprise that the extremely affordable Sirui 50mm F1.8 1.33x anamorphic lens made such a huge splash in the indie filmmaking community back in September when it was initially announced at IBC 2019.
Finally, the long-awaited piece of glass will begin shipping through distributors outside of the already successfully-funded Kickstarter and Indiegogo campaigns starting in April 2020.
To recap, the Sirui 50mm F1.8 1.33x anamorphic lens enables 2.4:1 aspect ratio shooting at a fraction of the cost. The unit will be available in Sony-E, Fujifilm X and Micro Four Thirds versions each retailing for $699. Designed to cover APS-C sized sensors, the lens offers a field of view that equates to a 37.5mm lens, as the optics increase the horizontal angle of coverage by 33%.
The optical design of the unit consists of 11 elements in 8 groups with 10 aperture rings perfectly covering most APS-C sensors out there. The compact lens is only 106.6mm (4.2in) long and has a maximum diameter of 69.2mm (2.72in), while weighing just 560g (1.23lbs).
Additionally, the 1.33x squeeze factor of the SIRUI 50mm f1.8 makes it ideal for shooting in 16:9 aspect ratio on APS-C mirrorless cameras like the Z Cam E2, BMPCC 4K, Sony A6600, or A7III. All versions of the lens sport virtually the same optical design, so you shouldn't expect any differences regarding the captured image regardless of the mount option you opt for.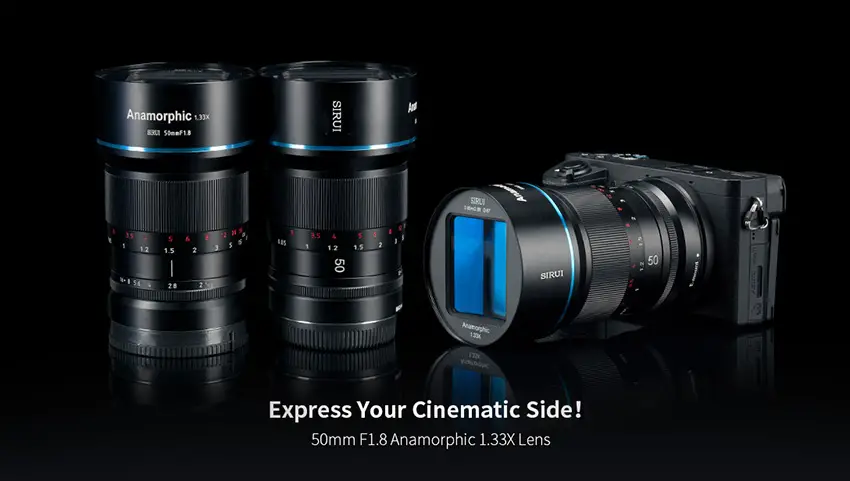 SIRUI 50mm f1.8 Anamorphic Lens Specifications
Lens structure: 11 elements in 8 groups
Aperture blades: 10
Aperture: f/1.8-f/16
Sensor coverage: up to APS-C
Shooting distance: 0.85m to infinity
Focus method: manual focus only
Maximum magnification: 1:15.38(V), 1:20.17(H)
Filter spec: M67 x 0.75
Rotation angle of the focus ring: 143.6°
Max. diameter: 68.2mm (2.69″)
Diameter of the focus ring: 61.7mm (2.43″)
Total length (without lens caps): approx. 106.6mm (4.2″)
Weight: approx. 553-562g (1.22-1.24 lbs)
Lens mount: Sony E-mount, FUJIFILM X-mount, M4/3 mount
For more information and specifications, head over to Sirui's official website here.
[source: Sirui]
Claim your copy of DAVINCI RESOLVE - SIMPLIFIED COURSE with 50% off! Get Instant Access!