Blackmagic Design has just announced ATEM Mini Pro switcher, a new low cost live production switcher build on the functionality of ATEM Mini but now with extra features for recording, streaming and monitoring.
ATEM Mini Pro includes a new hardware streaming engine to allow direct streaming via its Ethernet connection to YouTube Live, Facebook and Twitch. There is also support for recording the stream direct to USB flash disks in H.264, plus support for recording to multiple disks for continuous recording.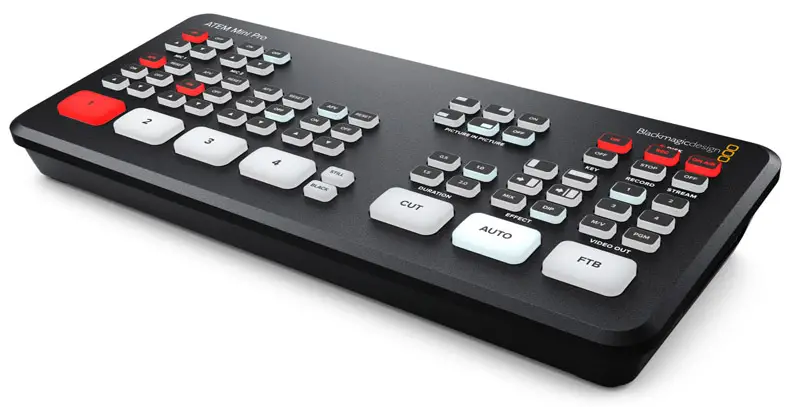 The new model also includes a multiview on the HDMI video output that allows all inputs to be monitored on a single monitor, as well as live status of recording, streaming and the audio mixer.
With 4 independent HDMI inputs, ATEM Mini Pro can handle up to four high-quality video cameras. All video sources will re-sync to the switcher if they operate at different video standards for seamless live streaming. Each of the 4 HDMI inputs features its own dedicated standards converter.

On the audio side, ATEM Mini Pro comes equipped with two independent 3.5mm stereo audio inputs that can be used to connect desktop and lapel microphones. The newcomer also features a full Fairlight audio mixer and all HDMI audio inputs and both microphone inputs are all connected separately to the audio mixer so customers can live mix from all audio sources.
To ensure maximum compatibility, ATEM Mini Pro features a USB connection that operates as a simple webcam source. That means users can plug in and get instantly working with any video software.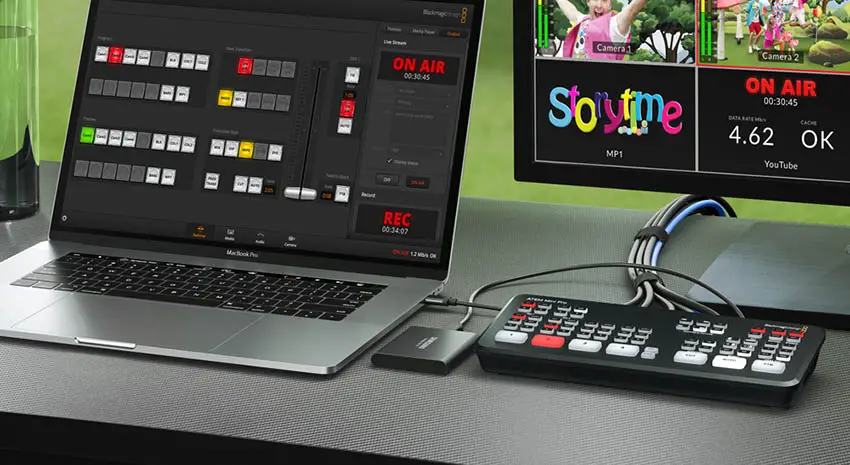 The ATEM Software Control app, on the other hand, unlocks the hidden power of ATEM Mini Pro and allows access to every feature in the switcher. The software provides a visual switcher user interface with parameter palettes for making quick adjustments.
The built-in media pool, for instance, allows the loading of up to 20 separate broadcast quality RGBA graphics for titles, opening plates and logos. Customers can use still frames for complex effects such as graphic wipes.
ATEM Mini Pro can even grab stills from the video output and add them to the internal media pool. Graphics can be loaded via ATEM Software Control or downloaded directly from Photoshop using the ATEM Photoshop plug-in.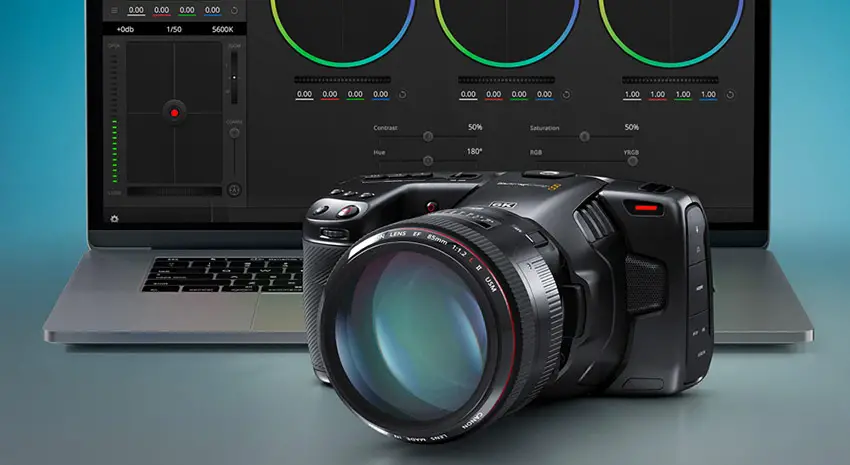 In conjunction with the just-released Blackmagic Camera Update 6.9, users can connect their Pocket 4K or 6K camera to the ATEM Mini Pro switcher and get control of the camera parameters, lens, and tally light.
That way, your favorite BMPCC 4K/6K can work equally well as a digital film camera as well as a studio camera depending on your specific production needs. Blackmagic Camera Update 6.9 is available for download here.
ATEM Mini Pro Highlights
Features miniaturized control panel based design
Supports connecting up to 4 cameras or computers
USB output operates as a webcam and supports all video software
Live streaming via Ethernet supported on ATEM Mini Pro
Recording to USB flash disks in H.264 supported on ATEM Mini Pro
Two stereo audio inputs for connecting desktop or lapel microphones
Automatically standards converts and re-syncs all HDMI inputs
Includes free ATEM Software Control for Mac and Windows
Internal media for 20 RGBA graphics for titles, opening plates and logos
Includes ATEM Advanced Chroma Key for green/blue screen work
Multiview allows monitoring of all cameras on ATEM Mini Pro
Audio mixer supports limiter, compressor, 6 band EQ and more
Supports remote HDMI control with Blackmagic Pocket Cinema Cameras
ATEM Mini Pro will hit the shelves with a retail price of $595. The unit is now available for pre-order from Blackmagic Design resellers worldwide.
[source: Blackmagic Design]
B&H Pre-Order Link:
Blackmagic Design ATEM Mini Pro HDMI Live Stream Switcher
Disclaimer: As an Amazon Associate partner and participant in B&H and Adorama Affiliate programmes, we earn a small comission from each purchase made through the affiliate links listed above at no additional cost to you.
Claim your copy of DAVINCI RESOLVE - SIMPLIFIED COURSE with 50% off! Get Instant Access!