Wooden Camera has recently announced a full range of RED Approved accessories compatible with the much anticipated RED Komodo camera. These products are currently available for pre-order with an expected ship date in early August.
Accessory Kits range from Base, Advanced, and Pro and include all new RED Komodo specific accessories like the LW 15mm Baseplate (RED Komodo) and Complete Top Mount Kit (RED Komodo, ARCA Swiss).
The Complete Top Mount Kit features a brand-new Top Mount that provides a center ARCA Swiss-style dovetail clamping slot as well as 1/4-20 and 3/8-16 threaded holes for attaching accessories.
The Complete Top Mount Kit includes all three top mount ARCA Swiss accessories: Top Handle, Monitor Hinge, and Top Plate.
Each ARCA Swiss accessory is also available as a Top Mount Kit or by itself.
To mount each ARCA Swiss accessory to the camera, the Top Mount is required. This provides users the option to mix and match accessories to meet their production needs.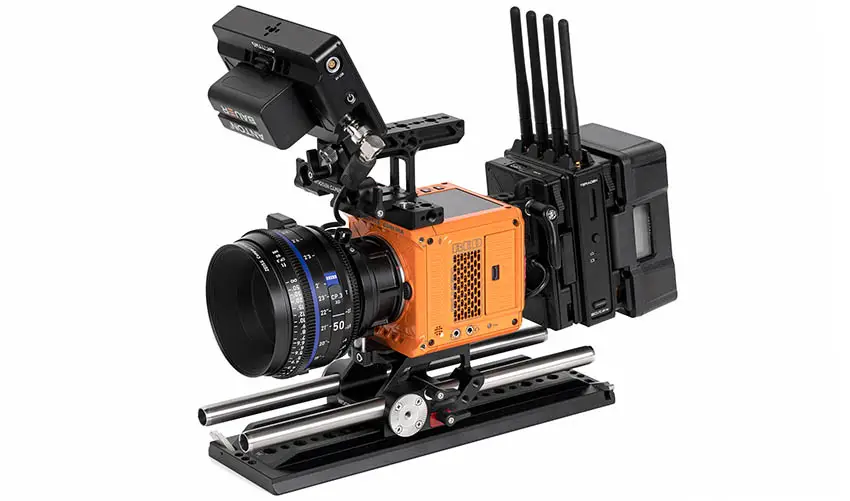 Designed specifically for the RED Komodo, the Canon RF to PL Mount Pro (RED Komodo) adapts PL lenses to the Canon RF Mount on the camera. The B-Box (RED Komodo) attaches to the camera-right BP-9 battery slot and provides a breakout for the camera's EXT connector.
Battery Slide Pro V-Mount or Gold Mount for RED Komodo can be used simultaneously and custom right-angle LEMO compatible connector allows for neat cable run. Canon BP-9 batteries could also be attached in the camera-left slot while B-Box is used.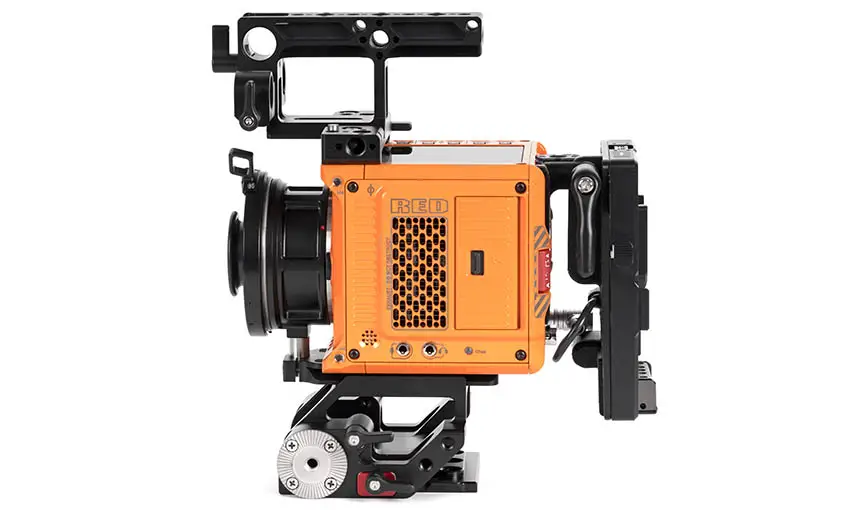 Available ports include: R/S (3pin Fischer), Timecode (5pin LEMO), CTRL (4pin LEMO), 5V (USB), and Genlock (BNC). Power the camera with the Battery Slide Pro V-Mount or Gold Mount (RED Komodo). This product attaches to the camera-left, BP-9 battery slot and powers the camera using a right angle LEMO compatible connector.
When used with the Battery Slide Extension for Canon BP-955 Hot Swap (RED Komodo) the user can hot swapping between the Canon BP-955 battery and the power plate. Set the plate flush with the top or bottom of the camera by loosening thumbscrew and sliding into the desired position.
Here are all RED Komodo accessories that Wooden Camera has rolled out.
Additional power accessories will be released in August. For a full range of RED Komodo products, head over to Wooden Camera's official website here.
[source: Wooden Camera]
Disclaimer: As an Amazon Associate partner and participant in B&H and Adorama Affiliate programmes, we earn a small comission from each purchase made through the affiliate links listed above at no additional cost to you.
Claim your copy of DAVINCI RESOLVE - SIMPLIFIED COURSE with 50% off! Get Instant Access!