Popular British LED lighting maker Rotolight just announced the Titan X1 – a pioneering LED that reinvents the 1×1 light. Providing best-in-class power alongside an innovative feature-set, Titan X1 is ideal for both studio and location.
Featuring the world's first electronic diffusion technology, SmartSoft, control diffusion, focus, and spread without the need for gels, while a full-color touchscreen display saves time on set. With powerful High-Speed Sync RGB flash, built-in wireless connectivity (Bluetooth/wDMX), and class-leading energy efficiency, the Titan X1 is the ultimate 1×1 light.
Titan X1 builds on the success of the ground-breaking Titan X2 which has quickly become a favorite among filmmakers, gaffers, and professional photographers around the world.
Awarded 'Best Lighting Innovation' by Pro Moviemaker Magazine who said "The Titan X2 is a versatile and powerful light with features none of its rivals can offer at any price", whilst Titan has also been praised as "a quantum leap ahead of anything else I've seen" by Director of Photography Tom Townend (You Were Never Really Here starring Joaquin Phoenix).
Featuring SmartSoft, a revolution in lighting control, electronically adjust Titan X1's diffusion, focus, and spread without the need for gels. Like a 216 on an adjustable dial, SmartSoft provides the flexibility of a beautiful soft output and a harder light source all-in-one.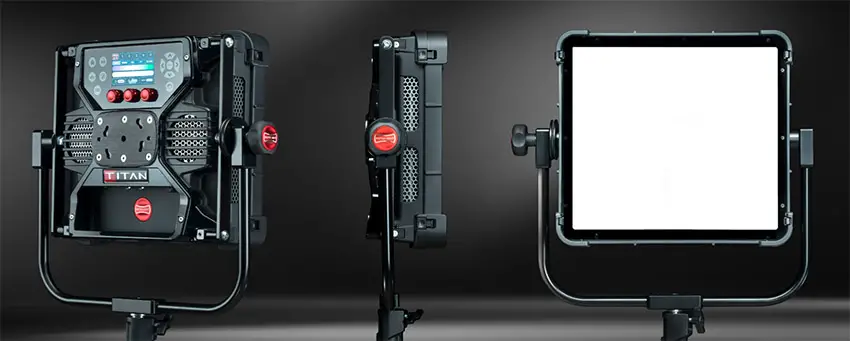 "It's incredibly exciting to have a light where you can shape and control the light without any modifiers. I use Rotolight now for virtually every setup," says Roy Wagner ASC (Director of Photography: Ray Donovan, Elementary, A Nightmare on Elm Street).
Effortlessly access key features with an intuitive, fast, and responsive touchscreen display. Save time on set with an easy to use interface, quick-start icons, and 50 user-customizable presets. Preview Titan X1's extensive filter library with a full-color display to ensure that you achieve the exact color you want at a moment's notice.
For photographers, the Titan X1 provides endless creative possibilities with the world's first High-Speed Sync RGB flash (up to 1/8000th), delivering a powerful output and zero recycle time for a flash that can keep up with you. Shoot at any color temperature across the CCT spectrum (3000-10,000 Kelvin) for a significant performance boost over continuous light output.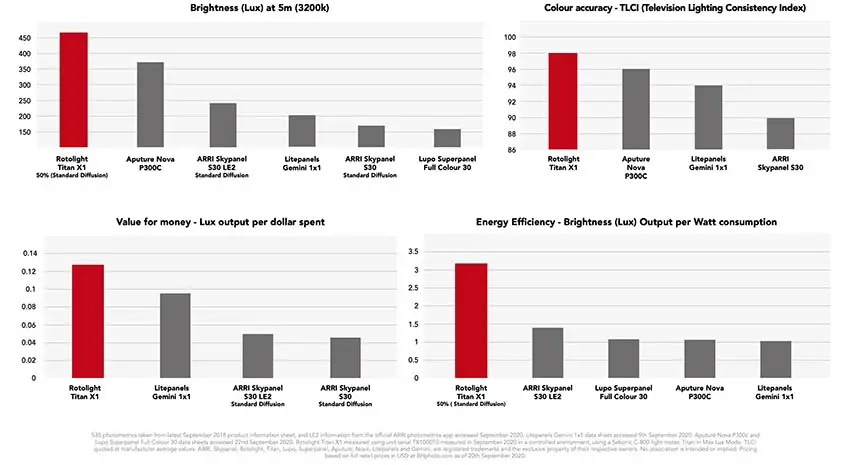 Alternatively for the first time, flash in anyone of Titan's 16.7 million RGB colors or 1400 industry-standard filters, for the ultimate in creative/fill/hair lighting effects and enhanced battery performance.
Titan X1 delivers superior color rendition with Rotolight's specially engineered RGBWW Pentachromic Colour Engine that ensures beautiful, precise skin tones and vivid color saturation.
Excelling in both CRI and TLCI performance across the entire CCT spectrum, the Titan X1 flatters subjects in-camera and saves time in post-production. Featuring Rotolight's award-winning suite of user customisable CineSFX (Fire, Lightning, TV, Gunshot, Paparazzi, Chase and more), Titan X1 provides endless creative possibilities on set.
Designed and manufactured in the UK to uncompromising aerospace standards, and featuring over 41 patent-protected technologies, the Titan X1 represents the very latest in LED technology in a sleek yet robust package.
The Rotolight Titan X1 is available for pre-order now and will begin shipping later this month. Save up to $1000/ £600/ €650 on regular retail price with launch promotions starting from$2,999/£2,399/ €2,649 excluding tax, valid until December 31st, 2020.
[source: Rotolight]
B&H Order Link:
Rotolight Titan X1 RGBWW LED Light Panel
Claim your copy of DAVINCI RESOLVE - SIMPLIFIED COURSE with 50% off! Get Instant Access!