Blackmagic Design announced that London based creative studio Electric Light Studios has relied on the Blackmagic URSA Mini Pro 4.6K G2 to create Sigala and James Arthur's – Lasting Lover (Acoustic) music video, which has amassed more than two million views on YouTube since its release.
In a change of tone from the original song and video, Electric Light Studios altered the ambience with a shoot at the Rivoli Ballroom in London featuring James Arthur on vocals and guitar, Sigala on piano and complimented by a string orchestra.
Video Director, Andy Morgan, says: "For this acoustic version of 'Lasting Lover' I wanted to contrast the high energy, neon exteriors from the main promo with an open, warm, interior setting. The focus here was on musicianship, songwriting, and performance; showcasing talent without filters."
"Stylistically, I wanted it to feel like an after hours final performance as if a party had ended and this was Sigala and James in a more personal setting. This is further empathized in how we dressed the space and to showcase the melancholy undertones in the song itself," explains Andy.
Andy says selecting the right camera and setup was all important, "For this shoot, we opted to use the URSA Mini Pro G2 as it comfortably suits our needs for a beautifully cinematic image. The camera operated on a Moviola dolly as I wanted constant movement, but in a more restricted and consistent way than could be achieved with a gimbal."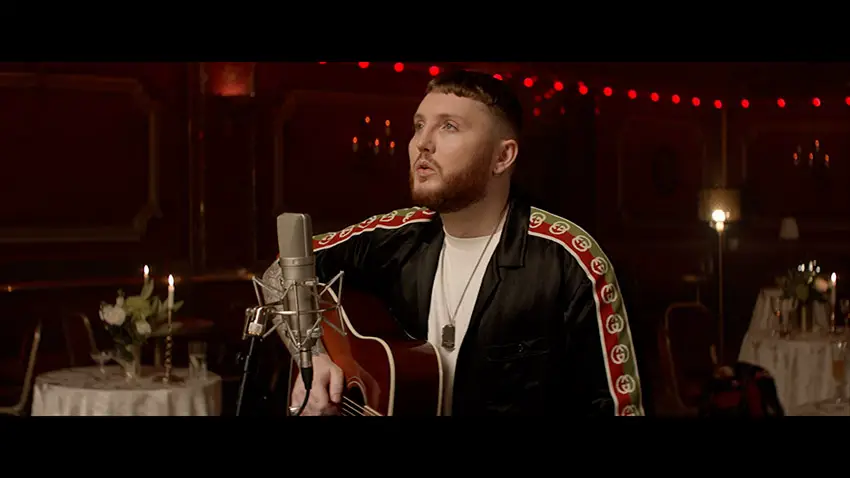 "We choose to acquire with Blackmagic RAW at 3:1 in constant bitrate. I love the codec as it gives me a lot of options in the grade at a very reasonable data rate, even at the lower end of the compression ratios."
"We used this same set up on the previous acoustic session I directed for Sigala as well (We Got Love). There we shot with bolder highlights in natural light, here we had to be more concerned for our shadows, however in either case, the camera held up well."
Shooting on APL (Rehoused Lomo) anamorphics from One Stop films. The team aimed to create a softer vintage look that would match the location and a widescreen aspect ratio because of the width of the location and the number of musicians involved.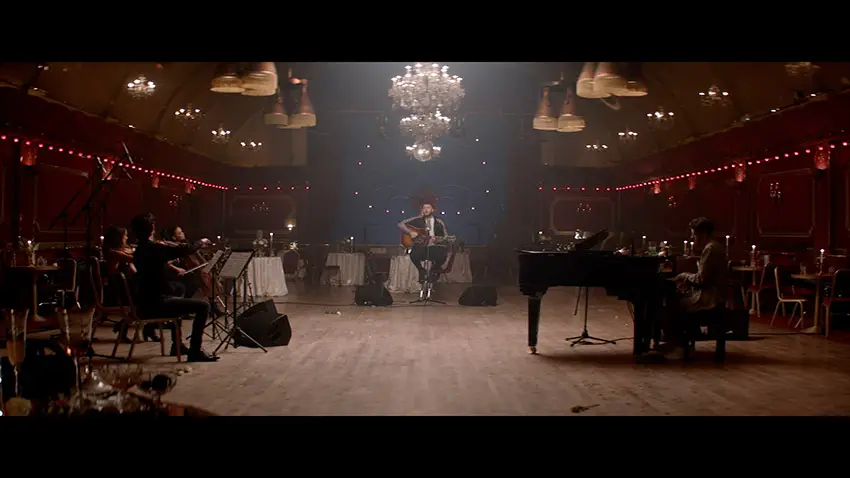 Once the shoot was complete, Andy and the team took the project into grade and discovered inconsistencies throughout due to the range on the anamorphic lenses. Still, they expect these vari-ables when using vintage lenses.
"The wide 35mm required the most work as it has a slight yellow cast to it. Once I cracked that, the main thing I was aiming for was warm, flattering skin tones and to bring out the range of colors in the location," concludes Andy. "I found the best way to achieve this was to get the colors where I needed them to be on the wides, then match the images from the other shot sizes to those."
[source: Blackmagic Design]
Order Links:
Disclaimer: As an Amazon Associate partner and participant in B&H and Adorama Affiliate programmes, we earn a small comission from each purchase made through the affiliate links listed above at no additional cost to you.
Claim your copy of DAVINCI RESOLVE - SIMPLIFIED COURSE with 50% off! Get Instant Access!