Hey, do you remember the Canon C700? The top of the range, Canon Cinema EOS C700 was announced ahead of the IBC 2016 trade show (link to our C700 post here), and if you recall Canon made a big deal out of the fact that in the future users will have the option to upgrade the sensor. Well, it turns out that Canon did just that with the announcement of their new Canon C700 FF – a new full-frame cinema camera capable of 5.9K raw to a dedicated Codex recorder and a multitude of 4K/2K/1080p in-camera compressed options to very robust codecs such as XF-AVC and ProRes.
The newly developed full-frame sensor in the EOS C700 FF has an active image area of  38.1 x 20.1mm and supports readout at full size (for a 5.9K raw output), as well as Super 35mm crop mode, Super 16mm and anamorphic modes. Available in either EF or PL mounts, the Canon C700 FF even supports Dual-Pixel AF, which can go a long way in certain situations where your focus puller shows up 2 hours late wearing the same clothes nursing a massive hangover.
The Canon C700 FF boasts Canon Log 3, Canon Log 2 and Canon "OG" Log for a "wide colour tonality" exceeding 15 stops of dynamic range and a wide colour gamut meeting ITU-R BT.2020 standards.
Recording resolutions and frame rates include 5.9K/60 fps Raw recording (to Codec CDX-36150), 4K Raw up to 72 fps (in 24p mode), 4K ProRes up to 60 fps and 2K ProRes up to 168 fps (in Super 16mm mode). ProRes options include 4444XQ and 4444, which are the highest 12bit options for this codec available at the moment.
The C700 FF has a really sweet built-in ND filter system up to 10 stops, which for a big, husky cinema camera is a huge advantage. Brent from Canon has the scoop on what you need to know about the new camera below.
Canon C700 FF Frame Rates/Highlights
New 20.8 MP DCI 17:9 Full-Frame (38.1 x 20.1mm) CMOS Sensor
Dual Pixel AF
EF or PL Mount
Triple DIGIC DV 5 Processing
Raw externally, XF-AVC and ProRes onto CFast 2.0 cards internally
5.9K up to 60p Raw to dedicated Codex recorder (CDX-36150)
4K Raw up to 72fps (S35)
4K ProRes/XF-AVC up to 60fps (Full-Frame)
2K/168fps in ProRes (Super 16mm mode)
Pricing: $33,000 (B&H)
Available: July 2018
Canon EOS C700 FF Recording Options:
The EOS C700 FF EF and EOS C700 FF PL are scheduled to be available in July 2018 for an estimated retail price of $33,000.00. For more information on the EOS C700 FF please visit, usa.canon.com/provideo.
Canon also just announced a new CN-E20mm T1.5 L F cine prime lens – a full-manual 20mm Cinema Prime Lens for EF Mount cameras.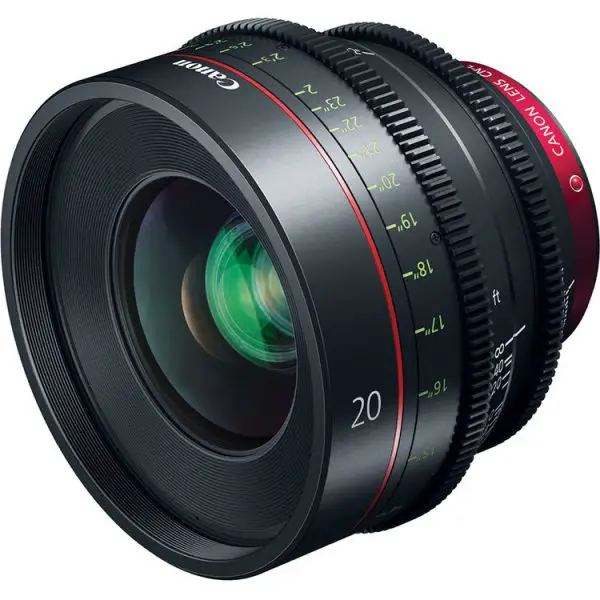 A popular focal length, the 20mm lens delivers exceptional optical performance in a compact form factor. With the introduction of this new lens, Canon further enhances its EF Cinema Lens family to meet a diverse range of cinematic and video-production needs, further contributing to the world of cinematography.
 "As Canon continues to expand its reach in the cinema space, we are thrilled to introduce the CN-E20mm T1.5 L F lens, further expanding a robust line up of Cinema Prime lenses," said 

Yuichi Ishizuka

, president and COO, Canon 

U.S.A.

, Inc. "This new lens will provide users with an option in-between our 14mm and 24mm lenses, giving greater flexibility for their scene framing. Canon is excited to see the projects our users create with this lens and Canon Cinema cameras."
The new CN-E20mm T1.5 L F lens can provide 4K resolution from the centre of the images to the periphery, providing high image quality for Canon cameras that feature full-frame sensors such as the new EOS C700 FF digital cinema camera.
In addition, the 11-blade aperture diaphragm and the wide aperture of T1.5 should give you some pretty sweet looking bokeh. Like all Canon Cinema Prime lenses, the CN-E20mm T1.5 L F lens features warm, natural-looking tones, 300 degrees of focus ring rotation, and minimized focus breathing.
The CN-E20mm T1.5 L F lens is scheduled to begin shipping in Fall 2018 and is currently available to pre-order for $4,220 from B&H.
Disclaimer: As an Amazon Associate partner and participant in B&H and Adorama Affiliate programmes, we earn a small comission from each purchase made through the affiliate links listed above at no additional cost to you.
Claim your copy of DAVINCI RESOLVE - SIMPLIFIED COURSE with 50% off! Get Instant Access!