If not for cameras, this year has been a fantastic year for lenses. As cameras become more affordable, bring higher resolutions and full-frame 4K video from the likes of the Sony A7s II and upcoming 8K Vista Vision sensor from RED, the need for more full-frame lenses designed for video has never been greater. Sure, there's very decent affordable options out there such as the Rokinon XEEN lenses (around $2,500 a piece), which do sport a pro-cine housing and cover 36×24 Full-Frame, but their optical performance will not be nowhere near that of higher end lenses. Schneider have their XENON FF cine lenses which do cover full-frame but at around $4-5K a pop, they are in a higher price bracket and meant for larger budgets. Of course most productions shooting on a RED Epic, or an ARRI Alexa won't settle for budget options and would seek ARRI Master Primes, Cooke's, and other high end optics. And this is where APO or apochromatic lenses comes in rather handy.
LockCircle have a 135mm XM 135mm f2.0 APO lens in EF mount, which will set you back around $3,700, and that is still very cheap for APO cine lenses. LockCircle's XM range is actually comprised of re-housed Zeiss manual still lenses, which are still very decent nonetheless considering the price. SLR Magic also have an APO Hyperprime Cine 50mm T2.1 Lens. APO lenses are expensive as they feature elements which correct for chromatic and spherical aberration, much more than achromat lenses.
So, for those looking for higher end glass IB/E President, Klaus Eckerl and Band Pro President & CEO, Amnon Band unveiled a new line of professional APO Macro FF lenses at Band Pro's One World Open House event on December 10th, 2015.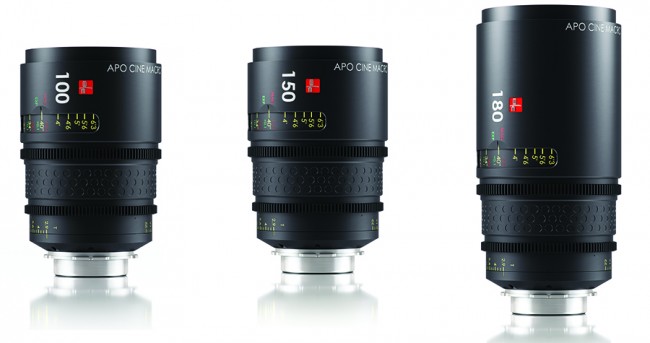 The new macro lenses were designed to address the industry-wide movement toward larger format sensors (including RED Weapon 6K and 8K, Sony A7RII, Sony A7s, and ARRI ALEXA 65 cameras).  These larger sensors deliver a convincing film-look and interesting "bokeh" due to their very shallow depth of field, and require lenses that can cover their larger camera sensor sizes.
The new APO Macro FF lens family consists of 3 focal lengths: 100mm, 150mm, and 180mm.  The lenses feature FF35 full frame (24mm x 36mm) coverage, 1:1 magnification, consistent T-stop T2.9, as well as robust and durable cine mechanics.  Based in Germany, IB/E is a globally respected optics manufacturer known for cutting edge expanders, adapters, and lenses, including the new Arri 65 lenses.
APO Macro FF lenses will be available Summer 2016. Pricing is now yet known, but I won't expect them to be cheap. See tech specs and more info from their press release below.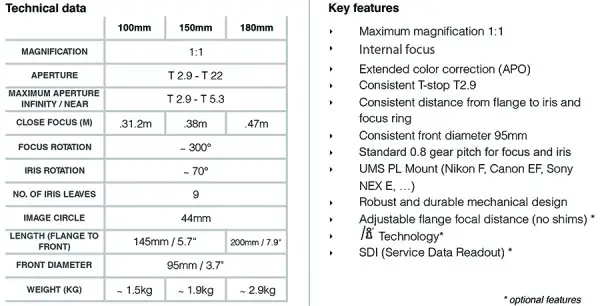 Check out this introductory video by Band Pro's Senior Technical Consultant, Randy Wedick, introducing the new APO Macro Lenses from Germany manufacturer IB/E Optics.
APO Macro Lenses from Band Pro Film & Digital on Vimeo.
Amnon noted at the event:
"Today's announcement is a continuation of what Band Pro has always done.  From the early days of Zeiss DigiPrimes, to our involvement with the Leica Summilux-C project, to the new IB/E Macro FF lenses, Band Pro has always lead the way for embracing new technologies."
To preorder the new APO Macro FF lens set, or for more information, please contact Band Pro at 1-888-BAND-PRO or by emailing [email protected] .
Claim your copy of DAVINCI RESOLVE - SIMPLIFIED COURSE with 50% off! Get Instant Access!